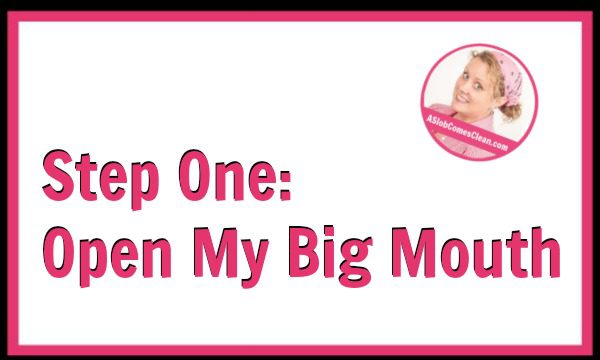 I have a very big mouth.
Literally and figuratively.
In sixth grade, everyone in my class measured mouths, and I won.
A very proud moment.
And today, I'm glad for the figurative largeness of my mouth.
The backstory (hopefully shortened to only include necessary details):
My husband's sister and her husband are moving.  Due to random circumstances including timing of sale of house and availability of apartment and location of job, they will be spending the next four weeks living in their very-nice-travel-trailer-but-still-a-travel-trailer in our town.  
Really, it's a nice one.  Less than two years old, has everything they need, fully equipped for cooking and showering and sleeping and TV watching and such.
But it's a travel trailer.
Here's the thing.  Deep down in my heart, I am hospitable.
But alas, my slob-problem often keeps me from being who I really am.
I've done so much better at hospitality since I started this deslobification process, but lately things have been rather chaotic and my Doorbell Dread was coming back.
So what's the point?  I'm glad that my big mouth blurted out (with complete sincerity), "You know you can come hang out ANYtime.  Seriously, come over for supper whenever."
Blurted this out to my SIL whose home always looks like a magazine.  Who knows I have a blog but has quit asking what it's about.  (I generally make up something like www.how'dIgetTHESEinlaws dot com.)
I'm glad I said it because this morning, I had extra motivation.  I'm not worried about having the house Christmas-Eve-ready on a Monday afternoon, but I do want it to be non-horrifying.
If I wait until my home is perfect before I allow myself to be hospitable, it may never happen.  If I go ahead and invite someone over, I can pretty much guarantee that the house will be in better shape by the time they get here.
Whatever works.