I mentioned in last week's menu plan that it's officially Baseball Season!!!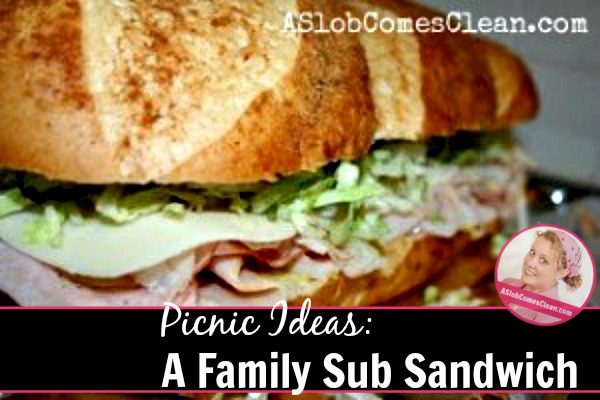 Crazy, crazy, crazy . . . but fun, fun, fun!!!
At least one night each week, we have to spend five whole hours at the fields, so I'm declaring it Picnic Season!
And because I have a blog and all, I'm going to be sharing my picnic ideas for the next four or five Mondays along with my menu plans.
Our first picnic was last Thursday night.  I made sub sandwiches.  Sandwiches are normal. Sub Sandwiches are fun!  My kids kept asking me, "Mom, did YOU really make these???"
(Since it's not exactly hard, their amazement makes me think perhaps I should put a little more effort into their school lunches.)
A friend made these for her son's birthday party a few years ago, and I was amazed at how such a super-simple idea felt so special.
I bought two loaves of french bread.  One plain for the kids, and one with yummy garlic-stuff on top for the adults.  (My parents came down for the game, so we had four adults.) I cut the loaves in half, and loaded them up with turkey, ham, and provolone for the kids.
For the adults, I tried to cater as much as possible to each person's likes.  One end was mustard only, the middle was mustard and mayo and the other end was mayo only.
I used bagged shredded lettuce, because I was pretty sure that I wouldn't remember to wash the lettuce in time for it to be totally dry before I needed to assemble the sandwiches.  And nobody wants a soggy sandwich.
At some point in the assembling process, I thought to put foil under the sandwich.  I cut the sandwich into four (plenty large) pieces.
I wrapped the entire sandwich with a layer of foil on top and a second layer on bottom, since the piece that was there had been cut during slicing.  This was the solution I came up with after a less-than-successful attempt at getting the kids' sandwich wrapped up.  Thankfully, theirs wasn't as fall-apart-prone.
I know this is super simple. But if you're anything like me, it's possible that unless you think ahead and get some ideas, your family would end up going through the drive-through or eating peanut butter crackers for supper.
I packed individual drinks and bags of chips.  (So no grubby ballpark hands would have to reach into the chip bag.)
I was overly proud that I thought to bring plates and leftover pink birthday napkins.
And do you know the best part?  It was fun.
There's just something about sitting side by side in a long row of folding chairs with your family, cheering on your brother and having something special to pull out of the ice-chest.
Next Monday, I'll share this week's picnic adventure.
Here's our menu plan for the week:
Monday – Homemade Pizza Pockets (This will be the Picnic Post for next week.)
Tuesday – Crock pot Enchiladas
Wednesday – Oven Baked Chicken Nuggets
Thursday – Gyros (or something like that, using this Greek meatball recipe as a basic idea)
Friday – Out to Eat
Saturday – Burgers again?  (We realized last night that we've grilled burgers every Saturday for at least a month.)
Sunday – Dance Recital and dinner out.  (My daughter's dance recital, not mine.  Don't I wish.)
Check out more menu plans over at Orgjunkie.com.