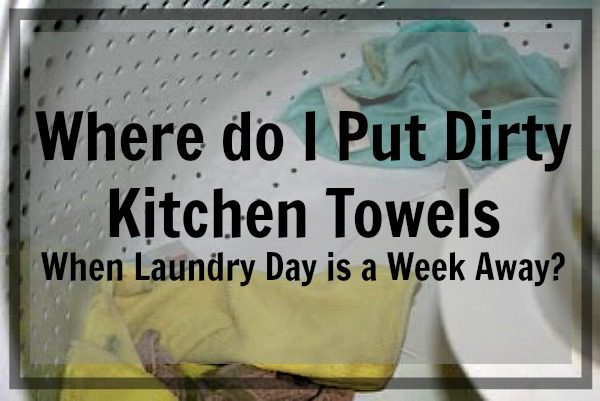 There's laundry.
And then there's kitchen laundry.
Meaning, wet laundry.
My mother did a great job of instilling the fear of wet laundry in me.
Not that I always handle it like I should . . . but at least I'm afraid of it.
I've seen wonderful ideas from people who have it more together than I do.  They have special drying areas, or a basket under the sink where they put the towels and dishcloths until it's time to wash them.
But if I had a special drying rack, it would get loaded down with every towel and dishcloth we own, until  it collapsed from the weight. And a basket under the counter would just be . . . . quickly forgotten.
So, I do as my mildew-phobic mother did (and as many other mildew-phobic mothers probably did before her), and I
place
throw the dishcloths directly in (or on) the washing machine.  Even if it's Monday night, and they won't get washed until . . . the next Monday.  Thankfully, I have a Laundry Room door that closes, and so I can hang them over the side, spread them around, whatever . . . without them being an eyesore.
And since my first load for
Laundry Day
(which I try to start on Sunday night) is generally towels, they just go right into that first load.
It's much harder for my Slob Vision to render them invisible if they're sitting right in front of me when it's time to do laundry.
One of the main things that people seem to freak out over when they land on this post is the casual mention of a Laundry Day. If you have laundry under control by doing a load every day or as needed, then keep doing what you're doing. If, however, the one load a day method doesn't work for you even though it totally
should
work,
read this post
where I explain exactly how I tried every other way I possibly could before finally accepting that Laundry Day works best for my Project Brain. If you want instructions on bringing your home out of Disaster Status, check out my book:
How to Manage Your Home Without Losing Your Mind
. There are two chapters on laundry in that book. One chapter explains the ins and outs of how Laundry Day works, and the other answers all the objections people have about giving it a try. I know the objections because they were my objections, too.
*FYI, Laundry Day probably won't work for you if you're on a septic system, as it may overload your system. Sorry!
Save