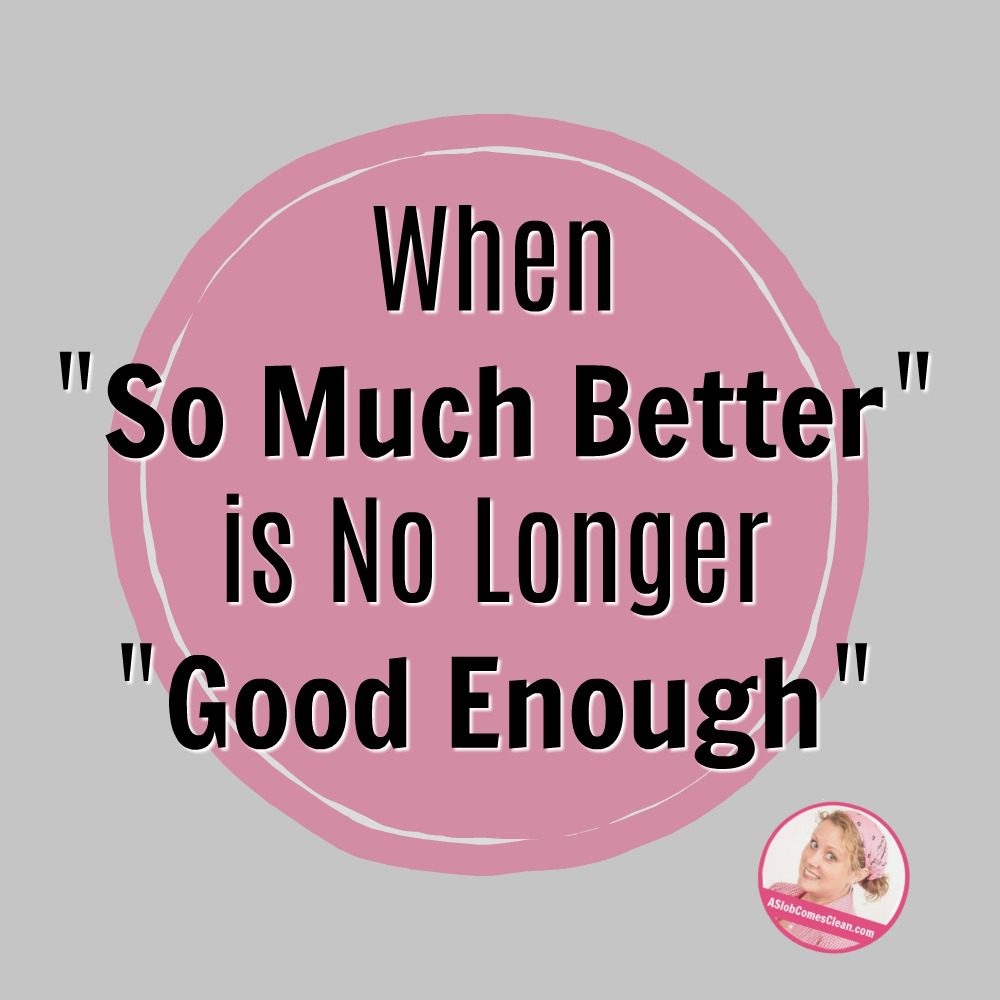 When I began this blog, perfection was definitely not my goal.
I just wanted a livable home.  One where my family could relax.
And find things.
One of my proudest accomplishments has been our office/game room.  It's the room that sold the house for us, and I'm guessing it would sell the house to someone else if we ever need to move.  It's a big, extra room, with its own little half-bath.  I love it.
But for the first few years we lived here, I used it for storage and we couldn't even get to the cute little half-bath.
Total waste of a wonderful space.
So as I worked on it, decluttered it, removed the wallpaper, and painted it, I was overjoyed about how this room being functional added so much to our house.  I felt like we added serious square footage.
And for the year or so that we've been enjoying it, I've felt pride that it's "so much better."  It's a multi-function room.  It's where we keep the wii, the computer, and it serves as our guest room as well.  If something truly needs to be stored . . . . this is the realistic place to put it.
But lately, certain things that used to fall into the maybe-it's-not-perfect-but-at-least-it's-so-much-better-than-it-used-to-be category . . . . were starting to bug me.
Like this:
This was under my desk.  Not under as in "hidden from view" but under as in "hopefully no one will notice that totally visible eyesore because at least it's not in the middle of the floor."
In my mind, this was the spot where I kept my eBay shipping supplies.  It was handy, right next to the computer, and held priority mail envelopes, first-class envelopes, tape, and packing materials.
Except that I haven't sold anything on eBay in quite a long time.  And there was much more in there than just shipping supplies.
There was a box for a lamp that I must have wondered if I would need to return . . . three years ago.  There were broken toys.  And of course, there was trash.
To me, this was one of those decluttering projects that wore me out mentally.
I paid money for most of these "perfectly good" supplies.  And the ones that I didn't pay for, the priority mail envelopes, CAN'T BE USED FOR ANYTHING ELSE.  So, even though I've offered them on freecycle and Craig's List, I've never gotten a single response, since anyone can have them delivered to their home for free instead of driving to my home to pick them up . . . for free.
Such a cool thing when I was using them, such a thorn in my side now that I don't need them.  I'm guessing that my only solution is to load them up and haul them to the post office and endure the dirty looks from the postal workers (since I also have MANY boxes full of boxes in the garage).
But knowing me, I'll load them up, forget about them, drive around with them in the back of my Suburban until we need to load something else back there.  Then I'll have to take them out and put them . . . . back in the garage.
And the foldable-black-divided-tote-thing-a-ma-jig.  It truly is a cool thing.  But I don't currently have a purpose for it, and if I fold it up, I'll never remember that I have it.
So, for now, I plan to fill it up with donations for the next thrift-store-pick-up.
As I tend to do in the middle of decluttering projects . . . I debated about stopping at this point.  I had even purposely taken the before picture to NOT include the crazy mess that made up the rest of the space beneath my desk.
But with the tote gone, it was even more difficult to ignore the trash/clutter/cord-explosion.  So I got on my hands and knees (I know!) and started tugging on wires and throwing away trash.  There were cords that were not attached to anything.  There was a duplicate plug from the DSL modem that I got rid of . . . . months ago.
And, this is totally embarrassing, but as often happens, where there's clutter . . . there's grossness.  I found more than one cracker and a piece of a candy cane.  Evidently my I'm-a-grown-up-and-that's-why-I-can-eat-in-here-and-you-can't argument . . .  isn't entirely valid. 
After I removed the big stuff and vacuumed up the small stuff, I sat and stared at the jumble of cords for a while.
They're a jumble.
They're ugly.
But I honestly don't know what to do about them.  So I went ahead and took the after picture, and decided to be happy that it looked "so much better."