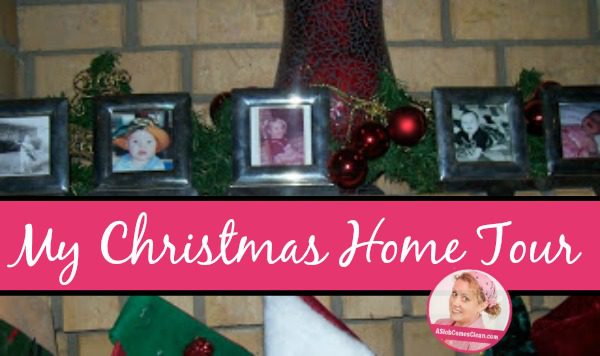 If you're a regular reader, you know that I don't give real-life home tours very often. The rooms where my parties are held are generally . . . the rooms that are clean. You'll definitely never hear me ask if you want to see my master bedroom. But an on-the-blog home tour? I can do that. I'm all about strategic clutter-avoiding photography.
I do love decorating for Christmas. I love that most of my Christmas decor items serve as conversation starters. Isn't that what decorating is really all about? Making people feel comfortable in your home so you can bond on a deeper level?
I also love putting those things away when the season is over. One of my goals as I work on getting my house under control is to be able to decorate at other times of the year.
I'm getting better, but am still working on all of the details.
Details like:
Finding a good place to store out-of-season decorations.
Remembering where that "really good" place is.
Realizing that the season is upon us.
Actually putting out the decorations.
Not letting "stuff" pile up on, and take the beauty away from, the displays.
And . . . of course, realizing that the season is over, packing up and putting away all of the decorations.
Christmas is pretty easy, since there's a set day (the Friday after Thanksgiving) to put them up, and a set day (New Year's Day) to take them down. I actually notice when those days happen.
St. Patrick's Day? Not so much.
I get pinched a lot.
So here are a few of my favorite decorations:
This is my stocking collection on the wall in my dining room. It is the first thing you see when you walk in our front door. A few years ago, I realized that I had quite a few extra stockings, and decided to call it a "collection." I asked family members if they had any extras, and they were more than willing to give them to me, as they didn't want to get rid of the ones that held great memories, but also didn't use them. (Classic de-cluttering dilemma, right?)
One of my favorites is the one with Raggedy Ann and Andy that I remember watching my mother make. I also love the one that says "G.A." which was what my father was called as a child. That one is definitely over 50 years old. So many have special memories, and I've also added some that I've picked up at garage sales. I hope that one day I'll have the entire wall covered!
Then there the holders for the stocking that we actually use. I bought these frame-stocking-holders after Christmas the first year we were married, and I find it so interesting that I bought 5, exactly what we would one day need! Early on, I stressed about whether I would change out the pictures every year, but then had a light bulb moment and decided to put baby pictures in them. It's so fun for the kids to have to figure out which stocking belongs to whom!
I love The Wizard of Oz
. As a child, I had the record, and I re-wrote the script often to be performed by my Girl Scout troop (with myself in the starring role, of course). The only problem with having a love of something that has quite a bit of memorabilia to go along with it . . . is that you start to end up with too much. When you move out of a phase of life where you want to display it . . . it's hard to know what to do with it all. I took the cue from three of the figurines on the left. They are actually Christmas decorations, holding a caroling book, a Christmas tree, and a bell. I decided to get out all of my Wizard of Oz items to display only at Christmas! This way, I appreciate them anew each year, enjoy them while they're out, but I don't have to display them year round.
And I love the bricks that my mother painted yellow for me! (But they do make those Christmas boxes that hubby brings down from the attic quite a bit heavier!)
And here's an advent calendar that my mother made when I was a child. I always loved getting out the teeny-tiny felt ornaments. So many of them have amazing detail. When my mother reached the point where she was no longer putting out all of her Christmas decorations, this is the item that I asked for.
And of course, I must share my Santa-fied bust of Shakespeare. This little infant Santa hat (that I couldn't possibly throw away) fits him perfectly!
What are your favorite Christmas decorations?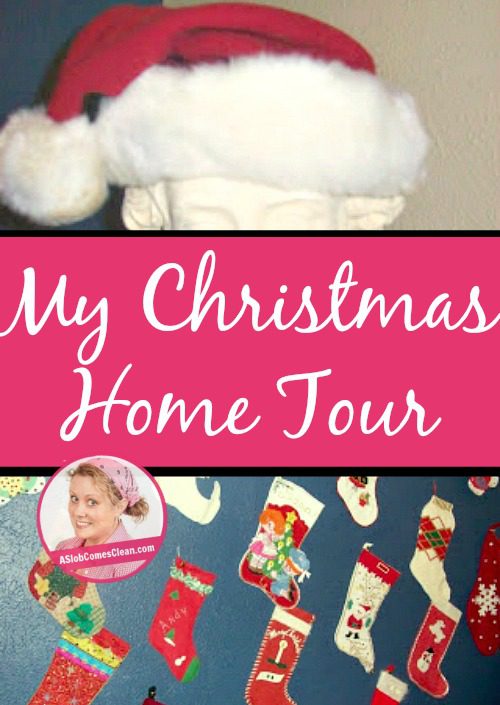 I'm participating in the Christmas Tour of Homes over at the Nester and in Show Us Your Life – Christmas Tour of Homes over at Kelly's Korner. Go check out more strategically photographed home tours!
____________________________