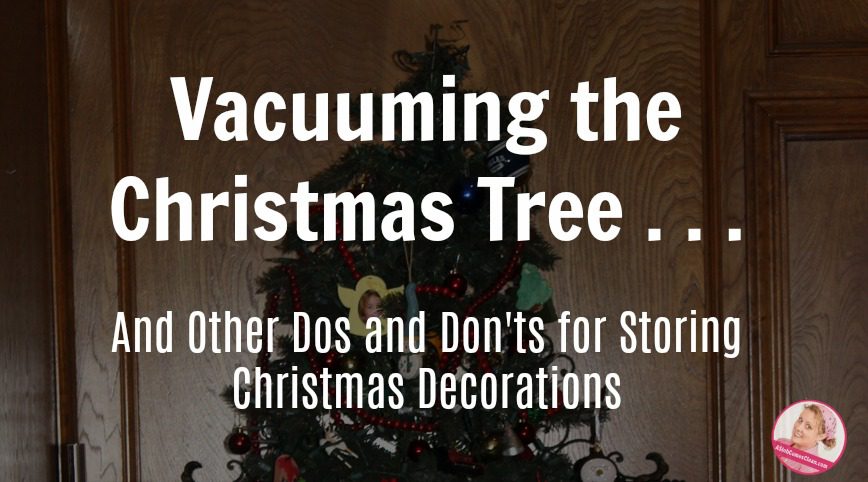 It would make more sense to talk about storing Christmas decor . . . . after Christmas.
Except that by then, I'll have forgotten all the things I grumbled to myself while getting our decorations out of their boxes.
Like while I was vacuuming my Christmas tree.
1. DON'T store your Christmas tree in its too-small-now-that-it-isn't-straight-from-the-factory box, with the top OPEN . . . without putting some sort of trash bag over it.
Really? I thought that was a good idea? I know one of my biggest slob-problems is my tendency to wait and "deal with it later" . . . but this was ridiculous.
2. Throw away the newspaper that you used to wrap your fragile ornaments in last year . . . as soon as you take the ornaments out of the box. (This is one I actually do.) I know it's fun to look at newspapers from December of 1987, but it's much better on your allergies if you just use new paper every year. Not sure why I felt the need to re-use paper for so many years, because it really makes a huge difference in the dust.
3. Purge as you decorate. No place to put that pictureless snowman frame? If you didn't use it last year, and can't seem to find a place for it this year, go ahead and get rid of it now. Waiting to make a decision until it's time to pack up your decorations again . . . just means that you'll store it for another year and re-agonize
later.
Believe me. I know.
4. Purge as you store. Did that one-legged Santa, whom you were sure could be propped up against the lamp, keep falling over? Get rid of him now so you don't come up with the same great idea next year.
5. Store boxes inside boxes after the decorations are out of them. Duh. But really, it's so much more difficult to be motivated to put away than it is to get out, so the fewer trips up the attic ladder or down the basement stairs . . . the better.
6. Keep smiling when you ask hubby if he brought down the box of yellow-painted-bricks for your Wizard of Oz display. Respond sweetly when he asks if you are actually going to use them this year. Remember, and give him credit for, all the years when he hauled the very heavy box down the ladder . . . and then you didn't use them. Be understanding that not all men will remember as well as you do that you finally found a way to use them last year. Give him a little kiss and say thank you after his special trip to the attic.
7. Store items for displays together. Again, duh. And yet, somehow, every year I get a little too random in my putting away efforts.
8. Let the kids help. According to age, they can wrap up decorations that either just need to avoid being scratched or that need to be packed in a way to avoid breaking. These are life skills, and this is a great time to teach them.
9. Not sure how this fits into the list exactly, but if you have wood floors and small children, or just tend to be clumsy yourself . . . get the look-like-glass-but-really-are-plastic ball ornaments. Trust me.
10. Pretend not to notice when the box that is required to store your very expensive Santa comes down empty from the attic.
Empty because you never put Santa away last year.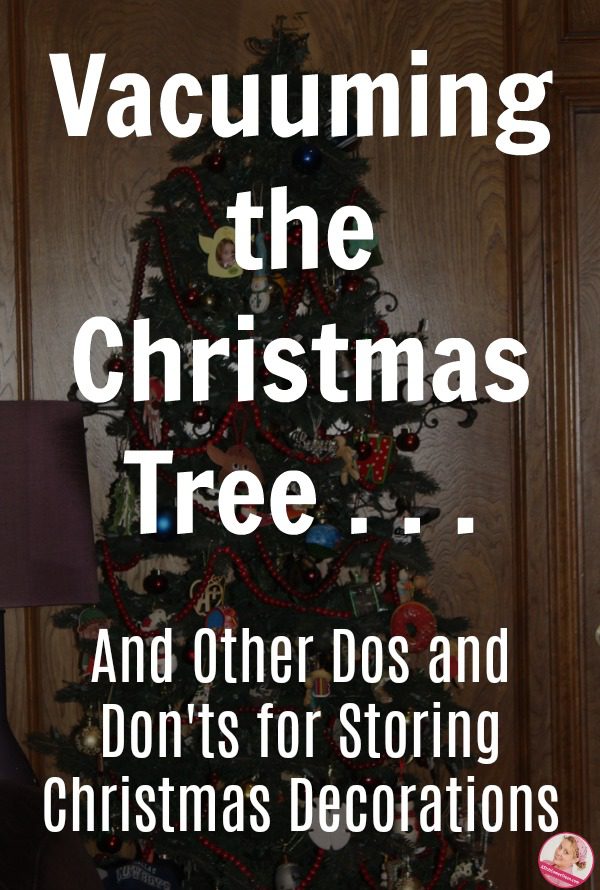 ________________________________