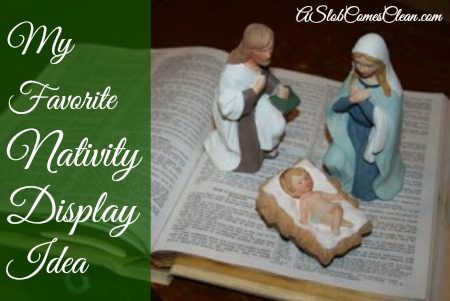 Years ago, I saw someone use this display idea for their nativity scene.
They placed the figurines on top of a large Bible, opened to Luke 2.
I loved the idea, immediately re-created it in my own home, and assumed that I would use it every year for the rest of my life, modestly admitting that it was a borrowed idea when others gasped at its brilliance.
Then I had kids.
While I generally tried to teach my toddlers that certain things were off limits, rather than move everything out of their reach . . . I learned that policing ceramic figurines, placed precisely at their eye-level, was a losing battle.
Especially in the midst of all the other Christmas Decor Life Lessons that needed to be taught.
And then there was the whole Slob Vision thing. The house was usually a wreck, the coffee table almost always had piles on it that didn't exactly fit the Bethlehem theme, and my ability to not register what I was seeing (or not seeing) until someone was on their way to my house . . . meant that if a figurine went missing, I probably wouldn't even notice until it had disappeared into the depths of someone's toybox.
I did try a few years ago with some less-breakable clay wisemen, and one of them has never been found.
Now that my youngest is 4, I called a little meeting while putting out the decorations yesterday. We talked about the significance of opening the Bible to the Christmas story and using it for our display. We discussed how all of these people had to stay right there.
All the time.
And no jumping off the coffee table.
Until after Christmas.
They claim to understand. It's been 24 hours, and all of the figurines are still on the table. Maybe in different spots, but still there.
Now for my end of this deal. Hopefully with the deslobification progress I've made over the last year, my Selective Vision has improved to the point where I'll be able to consistently see the beauty and importance of the display, and won't absentmindedly pile things around it.
Hopefully.
Save
--Nony