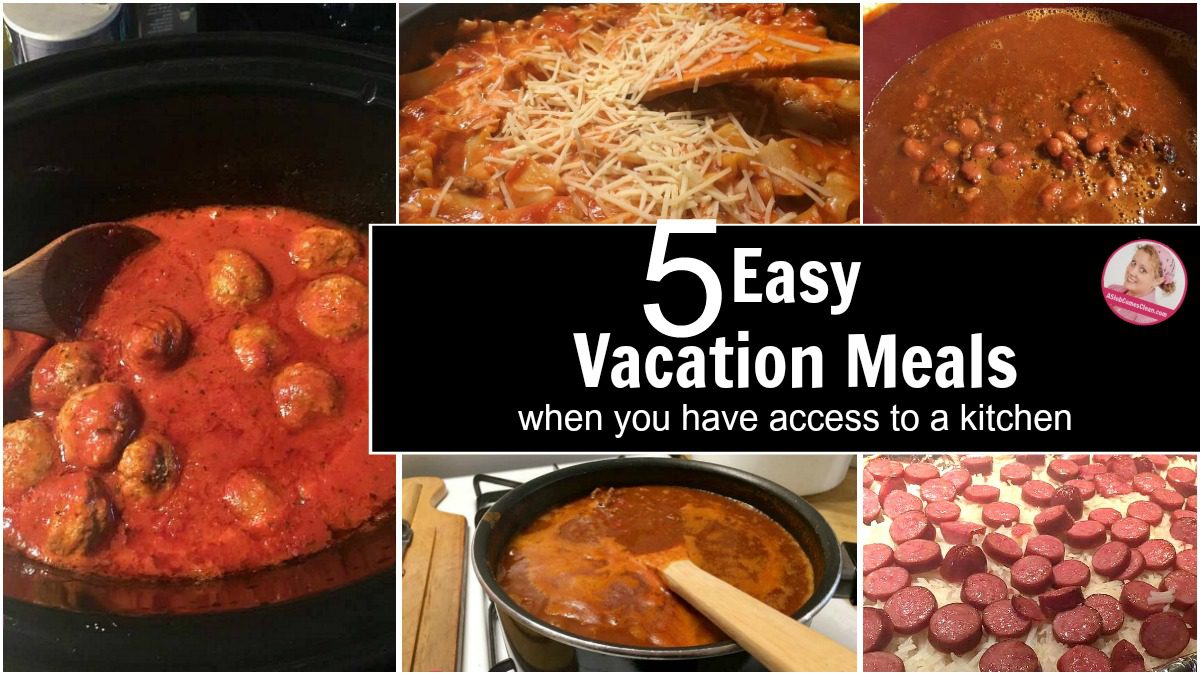 I can get as worked up as the next person about how a vacation isn't really a vacation if mama still has to cook.
But I also see our vacation budget and get worked up over how I'd rather get away and have to cook than stay home and cook anyway.
We especially love the totally free getaway we have in my parents' lakehouse, and try to go there at least once a year. I've developed a basic meal strategy that allows me to spend as little time in the kitchen as possible while I'm supposed to be vacationing, and also feed my family.
Things to Consider About Vacation Meal Planning (Or . . . What's Important to Dana When Meal Planning for a Vacation Rental)
I struggle with the whole "using/following a recipe" thing on any day of the year, so on vacation I don't even try. These ideas are all ideas. Not recipes. The goal is to throw "this" and "that" into a crockpot or onto the stove and have dinner done with little effort and minimal mess.
Pre-cooked-at-home meats are key.  I generally stay away from bringing raw meats on a trip because they require much more effort, attention and time when cooking, but also because they can be messy in the cooler. No matter how much I trust their packaging, I don't want my bag of grated cheese sitting next to raw chicken for hours in the ice chest.
I also just feel better about already-cooked meats being in the ice chest for longer than I'm willing to leave raw meats in there. If we make an unplanned stop along our way, I'm not worried about our food being in the cooler for an extra hour.
I like to bring things that work well in the slow cooker OR on the stove. I can't guarantee I'll remember to start the crock pot before leaving for whatever fun thing we're going to do that day.
We grab a good-sized bag of salad and some other veggies that either cook fast or don't need to be cooked so we can add them to every meal.
It's worth packing a crockpot if the place where you're staying doesn't have one.
Our Favorite Easy Meals for a Vacation When I Have to Cook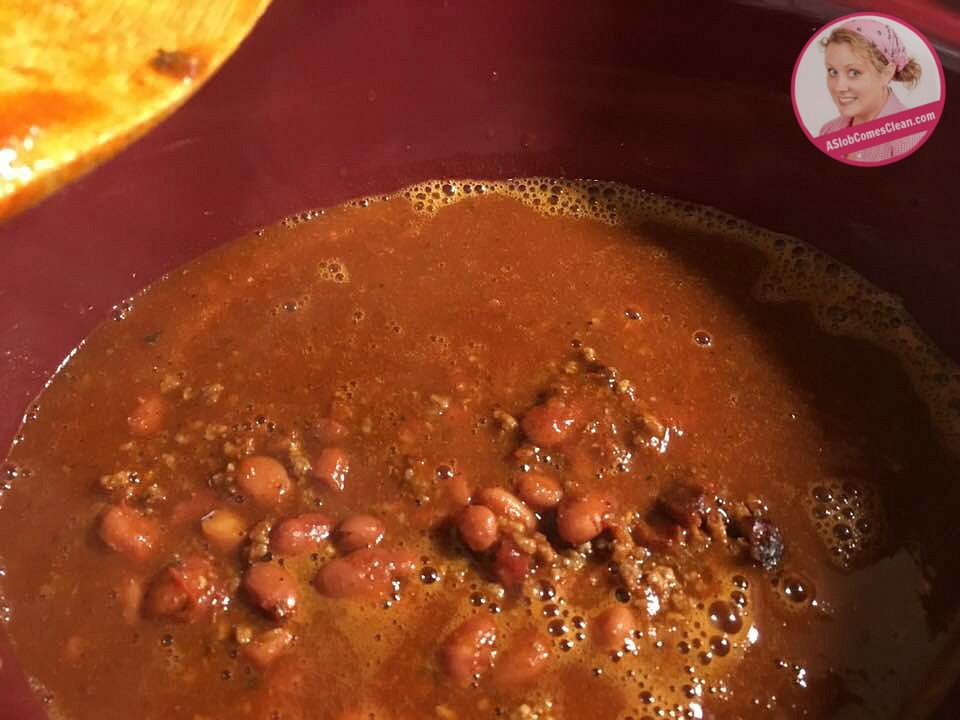 Chili pie
Pre-cooked ground beef (still frozen) goes into the crockpot with a packet of chili seasoning and some other canned goods. (FYI, a jar of spaghetti sauce works if you forget the tomato sauce . . . ) Serve over corn chips and sprinkle with cheese. This is great to leave in the crock pot all day or quick to make on the stove.
2. Frozen meatballs in spaghetti sauce
The "name" of this "meal" pretty much tells you everything you need to know. Throw homemade or store bought frozen meatballs into the crock pot with a large jar of spaghetti sauce. All day on low or four hours on high, and you have a meal at dinnertime. Making the pasta is the only other thing to do, or just eat it without pasta like we do.
You could also get some sub rolls and shredded mozzarella for meatball subs.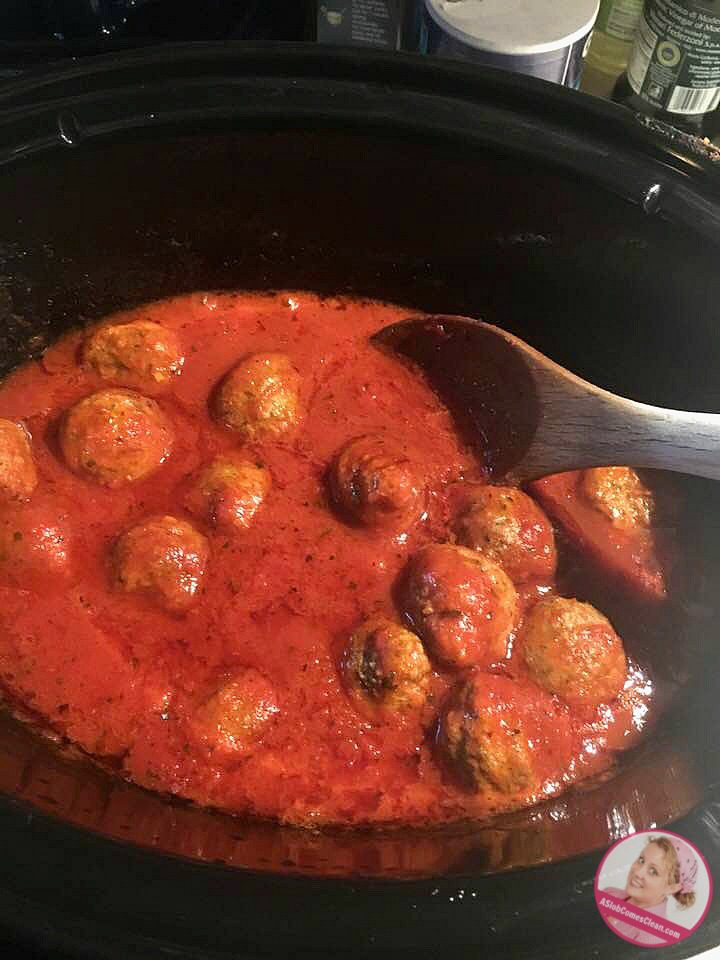 3. Smoked sausage in barbecue sauce
Sometimes we cut up large sausage links and sometimes we use the mini smoked sausages like it's a party. It's a vacation, which is basically a party.
4. Some version of lasagna
There's two hour crockpot lasagna (recipe here) and skillet lasagna (recipe here). Those two recipes use the same ingredients so you can decide at the last minute which works best for your day. We're also a big fan (when it isn't so crazy hot we're avoiding the oven) of getting a frozen lasagna from the store. Everyone loves them and they're basically zero work. Just pay attention to how long they take to cook to see if they'll work within your day.
5. Pizza
I buy the pre-made pizza crusts at Costco or Aldi. They don't have to be refrigerated and come with small packets of pizza sauce. We bring pepperoni, black olives, and shredded mozzarella for a super-easy, always-successful meal. This isn't a crockpot recipe, obviously, but it's a fun activity making fun food and cooks quickly in the oven. It's also nice that the only ingredient in the meal that has to be kept cool while traveling is the mozzarella.
6. Sausage and Potatoes
You can do this in the crock pot or in the oven. In the crock pot, just mix a package of frozen hashbrowns with sliced smoked sausage and cook on high for four hours. In the oven, dump the frozen hashbrowns on the bottom of the cookie sheet (use one with an edge so any juices are caught and don't run into the oven) and cover with slices of smoked sausage. Cook at 425 degrees for 30 minutes. My family loves this. I use the extra wide foil to cover the cookie sheet, and this means there is NO cleanup. So yay for that.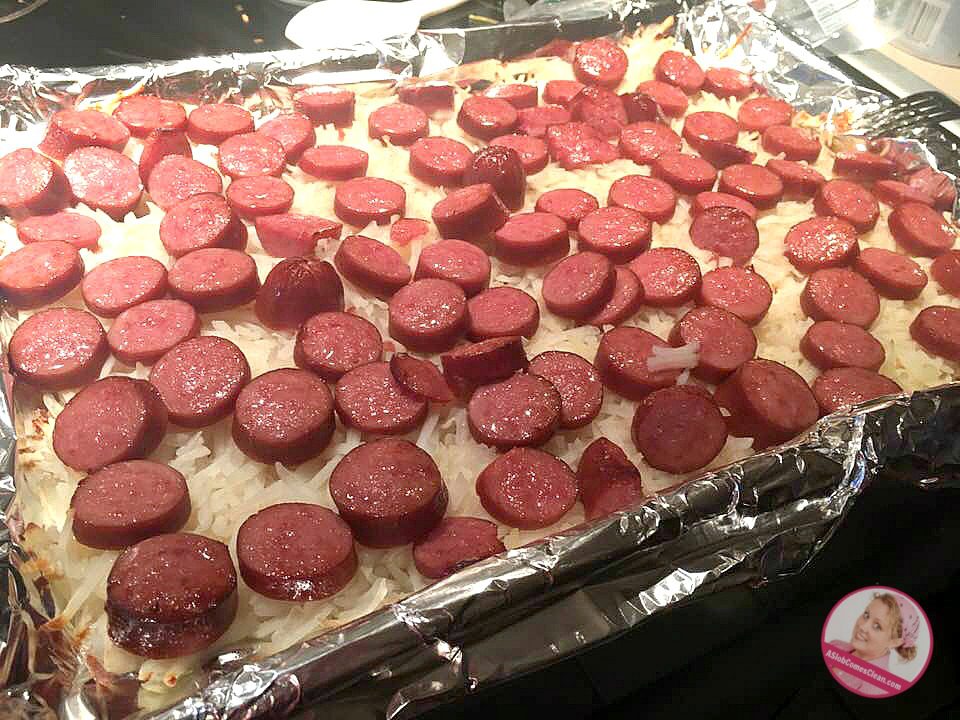 These are our go to meals for vacations-with-a-kitchen. There are so many other options depending on what you already have in your freezer, but these are the easiest for us. Many of my super-fast-and-easy recipes would also work, as would some of my freezer meals.
What are your favorite meals to make on vacation?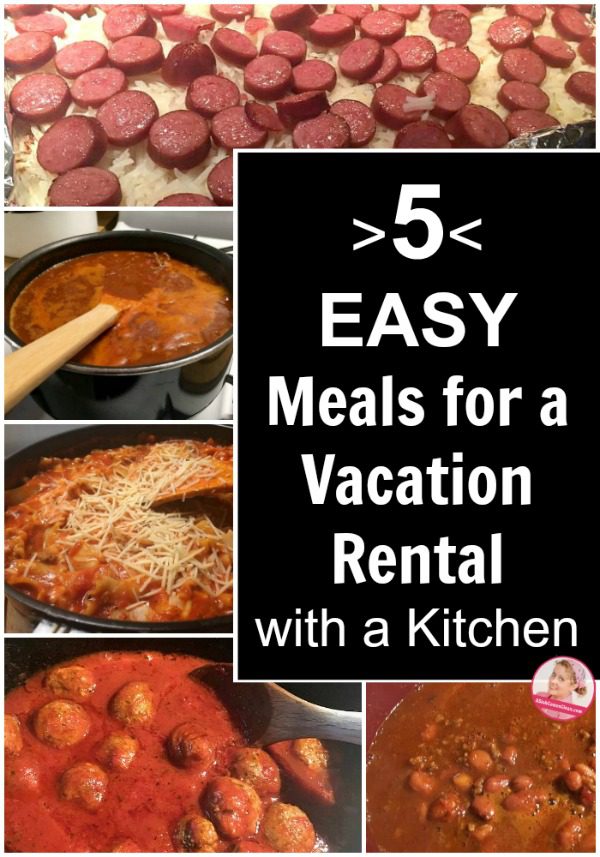 --Nony