I have a whole repertoire of portable meals for game nights, but practice nights are difficult. Gymnastics, basketball and baseball practices all seem to happen smack dab in the middle of the hour when I'd like to have dinner as a family.
We end up getting home right at the edge of what I personally consider an acceptable dinner time.
In an ideal world, I'd always think to make a crockpot meal for those nights. I don't live in an ideal world, though, so I'm always looking for things I can prep before practice that can be eaten immediately when we get home.
My whole family loves my Skillet Lasagna so I thought I'd try making it in the crockpot. It worked!! Each kid gave it a thumbs up.
Things to consider:
I can do this in 2 hours because I pre-cook and freeze my ground beef.
It's not gourmet. The lasagna noodles aren't as perfect as they are in a legit lasagna. At an hour and forty-five minutes, they're slightly al dente, but my family thinks they're great.
Ingredients: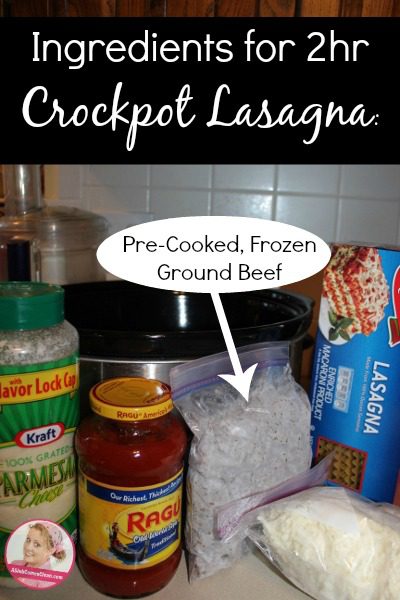 One 24 oz jar of your favorite spaghetti sauce (or equivalent amount homemade spaghetti sauce)
Equal amount of water (I fill the jar with water and swish it around.)
1 lb pre-cooked and frozen ground beef (no need to thaw)
8 oz (or so) shredded mozarella
Coupla' shakes of parmesan cheese
8 oz (or so) lasagna noodles, broken into bite-sized pieces
Instructions: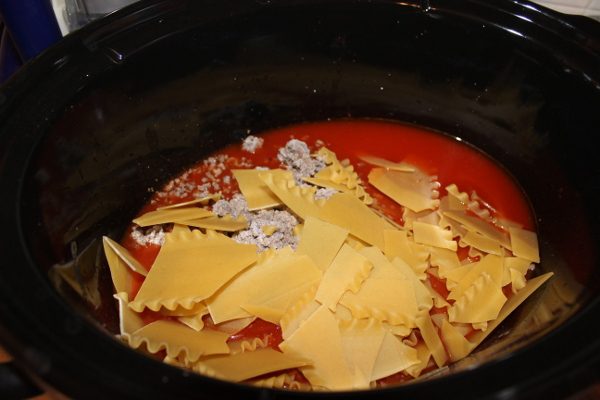 Place cooked ground beef (unthawed or partially thawed to the point where you can break it up is fine) into crockpot with spaghetti sauce and water. Stir in broken noodles until they're covered in liquid.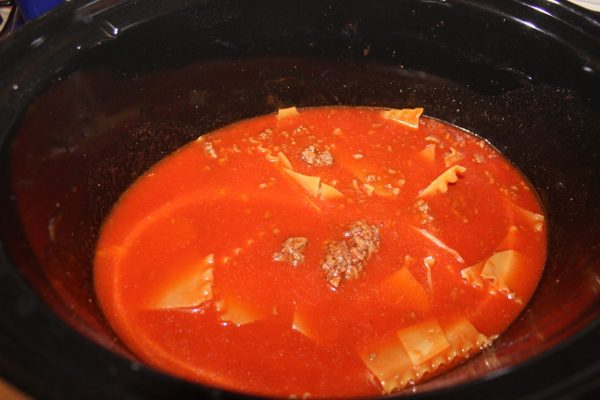 Cook on high for 1.5 to 2 hrs. I usually get it going about 5:25 and it's ready when we get home at 7:15.
When you are ready to eat and the noodles are soft, stir in the mozzarella and parmesan. These melt right away. Amounts should be according to taste. I put WAY too much in last week, but even though each serving included strings of melted cheese reaching from the crockpot to the plate, my family declared it was fine.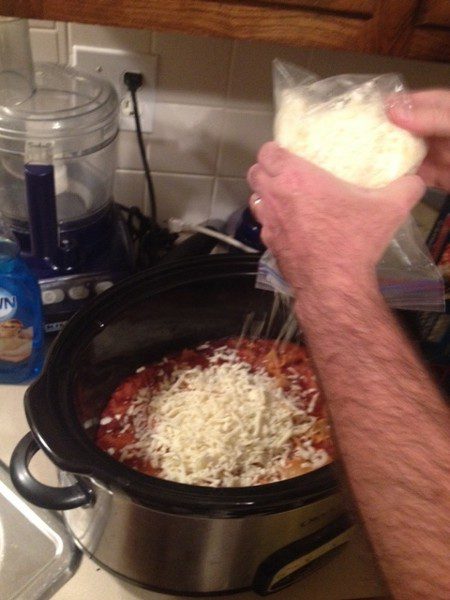 That's Hubby's hairy arm, not mine. I had to show at least one of the TEN pictures he and the boys took of him dumping and stirring the cheese. I had to run an errand so he finished it up for me. (He has embraced his role as Husband of a Slob Blogger.)
I'll be sharing other meals I make that are perfect for practice nights, so be sure to subscribe by email so you don't miss them! Subscribing by email is THE best way to be sure you see all new posts. (And it's free!)
Save
Save
Save
--Nony