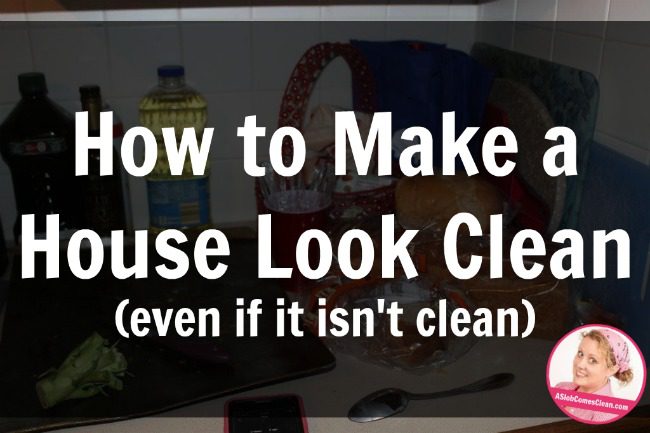 Ever wonder how to make a house look clean?
Or specifically, how (in the world) other people who say they never clean have homes that seem like a far-off and totally unattainable dream?
Or even more specifically, how those people's homes (which they say they haven't cleaned) look better than the house I just spent a day (or a week) cleaning?
You're in the right place. I wondered the same thing so many times. I have felt the not-so-nice feelings towards people who've laughed, "Oh, I never clean!" as I sit in their perfectly orderly homes into which they let me come at a moment's notice without a single look of pain or terror crossing their faces.
I've been doing this slob-blogging/online-honesty-about-my-biggest-struggle/way-too-much-introspection-and-examination-of-my-own-and-other's-cleaning-habits thing for more than seven years, and I've noticed some things about these people's habits vs my own natural tendencies.
As I've noticed, I've also realized some things.
How to make your house look clean when it actually isn't:
This is a rule I made up. Kindof. It existed, but I was clueless.
It's a rule that People with Under Control Homes follow without realizing they're following it or even that it's a rule.
I finally realized I wasn't following it.
And that not following The Visibility Rule was the reason my house felt messy and out of control even after a full day of cleaning like a maniac, and even worse on a random/normal when I haven't cleaned.
The Visibility Rule: When you clean (or declutter or straighten or pick stuff up), start with the visible spaces in your home.
Resist the urge to start in the back corner of the garage. Resist the intense (like, super intense) desire to purge your sock drawer when the kitchen counters are piled high with dirty dishes. Focus any fleeting bursts of Cleaning Energy on areas people would see if they knocked on the front door.
I'm not saying to ignore the sock drawer forever, but the goal of this particular post is to answer the question about how to make a house seem clean when it isn't. No one is going to see your sock drawer, no matter how perfect it is. They're going to see your living room, no matter how much effort and energy you put into your sock drawer.
Deal with Procrasticlutter.
Procrasticlutter is a word I made up, but it's a real thing in homes all across the world. And it's THE thing that makes a mostly neat home look messy.
Basically, procrasticlutter is the last step of normal, boring, should-be-everyday tasks. The last step that gets put off indefinitely because I'm basically done.
Telling myself I'm basically done gives me permission to celebrate the doneness, and forget that "basically" actually means "not technically."
Need some examples of procrasticlutter? Clean laundry piled high on the couch. Even if the pile isn't all that high, it makes my house appear messy.
Hence: I've been doing laundry all day!! = my house still looks and feels messy.
But don't despair. I found a totally magical (but not magical at all) solution to the clean-piles-of-undies-on-the-couch problem and you can read that here. 
It's the same with clean dishes piled in a dish drainer. They're procrasticlutter. They're clean, so I want to enjoy the fact that I cleaned them.
And ignore the fact that I really should put them away.
Because they don't absolutely have to be put away.
What's the difference between grabbing a clean glass from the dish drainer and grabbing a glass out of the cabinet?
Or grabbing some socks from the pile on the couch vs grabbing them out of the sock drawer?
Other than balancing skills required to pull a glass from the drainer without causing an avalanche, or the time needed to find two of the same kind size of socks in the pile, there is no difference.
Except I wondered why my house always looked messy.
So it's about finishing, but it's also about the mindset of projects vs daily routines/habits/pre-made decisions/have-to-whether-I-want-to-or-nots.
Understand that your definition of cleaning and their definition of cleaning are not the same thing.
If you've been a reader here for a while, you know my story of being completely overwhelmed in my home and bewildered about why I couldn't seem to do what came so easily to everyone else in the whole wide world.
And how the thing that finally made the difference was habits.
Consistency.
Not letting things that should be done everyday (like dishes, picking up, etc.) turn into projects.
Because when I let those things turn into projects (which I always did), then cleaning my house meant catching up.
Digging out.
"Cleaning" meant hours and hours spent doing what I now know doesn't even take 20 minutes a day if I actually do those things every day.
Which meant I rarely even got to the "cleaning" other people are talking about when they say they never clean.
To me, cleaning was catching up on the very most basics.
To them, the very most basics that should be done every day are the very most basics that get done every day. To them, the very most basics aren't "cleaning."
So when they say they don't clean, they're talking about cleaning bathrooms and mopping floors and other major jobs.
The jobs I was often too exhausted to get to after "cleaning" all day.
Turns out, the issue was that we weren't speaking the same language.
Huh.
The question: How do I make my house look clean without actually cleaning it?"
The answer: Do the daily stuff. Stop thinking of the daily stuff as cleaning. A house that consistently experiences "the daily stuff" can look good for quite a while without big tasks.
Before you click away in despair, let me apologize. I really don't love being the bearer of this bad news. That the super-boring daily stuff is the difference between a house that looks clean and a house that looks messy. And that the super-boring daily stuff doesn't even count as "cleaning" like I always assumed it did.
Two things before you go:
I shared here what I have learned (the hard way) is the very least I can do to keep my house "clean."
And my book. I know. I'm plugging it again. But if you've felt that what-is-it-that-everyone-else-was-born-knowing-but-I'm-missing feeling, you need the book. I explain it all. To be clear, by "all," I mean how to manage your home without losing your mind. (Which just happens to be the name of the book.)
I'll leave you with this review from someone who listened to the audio version on Audible:
"Hearing that other people have the exact same struggles I have was eye opening. Dana was able to translate the things my husband, mom, sisters and best friend have been saying to me my whole life. I now look at my home and all the stuff in it in a whole new way."
You can find out more about the book here.
--Nony