This is a post about a bare minimum house cleaning plan. But first, some comparison.
I've been working out again. This isn't a post about working out, but I have. And as I've started back up (for the forty-jillionth time), I've been thinking about how it relates to keeping my house clean.
If you're one of the many who've read every post of this blog, you know I've said that before and fizzled before.
I went to the gym, I did Camp Gladiator, I did the 30 Day Shred for about four days, I tap danced.
Some things worked better than others. And like housekeeping before this blog, each gung-ho-at-first new method that eventually fizzled made me more skeptical about the next time being worth even trying.
My new strategy: Workout like an old lady.
After CG lost its sparkle (ummm, 5 a.m. is not my sparkliest hour), I did nothing. At all. For months. And felt yucky.
Around that same time, the awesomeness that happens when you are over 40 really started happening. I bought reading glasses because somehow the words in my Bible mysteriously shrank. I accidentally made the font bigger on my Kindle one day, and then realized it was much easier to read, so I left it bigger.
As I accepted this not-so-young-anymore reality, I thought of so many older women I know who aren't overweight, and I considered what they do.
What do they do? Something. They all do something.
Many walk. Some actually ride their exercise bikes instead of hanging clothes on them.
And the ones who are just normal, healthy older women are the ones who don't do dramatic stuff (hello, 5 a.m. burpees). They do boring stuff. But they do it consistently.
So I'm going boring this time. 30 minutes on the elliptical. Every day that I can.
I'm hopeful this mindset change will work since it's the same mindset change that brought my house out of Constant Disaster Status.
I'd tried so many fancy-schmancy methods.
I had a legitimate fear no method would actually work for me.
So I just started doing the dishes.
And by doing that, and oh-so-slowly adding on a new super-boring and non-glamorous habit when the last one started feeling natural, I made progress.
Eventually, I identified the bare minimum.
Because, that's what I wanted to know.
What is the very least I can do to keep my house under control?
I wouldn't have actually put it that way, but it's what I was really asking myself when I said things like, "Why does it seem so easy for everyone else to keep their homes from turning into a pigsties, but I feel like I'm swimming through Jello??"
The short answer was habits. But I knew that. I wanted more detail.
Tell me, EXACTLY, which habits, at the barest of bare minimums, will keep my house from looking like elephants live here.
Specifically, elephants who change clothes six times a day and disrobe in random rooms at random times and leave their elephant-sized dishes all over every random surface that exists.
Clarification necessary because I'm pretty sure an elephant house was less messy than my house was pre-deslobification process. Except we did use toilets.
So what is the very least you can do to keep a house under control?
Do the dishes. If nothing else, do the dishes. Everyday. Like, every single day. And if you miss a day, catch up. On the dishes. If nothing else.
Sweep the kitchen. I know this one gets some people worked up, so skip it if you want. If your kitchen floor is always perfectly fine because you never lay things down and forget about them being there until the doorbell rings, great. If you notice it needs to be swept before you need a full-sized push broom, awesome.
Check bathrooms for clutter.
Set the timer and do a five-minute pickup.
Those are the bare minimum. The barest. The absolute min-i-mum.
But just like the consistently-walking older women whose clothes fit well (even though they can't deadlift 500 pounds), those four bare minimum housekeeping habits have an amazing effect.
They make a house livable.
They make a front door openable.
They make my heart palpitation-free, even when someone mentions they will be "stopping by" in a few minutes.
If you also find yourself wishing someone would just explain WHAT NEEDS TO HAPPEN to keep your house from being a disaster instead of giving you a list of Eight Easy Steps to Achieve Housekeeping Perfection, you've found your people. And you need my book. Learn more about How to Manage Your Home Without Losing Your Mind here.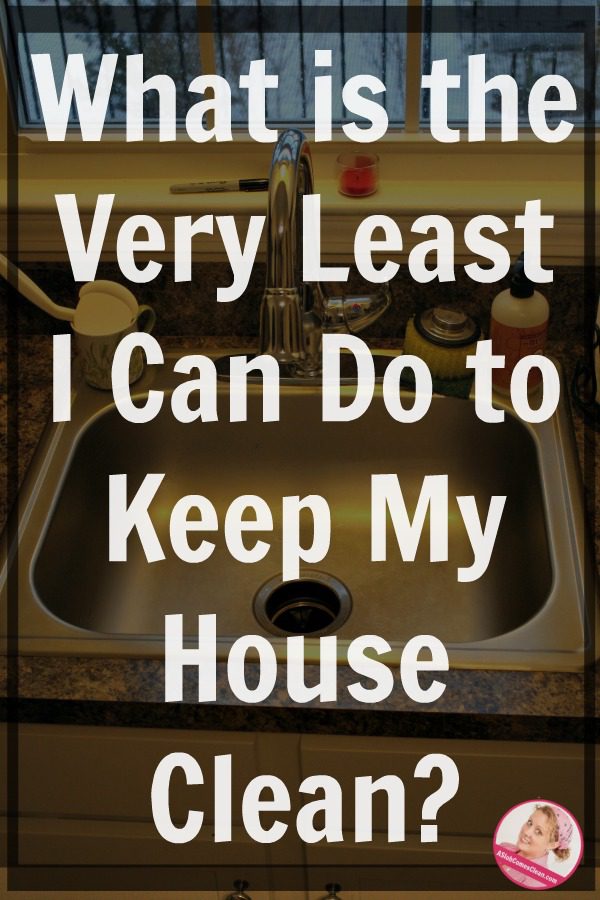 Save
Save
--Nony