I promised a real before-and-after post about my laundry room.
Because here was the real before picture of one thing that had been in my way in the laundry room for weeks months: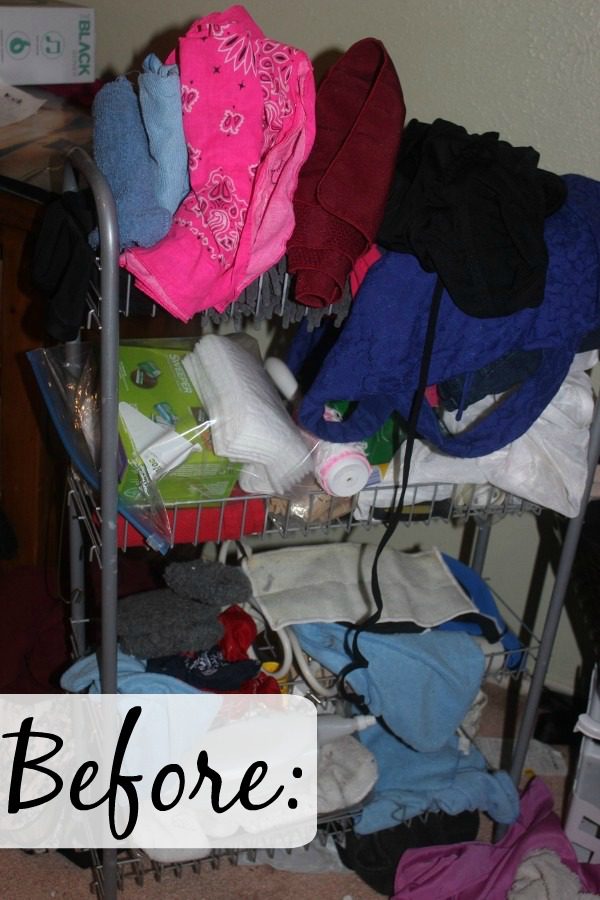 My rolling cart which never fit after I got my last washing machine. I had been moving it out of the laundry room every Laundry Day. Then I'd leave it out in the hallway (where we were always running into it) until I found out someone was coming over. I'd move it back into the laundry room until the next Laundry Day .
Since it didn't have a real home, it became a clutter magnet.
It was just so convenient. Such a great place to hang clothes, drape clothes that shouldn't go in the dryer, or generally shove anything I felt like shoving.
I was more-than-a-little excited that my new set made room for this super-narrow cart.
But before it went neatly into its new spot, it needed to not be a big, ridiculous mess.
Time to declutter.
Step One: Get rid of the easy stuff.
The easiest of the easy stuff is trash. It's always trash. Even if that means assessing the situation and realizing there's no trash. Which never happens to me. I always find trash.
The other easy stuff is stuff that has a home somewhere else. I don't need to get creative and DECIDE where to put something, I just need to move it to the home it already has, but wasn't in.
Things like: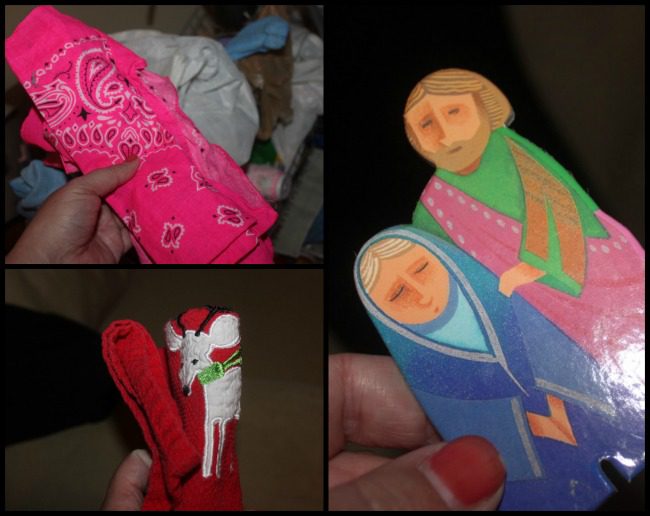 A pink bandanna that needs to go where pink bandannas go, the Christmas towel that needs to go with Christmas stuff, and the piece of a really cool puzzle book thingy that needs to go in the trash. Because I put the really cool puzzle book thingy in the trash when I realized I'd "lost" some of the pieces.
I kept removing things that were easy, taking them where they needed to go right then, and consolidating the things that were there. I rounded up one of Hubby's oh-so-useful leftover coffee canisters to hold coffee-scented clothespins, and put my cleaning cloth container on the cart since the top of the dryer is no longer a flat surface.
That container doesn't actually fit, but oh well. (If you thought you were going to find amazing and perfect organizing ideas, I'm sorry.) Wonder why there's writing on my cleaning cloths? Here's why.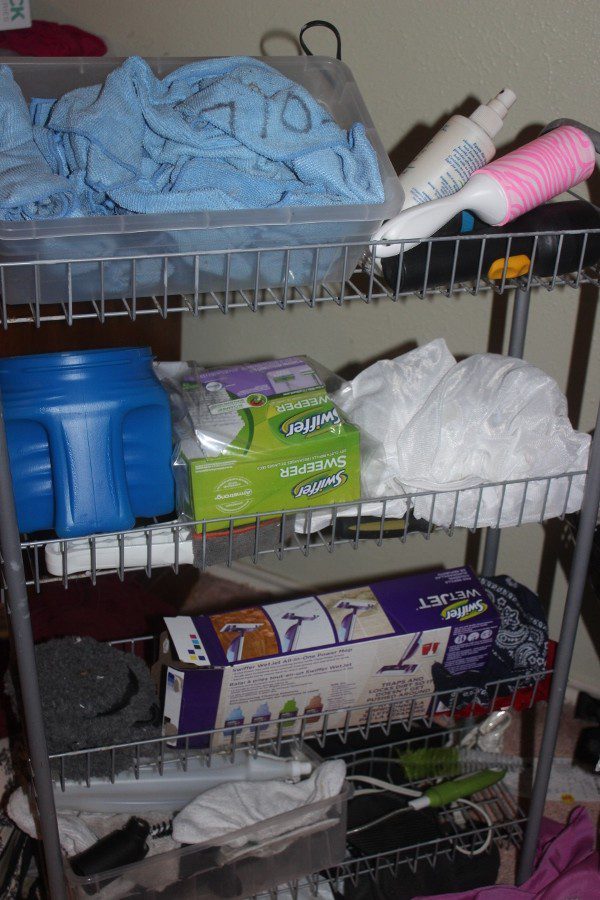 Once it held only what I needed (it was decluttered, not organized), I could slide the cart into its new (or old, depending how you look at it) home. I've loved having this stuff in a real home, out of the way, and my laundry room has been much easier to keep under control.
Yay for that.
Obligatory affiliate links:
--Nony