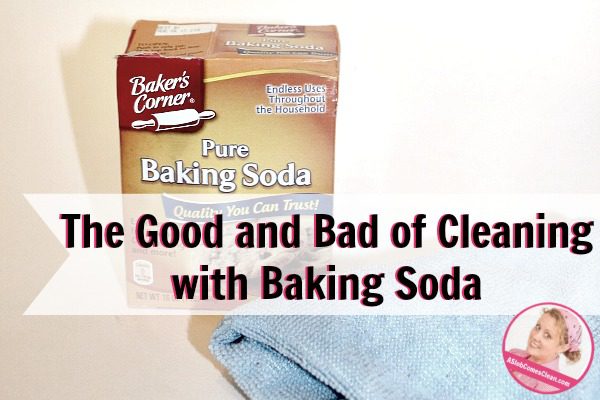 Baking Soda is awesome, y'all.
I use it all the time to clean stains off my counter tops. My somewhat-old-fashioned, non-granite counter tops.
Y'all convinced me here, and then I became a believer here.
But even though baking soda is perfect for cleaning a lot of things and is safe enough to use in cookies (which means you actually EAT it!) or for brushing teeth (Hubby tried this recently when we were out of toothpaste, yuck!), there's a downside.
I'm not knocking cleaning with baking soda, but I think it's important to understand what you're getting yourself into before you start sprinkling everything in sight with the stuff.
I'd hate for someone to think they're doing a quick kitchen clean up before a guest shows up and not leave time for the endless wiping required to remove the film left  behind before the doorbell is due to ring.
Oh. I just gave the downside away. Oops.
There's a film. A film that doesn't go away in one wipe, y'all. Or two wipes. Or sometimes even three.
I can deal with it on my baking-soda-colored countertops, but my shiny (other than the burnt on stuff that looks significantly worse in the picture than I ever noticed while doing this and which is therefore a project and post for another day) black stove, not so much.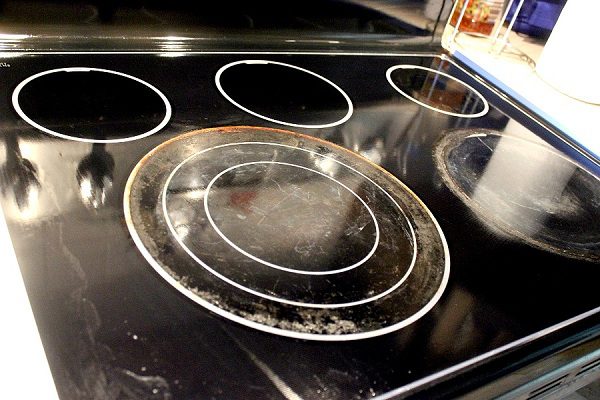 I thought I was being all Cleaning Blogger Awesome when I cleaned that stove.
And then it dried.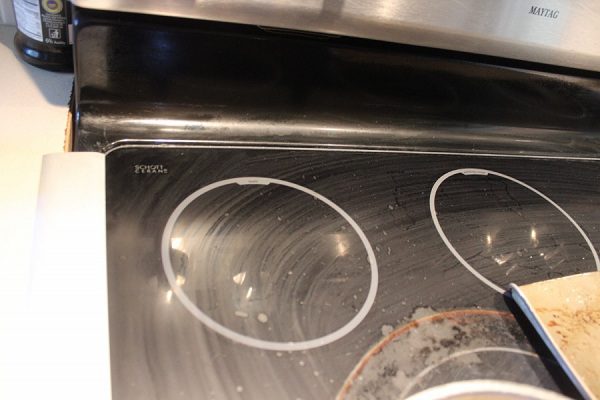 And I wiped it off again.
And then it dried again.
And I had to wipe it off again.
And then it dried yet again.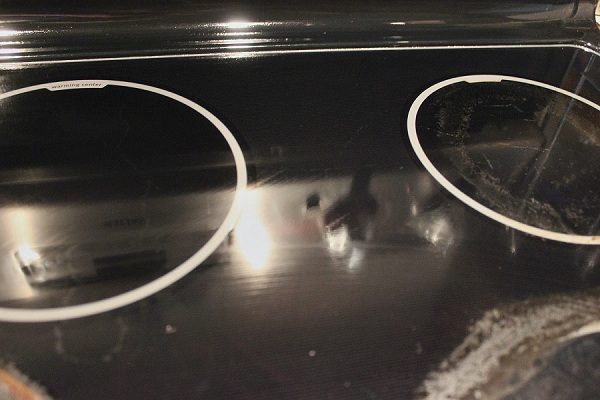 And my daughter exclaimed how terrible it looked and wiped it down again. And then again. She experienced that strange satisfaction that comes over you when you wipe away visible mess. And then she experienced the frustration of seeing the mess reappear when it dried.
Yes, crusty stuff had come off, but the magically re-appearing white film was getting ridiculous.
Finally, it looked ok.
But I've decided to stick to cleaning with baking soda on baking soda colored surfaces.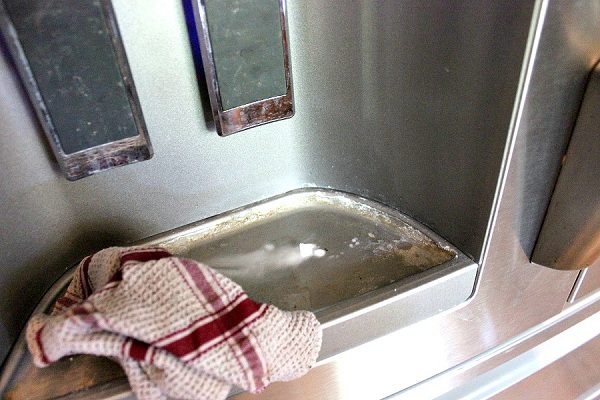 Especially after I used baking soda to easily clean this severely-water-spotted-and-long-neglected water dispenser tray on my fridge. It worked, and the mineral deposits (aka ickiness) were mostly gone. But then, when I stepped back to admire my work, I saw the the area around the area I'd just cleaned. Ugh. Did you read the post about cleaning that stainless steel? I'd just cleaned it about an hour before this!
Yay for natural cleaners that really do scrub out stains and get rid of tough built-up messes. Boo for the mess baking soda leaves behind.
Do y'all have any tricks for me? Do you know the absolute best way to get rid of the film in one or two (or even three) wipes?
Obligatory Amazon affiliate links:
Baking Soda. Really. You can get all sorts of household goods on Amazon. Go here to see how I use it to save my sanity!
--Nony