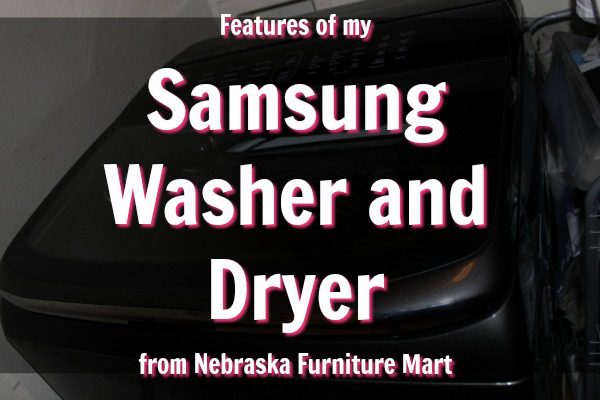 My Laundry Room could have been worse, y'all.
But it was bad enough. Bad enough for its own regularly scheduled decluttering/rearranging/general-clean-up post.
The need became urgent when I received an exceedingly lovely email from Nebraska Furniture Mart (a HUGEmongous furniture-and-more store here in the Dallas area and in other areas of the U.S.) asking if I'd like a new washer and dryer from Samsung in exchange for talking about them here on the blog.
Ummm, yes please!?!?!
I had a newish washing machine that was fine, but I was in desperate need of a dryer. Mine worked, but it was significantly smaller than my washing machine. Washing bigger loads of clothes isn't helpful if you can't dry them all together.
Since not caring about having a matching set hadn't worked out well, I was excited to have a new set (and to give my not-even-that-old washing machine to my niece and her husband who are expecting Baby #2!).
Want to see the before and after pics of my Laundry Room?
Fine. Here's the real before pic. But y'all, that's its own decluttering project post. I'll share the excruciating details of that cleanup soon.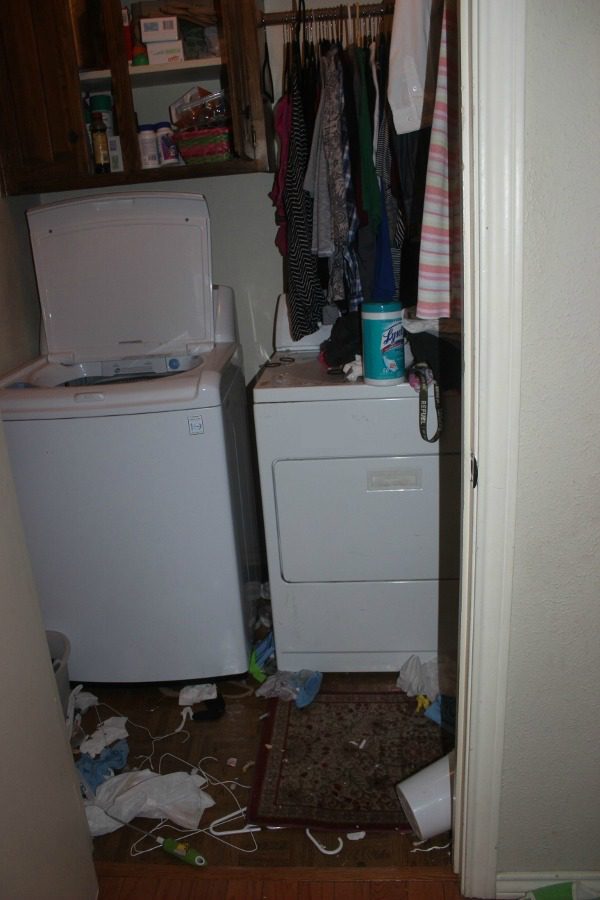 Isn't the new set pretty? I once thought I didn't care about such things, but I love the matchy-matchiness!
But pretty isn't enough, so I'll share what you actually want to know. How do they work? I've now done three laundry days with these machines, and I'm very satisfied with how they perform.
Things I love about my Samsung Washer/Dryer Set from Nebraska Furniture Mart:
They match. Matching capacities for washer/dryer really is important. Really, really important. My aunt explained once that clothes come out extra wrinkled if you shove too many into a load. Having a bigger washer than dryer meant I was pretty much always putting too much into my dryer. Having a big dryer to go with my big washer means my clothes come out wrinkle-free!
I love that the Samsung washing machine has a special setting for waterproof items (photo #1). My older-but-still-pretty-new machine had a warning to not wash waterproof items, and that stressed me out. What about windbreakers? What about shower curtains? I like knowing I can wash those things safely.
The dryer has a steam feature to help me refresh and de-wrinkle that last load of last week's laundry that I sometimes don't get around to folding and putting away until the start of the next Laundry Day.
The ba-jillion (<-technically an exaggeration) buttons on both the washer and dryer are actually very self-explanatory and easy to use.
Not that other dryers don't have this, but I've never had it: I like the inside-the-door lint screen (photo #2)because it is so much easier to change than the kind on top of the dryer (like I've always had before). This means I actually clean it with every load like I'm supposed to!
Last, but definitely not least, THERE'S A SINK ON TOP OF THE WASHING MACHINE! (photo #3) Seriously. The washing machine has a built in sink for handwashing and pre-soaking (though there's a soak feature in the main part of the machine as well). Water pours into the little sink, and it's ridged like a washboard so you can even scrub if needed. LIKE A WASHBOARD! Little House on the Prairie meets the Jetsons, y'all. I can't even tell you how happy this sink-in-the-top makes me. I have a very small Laundry Room (though I'm grateful to have one at all), and often sighed in self-pity, wishing I had a sink in there. While I can't give the dog a bath in this sink (seriously, the instructions say not to), it's such a nice thing to have. I soaked some socks in bleach in it, and just lifted it slowly and the water and socks poured right down into the main part of the machine.
Things to get used to:
The washing machine is tall. And the tub is deep. I'm not tall but I'm not vertically-challenged either, and I need a stool (photo #1) to reach all the way down into it to get clothes out.
The sink is kind of a head-banger when you're reaching into the washing machine (photo #2). It's not bad, though, and I adjusted quickly and have avoided additional bangs. (For the record, the instruction book warns about this.)
The tops of the machines are slanted. While this doesn't seem to be a big deal, it means I can't pile stuff (as easily) on top of the dryer. I'm still deciding how I feel about this.
The dryer door opens sideways instead of down. Since I'm now an annoyingly passionate fan of folding-straight-out-of-the-dryer, I was a little panicked at first to no longer have the folding space I was used to for stacking the clothes coming out of the dryer. But, since the slanted top-of-the-dryer is clutter free, I'm using that space (photo #3).
The machine is smarter than I am. As a bit of an intellectual snob (translated: know-it-all), this takes some getting used to. I've learned that if I just let the machine do its job (starting and stopping during the steam/de-wrinkling process), things turn out wonderfully.
The delivery process: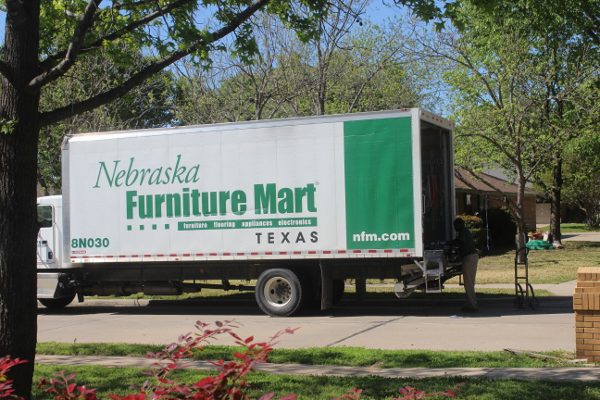 The delivery from Nebraska Furniture Mart went smoothly. The delivery men hooked everything up and moved my old not-a-set out to the garage to await new owners. They were a little surprised when I started taking pictures, as they had no idea this was for a blog post. But they still smiled!
Everything was tested and working properly before they left!
See the features on video here:
Connect with Nebraska Furniture Mart all over social media: Facebook, Twitter, Pinterest, and Instagram.
Thanks to Nebraska Furniture Mart and Samsung for this fun project. I was provided with the new washer and dryer from Samsung in exchange for two posts, but received no other compensation. All messy laundry rooms, mismatched before pics, and opinions are mine and mine alone.
--Nony