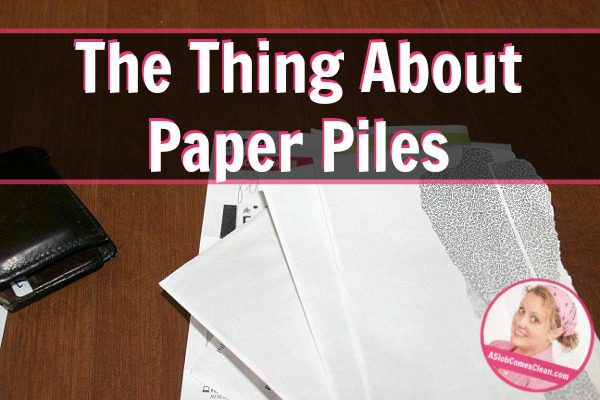 I'm a Paper Pile Hater. I'll admit it.
Paper piles contain so many decisions to be made, and those decisions overwhelm me on their own, so a pile full of overwhelming decisions makes me hold my eyes just so until the blurring lets me not see the mess.
But I've learned a thing or two (or seventy-eleven) about piles in general over the past six years of my deslobification process.
Thing One: Once I start tackling piles, they're never rarely as bad as I imagine them to be.
Thing Two: Smaller piles stress me out less than bigger ones.
Thing Three: My made-up rule to Do the Easy Stuff First applies to every single clutter situation and works every single time.
So how does this work in a paper pile?
Doing the Easy Stuff First means looking for trash first. When paper is in a pile, I see the pile. I see the volume and the mass and I'm overwhelmed by the pile itself.
I think every single part of that pile is going to stress me out. If the first paper I pull off the top is one of those should-I-keep-this-probably-not-but-what-if-I-should pieces, then I want to turn away and ignore the mess, convincing myself it's better to have piles than not have a piece of paper that could potentially save our lives.
Or keep us out of jail.
But if I give myself permission to do what's easy, I look through the pile and don't even worry about anything except trash.
Trash. Empty envelopes or extra blank pages that came with the oh-so-important papers.
Like these empty envelopes that were part of a pile of the random non-online bills we get. That was a crazy-important pile of stress. But even though I was confident everything in that pile was life-or-death-necessary, I looked for trash in it anyway. And since I found trash, the pile shrank and so did my stress.
And usually, when I let myself look for the obvious trash in an attempt to shrink the pile(s), I find obvious-but-not-so-obvious trash as well and it shrinks even more. Things like junk mail or out-of-date school notes.
Have you shrunk your piles lately?
Other paper-related posts: How to Reduce Paper Clutter
How to Reduce Paper Clutter: the Podcast
How to Declutter Birthday Cards
P.S. I had to google shrink, shrank, shrunk. Here's hoping I used them correctly!
Save
--Nony