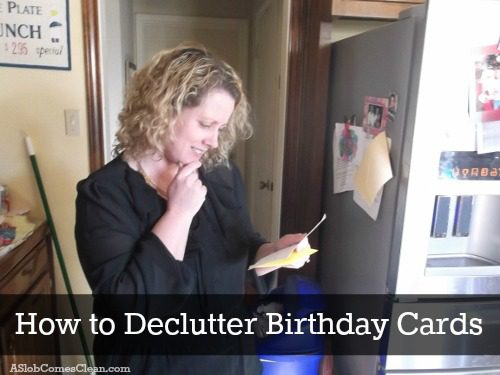 Step One: Read the card one last time while thinking nice thoughts about the person who wrote it.
Step Two: Throw it in the trash can.  If the person who wrote it will be coming over soon, place another piece of trash over it so they don't see that you threw away their card.  (School papers work well for this.)
Now, lest you think I'm completely heartless . . . let me assure you that I don't do this with cards from my kids or Hubby.  I put those where all mothers do.
In my underwear drawer, of course.
Wait.  Is that just me?
And let me also assure you that I'm only able to do this from experience.  Decluttering experience.
My decluttering experience allows me to visualize what my future will be if I don't throw them away now.
I see myself looking around for a clear, flat surface to display the birthday cards.

I see myself (three months later), decluttering that surface.  I see myself holding the cards, standing in one spot for 90+ seconds staring into space, wondering what in the world I'm going to do with them now. 

I see myself shoving the cards into a pile of miscellaneous stuff.

I see myself (two weeks later) answering the phone.

I see panic in my eyes.  Someone is on her way over.  I'm not sure who it is . . . but my lip-reading skills tell me it's something that ends in  ". . . in-law."

I see myself grabbing a random box and shoving the pile (with the birthday cards now in the middle of the stack) inside.  I see myself depositing that box in the master bedroom.

I see myself (six months later) crying over my messy-again master bedroom, and taking that box to the garage. I grab a Sharpie and label it: "TO BE FILED, 2013"

I see a montage of scenes of our family climbing in and out of our current Suburban, our next Suburban, and the one after that.  The kids are getting older and eventually they are the drivers.

I see myself (forty years later) on my scooter, old and gray (but totally unwrinkled and skinny), digging around for something-or-other in the garage, but never bothering to open the box from 2013.

I see my kids.  And their kids.  All dressed in black.  They open the box and wonder why in the world their crazy mother/grandmother kept every birthday card she ever received.
So there you go.
It feels good to use my skills in the Art of Imagination for good.
Save
Save