Attention: This is NOT a sponsored post. I'm not being paid a dime to write this follow-up/reality-check-report from a post I wrote in December (which was a sponsored post). I am using an affiliate link, though.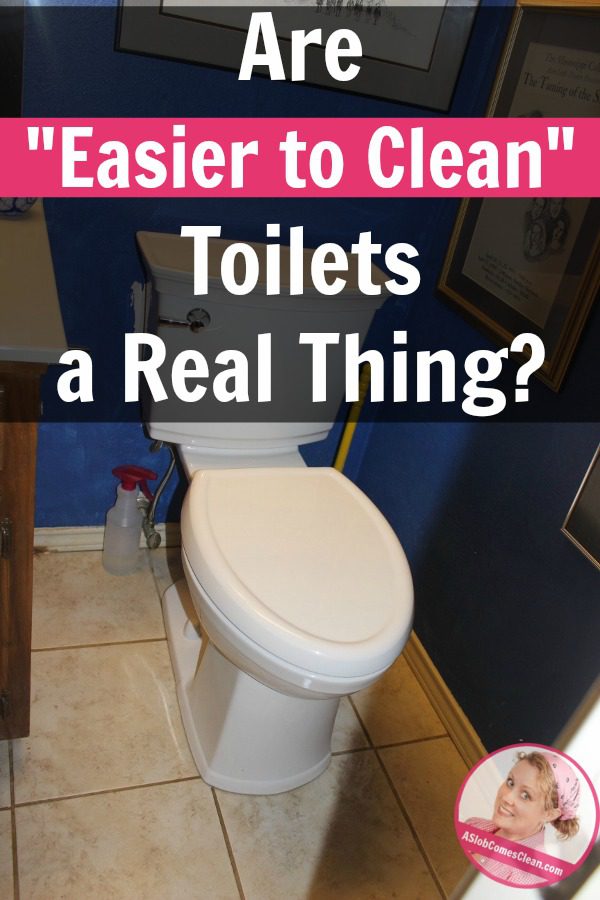 Back in December, I got a new toilet. It's the Optum VorMax from The Home Depot.
It's a "high-tech" toilet, and has features that are supposed to keep it cleaner. I was excited to have a shiny new toilet to replace my old and wobbly one.
But let's be honest. Easier to clean? Is that really possible?
I did see immediate difference due the lack of a rim on the toilet. No rim means no place to get scary-nasty. I also saw how it flushes differently than other toilets and could understand how that would make a difference. If you want to see the flush in action, go see the original post about it here.
But the only way to truly know if one toilet is easier to clean than another is to use it.
Like, use it use it.
For a long time.
I've now had this toilet for five months, and it has been used. Like, used used.
So is it different? Is it actually easier to clean?
Yes. It really is.
While I've learned I don't really love a taller potty (like some of you warned me I wouldn't), I've also learned  there are quite a few features I didn't even notice at first that really do help it stay cleaner.
As a persnickety Slob Blogger, I challenged the toilet by purposely NOT scrubbing it until I saw something that needed scrubbing. I don't recommend this. (I know from way too much experience that bathroom cleaning is much easier if you go ahead and scrub regularly whether it "needs it" or not.)
Five months later, I still haven't scrubbed it for anything other than "special circumstances." I won't describe the details of "special circumstances" but what I'm saying is that for five months, it hasn't gotten a ring around the potty.
But let's talk about the "easier to clean" features I didn't even notice at first.
I didn't notice them until, while wiping down the toilet (which I did do weeklyish over the past five months), I didn't have to bend over and put my face scarily near the toilet to clean those wee-wee-collecting spots at the base of the toilet on each side. I also didn't have to scrub all around the place where the seat and lid attach to the toilet itself. See these pictures?
They're random day pictures.
Not that every day is that naturally free-of-pee.
But when it does need wiping down, it's generally only the wipe-downable spots that need wiping.
Confused?
If you are an all-girl household, go read this post about making cupcakes. But if you have boys, you may know what I mean.
The thing that makes a toilet "hard to clean" isn't what you can see, it's what you can't see. Or get to easily. It's all the places where two parts meet and cause a little gap. I now realize that the ickiness on the sides of the toilet base likely comes from "liquid" getting to the hinge and dripping through the holes down the side of the toilet.
I assume. I don't know exactly. I just know that in trying to figure out WHY this doesn't happen with my new toilet, I noticed that the hinge is significantly different from the hinges on my other toilets.
The hinge is designed to block "stuff" from getting into the hard-to-clean places.
So it's not that things don't get messy, it's just that the places that make you want to lose your mind on Bathroom Cleaning Day are protected and therefore don't get as messy as easily.
Make sense?
Again, I'm not trying to sell you a toilet. I just know that I'm super-skeptical about anything that claims to make cleaning easier, so I'd want to know how it has worked in the long run.
I was also quite surprised in December about how many people were excited to talk about toilets, so I thought I'd continue the Potty Talk.
If you're in the market for a new toilet, I do recommend looking for some of these features. I also recommend, as one of you commented last time, that you check your pride at the customer service counter and SIT on any toilet you're considering purchasing to see if the height is right for you.
I did look for "easy clean toilet lids" on Amazon, but they didn't have any pictures with the lid raised, so I couldn't tell if the hinge design is like this one. Next time I need to replace the seat on one of our other toilets (like I did in this post), I'll try one.
If it sounded sexist when I suggested girls go read about cupcakes, I'm sorry. It was the first non-toilet-kid-friendly post that came to mind. Go read about hosting water balloon fights instead.
Podcast (aslobcomesclean-comfeeddailyaudioblog): Play in new window | Download
Subscribe: RSS