This post is sponsored by The Home Depot.
When we were looking for houses, the number of bathrooms wasn't a concern. I always clicked "2 or more" on the real estate website search. I'd never lived in a house with more than two potties, so I didn't see it as something I needed. When this house had an additional half-bath, it was a bonus.
If we were to search for another house now, though, my requirements might be different. I have learned to LOVE having 2.5 bathrooms. Love.
I love being able to point visitors to The Guest Bathroom instead of The Kids' Bathroom that Guests Can Use. For someone who stresses over cleaning (especially BATHROOM cleaning!), it's so nice to have that designated space.
And since it's a half-bath, a five-minute wipe-down can have it ready pretty quickly.
But . . . sometimes I count on those five-minute wipe-downs for a few too many weeks before I realize I need to do a deep clean in there. (Especially when the five-minute wipe-downs are done by my kids.)
So, when I was invited to join The Home Depot's Squeaky Clean Bath program, I was glad to have the motivation (and supplies) to deep clean that half-bath so it can be ready for whomever needs it!
But I didn't clean the toilet. I just got rid of it.
Really.
I got a new toilet!! My teenage-self would have been embarrassed at the joy I feel over this. Seriously. That old, wobbly, wiggly-seated, hard-to-flush toilet is gone. Out. The plumber who installed my new one took it away. I never even saw it again after I let him into the house.
Each member of the family has properly welcomed the Optum VorMax
into our home. We all like her him it. It's taller than normal, which is good for our guests who aren't as young as they used to be.
It also is "high-tech" with features that are supposed to keep it cleaner.
Hmmmm. A toilet that stays cleaner? I was skeptical at first, too. We'll have to see how that plays out in the long run, but here's what makes it different. First of all, it flushes differently. The entire bowl gets flushed with a single gush of water (coming from one hole) that forcefully goes through the entire bowl. See?
AND, the rim is different. It doesn't have the icky, hard-to-get-to part. It's all one continuous piece.
Have you ever thought your toilet was clean and then bent over and caught a glimpse under the rim? It's scary. This doesn't have the under-the-rim part. For research purposes, I watched one of my other toilets flush. Water comes from under the rim all around the bowl. There's a gap there where the water comes out, and it's the gap that gets nasty. On this toilet, the flushing-water ONLY comes from that one hole. This means the "rim" doesn't serve the same purpose. Since it's all one continuous piece, it can be completely scrubbed and there isn't a part that you can't get to to clean thoroughly.
Can you see the difference in the flush above?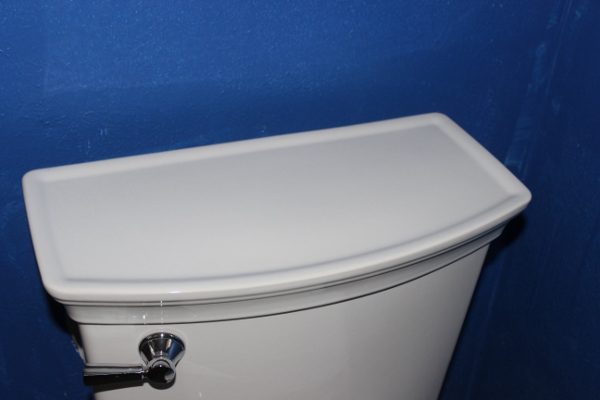 And this potty is just so pretty!!!
I was so excited about my new toilet that I while I shopped at Home Depot for Scrubbing Bubbles products for this project, I also bought paint!
Let me explain. About four years ago (at least), I got a crazy idea to paint the bathroom a horrible color. Actually, my idea was to paint it a pretty color, but it turned out horrible. I realized half-way through the job that I hated the color and that one quart of paint wasn't anywhere near enough for coverage.
Ugh.
A shiny, new toilet is a great reason to finally deal with my paint-color mistake. After Christmas (sorry, Christmas-time guests), I'll use the entire gallon I bought to re-paint the bathroom in a much more subtle color. I'll share pics when I'm done.
I was motivated by the idea of the new toilet. But the reality of the new toilet (and the fact that its shape reveals my lame attempts at painting behind the old toilet) is really motivating me now.
I got the sink and faucet squeaky clean with the Scrubbing Bubbles Bathroom Cleaner
(lemon-scented), and used Scrubbing Bubbles Toilet Cleaner
to make the most of that VorMax flushing system.
The gel sticks, and when the flush-water hits it, the toilet gets "cleaned" with every flush.
I really love anything that does the work for me, so I don't have to grunt and sweat and groan as much to get the bathroom deep-cleaned and keep it less germy.
I think it's important to note that I was surprised at the cost of the Optum VorMax
. It wasn't as expensive as I thought it would be when I heard about its fancy-schmancy features. If you need a new toilet, it's definitely worth looking into that one. The plumber said he's been installing a LOT of them.
Other Scrubbing Bubble products in the picture above:
Disinfectant Scrubbing Bubbles® Aerosol 22oz
Scrubbing Bubbles 32oz Foaming Bathroom Cleaner
Scrubbing Bubbles Mega Shower Foamer
Connect with The Home Depot in all these places:
The Home Depot (website), The Home Depot on Twitter, The Home Depot on Pinterest, The Home Depot on Facebook, and The Home Depot Blog
The Home Depot partnered with bloggers such as me for their Squeaky Clean Bath program. As part of this program, I received compensation for my time. They did not tell me what to say about any product mentioned in these posts. The Home Depot believes that consumers and bloggers are free to form their own opinions and share them in their own words. The Home Depot's policies align with WOMMA Ethics Code, FTC guidelines and social media engagement recommendations.
--Nony