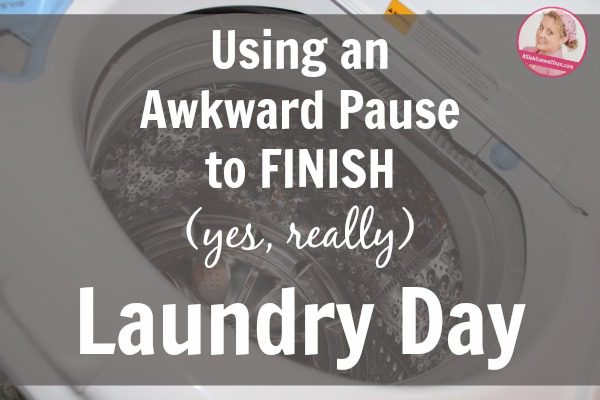 It was 2:48. I needed to be at my kid's school by 3:00. The school is five minutes away.
It was officially an awkward pause in my day. What could I possibly accomplish in seven minutes?
But it was a Monday, and Monday is Laundry Day. And I was rocking Laundry Day on that particular Monday.
Really. When Laundry Day is consistent and I'm really, truly only doing seven days' worth of clothing for my family of five, I do five loads. Two darks (nice stuff; t-shirts/workout stuff), one whites, one lights, and jeans/dark towels.
If I can put in a load early enough on Sunday night that I can move it to the dryer and put a second load in the washing machine before I go to bed, I'm shocked at how fast I move through Laundry Day on Monday.
My final load of the day had just finished drying. If . . . IF . . . I could get that load folded (straight out the dryer since that method makes laundry magically disappear instead of creating a wrinkly mountain in my living room), I'd be done. Done before 3 p.m. y'all. That's big.
So I tried.
Even if I didn't finish before I needed to leave, I'd be five more minutes down the road to Laundry Success.
I'd be proud of myself for not wasting that particular Awkward Pause.
I made it. Here's proof. I didn't get it put away, but I matched and "folded" an entire load of (not bright) whites. And y'all, that's the load I hate folding straight out of the dryer the very most!
2:53, and Laundry Day was done. Except for the putting away of that very very last load, but still.
Go me.
Have you tried Laundry Day? Have you joined the (totally unofficial, dues-free) club? I encourage you to try it. It is THE best way I've found to keep laundry under control for my ADD, project-focused-mundane-task-resistant brain.
Here's the long version of how I came to figure out that it's the best way for me. (Including links to the many other methods I tried that were miserable failures.)
*FYI, Laundry Day probably won't work for you if you're on a septic system, as it may overload your system. Sorry!
Podcast (aslobcomesclean-comfeeddailyaudioblog): Play in new window | Download
Subscribe: RSS
--Nony