Last week, I told you how I shred twenty-five pounds of cooked chicken breasts in minutes.
I promised I'd share some recipes I make with that shredded chicken. This one comes together in minutes.
Chicken Alfredo Spinach Pasta is one of my kids' favorites. It's so easy it's embarrassing to post it as a "recipe." Especially since I still haven't attempted the from-scratch-alfredo-sauce that many of you claim is super quick and easy. If I do, I'll share it in a new post.
Emphasis on the if.
For now, I'm getting the Alfredo sauce at Aldi for 1.69 a jar.
Please note that I am listing the ingredients for a recipe that serves our family of five with zero leftovers. The pictures, however, are for the doubled recipe, which I thought would be perfect since we depend on leftovers for Hubby's lunches. It was too much, so next time, I plan to use a box and a half of pasta and a jar and a half of sauce.  Adjust as needed for your family.
Ingredients:
1 box bowtie pasta
1 jar Alfredo sauce
Some frozen spinach
Some pre-cooked and shredded chicken, straight from the freezer
Instructions:
Boil the pasta.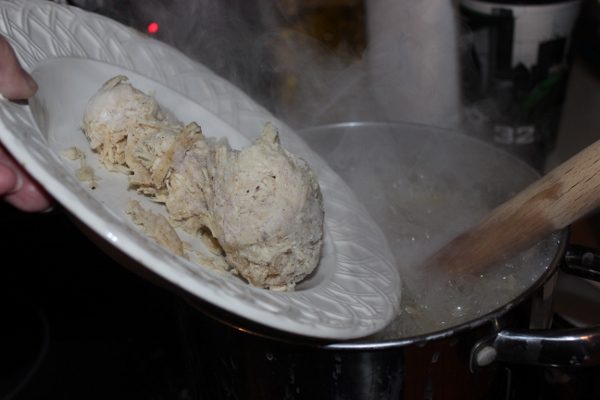 When it's almost done (about a minute left), throw in a hunk of frozen, pre-cooked chicken and a hunk of frozen spinach.
The boiling water will thaw and warm those things in that last minute of cooking. (It might take a minute-and-a-half to two minutes since the frozen stuff will cool the boiling water slightly.)
Dump it all in the colander to drain the water.
Dump it back into the pot and add the Alfredo sauce.
The hot pasta, chicken and spinach will warm up the sauce. You can warm it more on the stove if you want.
Serve.
For real, y'all. How easy is that? And my kids eat all the spinach in it even though they claim to dislike frozen spinach.
A one dish meal (veggies included) that the entire family loves done in the time it takes to boil pasta. Yay for that!
See how I fill my freezer with pre-cooked chicken here. (That link also includes LOTS of links to other recipes in which I use the frozen pre-cooked chicken.) See all my other easy recipes here. See how I make freezer cooking work for me since I don't love casseroles!
FYI, this recipe is included in the two week plan that I teach you in Make Dinner Happen, the least fancy, most practical cooking course ever. You can learn more and see what recipes are included here.
Save
--Nony