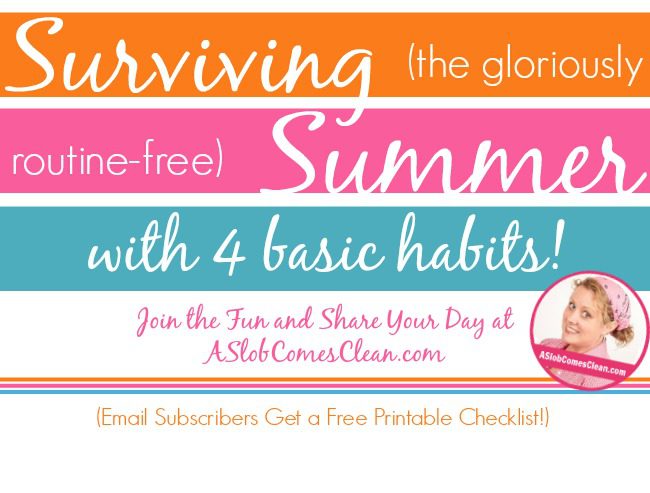 It's SUMMER!!!
I love this fun and crazy and unscheduled time of year with my kids, but the lack of routine sends my house into chaos!
For the summer, I'm focusing on the four simple habits that will keep (or bring) any home out of Disaster Status.
Here's how we did:
Do the dishes
Sweep the kitchen
Check bathrooms for clutter

Do a five-minute pick-up
Today, I spent a focused 15 minutes compared to yesterday's 18. And I did MORE. I got back on rhythm running the dishwasher last night and emptying it this morning. Since the focused time didn't have to include that, I added in wiping down the counters and table. I'm also always amazed at how the second day in a row of a focused five-minute pick-up makes a much bigger impact. I tend to think the huge messes always happen in an instant. Usually, they don't. So picking up every day (whether it "needs" it or not) keeps things under control.
Our extra task for today:
Get my daughter's room play-in-able since we have a friend coming home from school with us. (Not finished as of this post being published 25 minutes before I need to leave to pick them up!!)
How did you do today?
Share your own success and failures in the comments!
Don't forget that you can get your own copy of my Surviving Summer Checklist by subscribing to my email list. You can sign up for daily emails (only sent if I've posted something) or weekly summary emails. Plus, you won't miss a post! Click here to sign up for free.
If you're completely overwhelmed at even the thought of the four habits listed here, don't worry! I totally understand! I recommend my books: How to Manage Your Home Without Losing Your Mind and Decluttering at the Speed of Life for a step-by-step guide to getting your home out of Disaster Status.
If it's your first time at ASlobComesClean.com, welcome! Right now, we're totally focused on helping our homes survive the gloriously routine-free summer! Regular blogging will resume when school starts in August! Until then, find out what goes on around here the rest of the year by checking out my decluttering strategies (based on WAY too much personal experience) and my free printable checklists. See my advice on getting started.
And if you're worried about whether you'll fit in here, read this.
--Nony