I'm on a Space Creation Kick lately.
I might (or might not) have a few dumping areas.
Fine. I do.
One is (once again) the master bedroom, and one is "hidden" behind a screen in the gameroom. These spaces get on my nerves, but at least a part of the master bedroom one is Girl Scout stuff.
Honestly, the "stuff" was one of the reasons why I was so hesitant to agree to be the troop leader this year when we needed one. I didn't want it.
But I have it, and I need a spot for it.
I won't be naive and think that all my current master bedroom woes are due to G.S. stuff, but I know it's there. And it being there has very probably justified the dumping of more stuff.  Because that's how I roll.
Anyway, I'm on a mission to go through some cabinets that haven't been opened in a very long while and declutter some of the stuff that (therefore) hasn't been used in a very long while so I can make space for some of the things that I have to keep but that don't have a home.
Whew. That was a long sentence.
It's all that My Home is a Container so I Must Get Rid of What Doesn't Fit jazz.
I started in my breakfast area. I decluttered this area in the beginning of the blog. As I always say, re-decluttering is easier than decluttering. The second time around, there are just so many "duh" moments. I find things I remember keeping the last time because I truly believed I would finally begin using them. This time I have no emotional angst because I KNOW they aren't needed.
Like these:
(Random affiliate link in the next sentence. Consider yourself legally warned.)
Those little balls that you spray and then they stick together. No thanks. We've moved onto to a floor covered in little rubber bands
, thank you.
And a breast milk bottle. I'm telling myself I must not have seen it shoved into a back corner last time. Because I can't even imagine my justification for keeping it then.
And stickers. I did feel some sadness over these, but the only sticker-user we have isn't a sticker-fanatic. And she already has plenty of stickers. I could have justified keeping them, but it definitely isn't a wrong decision to not keep them.
And I did find quite a few things I definitely wanted to keep:
Like the Christmas Chip & Dip tray I looked for last Christmas, but couldn't find. That I had assumed was in its box in the pantry (that obviously needs decluttering) next door, but wasn't.
Now it is.
And the "quacker dish" that my grandmother painted for me. Get it? Quackers?
And chopsticks I knew I had and often wished I could find. And they're dishwasher safe, which totally makes me happy. (And now they've been removed from the package after almost 15 years, washed, and used multiple times.)
And this was yet another example of how "Just Decluttering" is where it's at for me. I can see things. I can get to them. No fancy systems needed.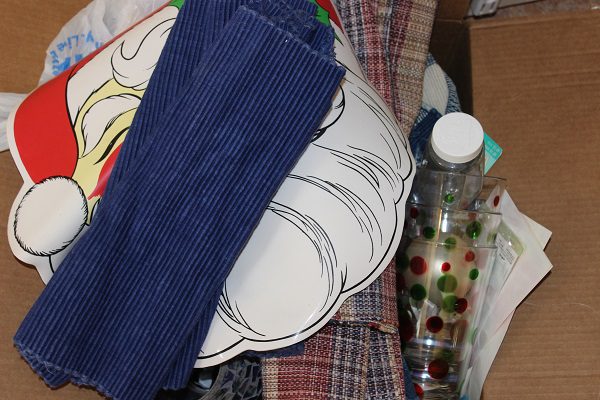 In the end, I got rid of a donatable box full of stuff with pretty much no heartache. I accepted the fact that I don't put out place-mats, despite the fact that I've been gifted many many of them. I kept one set, but all the others will have to find a new home.
Aaaaahhhhh. Empty space. (I'm not messing with Hubby's stuff to the right. A man needs a place where he can stuff stuff.)
--Nony