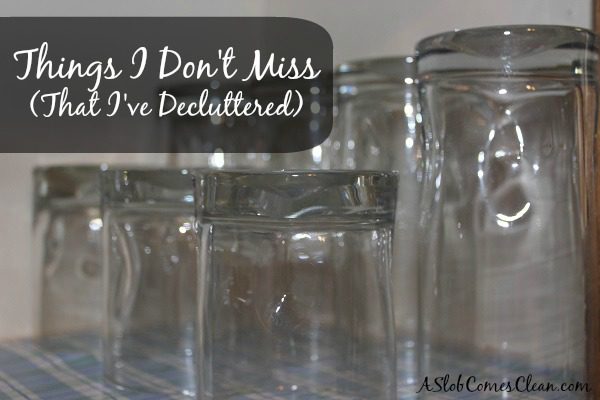 I share my (never-ending) decluttering adventures here, but I think it's also important to share "after the project" stories.
Last fall, I decluttered my kitchen cabinet and replaced my humongous collection of plastic cups with grown up GLASS glasses. I knew I had to replace them one-for-one because I simply didn't have enough room in the cabinet to add my new set of glasses to what I already had.
Y'know, since my cabinet was the "container" I had.
I removed the old ones and put in the new ones and then filled in spaces with favorites we wanted to keep.
What I didn't fully realize at the time was that I wasn't using the One for One Rule. I was actually putting in one new glass for three or four plastic cups.
Plastic cups can be stacked, glasses cannot. The space that one glass now uses was once occupied by three (sometimes four) stacked cups.
But the point of this post is to say that I don't miss my plastic cups. Or my MANY cups.
I have significantly fewer options for my beloved icewater, but I'm okay.
In fact, I'm happier this way. The glass glasses are serving the purpose of making me feel like a grown-up, and even when we have guests over, I still have plenty of glasses to put out.
I like pointing these things out to myself because it helps me to know (the next time I declutter) that MOST of what I've decluttered . . . I don't even miss.
What have you decluttered that you don't miss at all?
Save
--Nony