I saw this on Money Saving Mom recently, and it hit me like a load of DUH.
Have I mentioned how much I LOATHE making lunches? Because I do. It's like a slap in my face each day when it's time to throw the sandwiches and chips and fruit and such together.
I consider myself a creative person, but when it comes to making lunches, I feel like there is a hole in the bottom of my foot where all the creativity (and energy) just drains right out.
So have I properly established that I don't like making lunches?
Good.
But . . . even though I am anti-lunch-making, I'm also an idealist. And the kind of idealist I am is the kind who can't justify buying pre-made lunches or pre-made sandwiches or even individual chip bags. (I almost defected to the Individual Chip Bag Side after a good sale at Costco last fall, but couldn't. Chips are just too cheap at Aldi.)
Now, please don't be offended if you've already gone lunchable. I admire you. I do. I totally respect people accepting their own constraints and being willing to pay for convenience.
I'm actually a little jealous . . .
Anyway, when I saw that Crystal makes peanut butter and jelly sandwiches ahead and freezes them, I realized that was what I had to do. Even though it's not even Actual Cooking Freezer Cooking.
Which also somehow goes against my idealism.
Anyway, I did it. My kids thought I was a genius. I gave Crystal credit.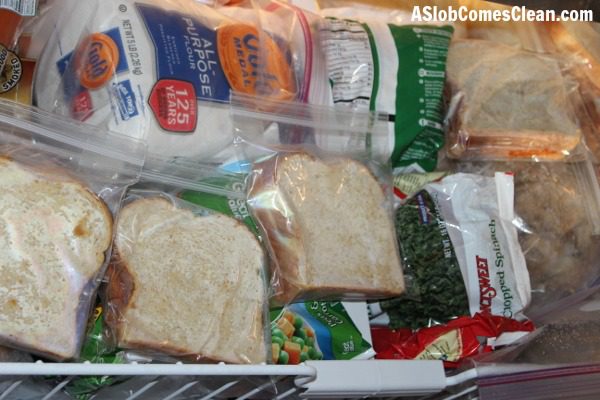 Oh, but one of the kids had to get over his confusion when the other two kids told him about the upcoming frozen-pb&j-filled-lunches. He heard "frozen peanut butter sandwiches" and thought of the ones his friends bring to school. You know, the ones their moms BUY.
He was confused because he knew without a doubt that HIS mother would never do that.
Yep.
I'm not going to do any How-Tos or Step-by-Steps in this post, since . . . ummmm . . . I'm pretty sure you already know how to make them.
One loaf of Nature Valley Honey Wheat bread was enough for nine sandwiches. Which is enough for three days. Which is an irritatingly short amount of time.
You can see ways that I do significantly more "legit" freezer cooking to make my life easier here.
--Nony