As a mom, I know this. I've known it from day one.
I never had a problem letting my babies cry. Sometimes they needed to release pent-up energy. Sometimes they needed to express their opinion. (Naptime sucks, Mom!)
But they always eventually stopped. And they went back to being happy again. Actually, they were generally happier after a good cry because crying helped them fall asleep and get the rest they so desperately needed.
I remember loving the deep sleep I experienced after crying myself to sleep as a child.
Not that I would choose to create a situation to make me or my child sad.
But life happens. Sad things happen. Kids grow and my Mama Heart grieves over forever-gone stages.
Like this: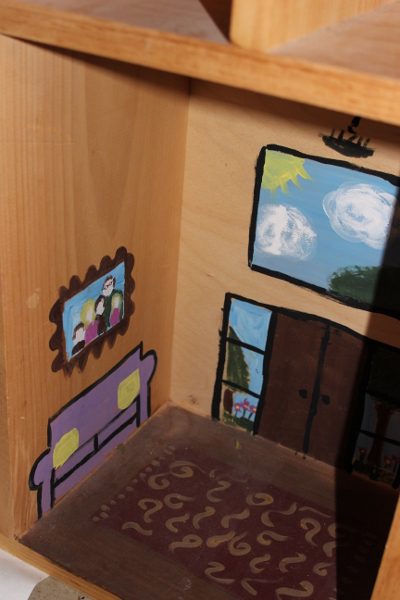 I painted that bookcase dollhouse early on in this blog. I was so proud that my daily habits opened up hours in my day and I had the time to be creative. I'm (obviously) not an artist, but I did a decent job and my three year old daughter loved it.
And played with it.
For a while.
Then she grew and got some fancier dollhouses, but this one continued to function as a bookshelf. I would feel tinges of sadness when I noticed she no longer played with it, but it was still there to make me smile.
And then . . . we rearranged her room. A new bed. A white bench with shelves.
And there was no longer a space for my artwork. She agreed that it needed to go. Her only reason to keep it was that she didn't want to hurt my feelings.
My feelings were hurt. A little. (But that's not her problem.)
I lugged it out to the Donate Pile in the garage. I took a picture.
And I was sad for a moment.
Just like I was sad when we sold our thrice-used crib in a garage sale. My heart pounded in my chest as that pregnant mama loaded it into her car. I had a moment of panic as she drove away.
I was sad. And being sad was okay. I lived through it, and then experienced the joy of not tripping over the pieces of that crib. Of not grumbling every time I had to move them when I needed to get to something on the shelf behind.
And now, I remember the day when the crib was gone with both an ache and a smile.
So I'm okay being sad about this artwork being gone. I have the picture to remember it by.
And really? It's so much more fun to reminisce while looking at pictures, snuggling on the couch than while digging through clutter in a dusty garage.
Really. It is.
I don't want to pretend that my sentimental sadness compares to the real sadness and loss some of you have experienced. I've heard that people who struggle with hoarding can often trace their struggles to a traumatic loss in their life. I'm sharing a post by my friend, Amy, of Raising Arrows who lost a child. In the post, she talks about how grief affected her relationship with stuff.
Save
--Nony