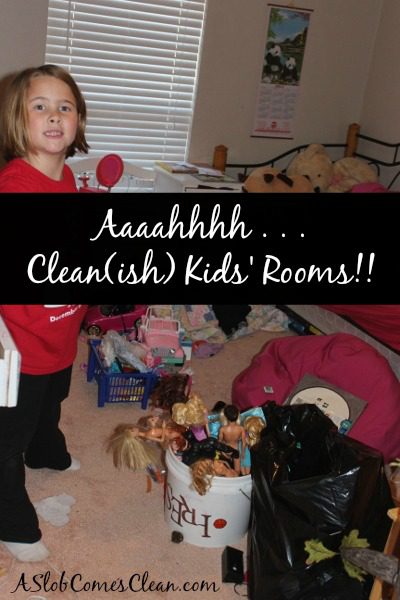 Monday was a school holiday.
My kids were (not so) thrilled when I announced on Saturday that Monday would be a Day of Decluttering.
I narrowed my eyes (for effect) and warned them that I was thinking of implementing the "Sure, you can get on your Kindle Fire as long as your room is clean!" policy.
I was thinking about it, but knew it would be a recipe for disaster with the current state of their rooms.
So I casually encouraged them to start thinking about how much easier it would be to clean their rooms if they had less stuff in them. (A strategy I know well.)
On Monday morning, after they'd had a few days to let the concept percolate, I declared it was time to get to work.
I restated my theory about less stuff being better and gave the boys a black trash bag and a donate-able Donate Box.
I told them to do the easy stuff first. Like trash.
I pointed out that they rarely go looking in their rooms for things to play with anymore, so there was probably a lot they could donate. (They're ten and twelve.)
I worked with my daughter on her room. She plays with her stuff, so I respect that she wants to keep it. She also knows, though, that it's much easier (and more fun) to play in a clean room. We used the same tactics with her. Trash first, laundry in a pile and donations next.
And here's where I give some encouragement to those of you who dread days like this so much . . . that you put them off forever.
It gets better.
While we don't have the keep-your-rooms-tidy-all-the-time thing down, we definitely have ALL gotten better at decluttering.
Kind of like with the random five-minute pick-up paying off, repeated decluttering sessions pay off.
While they used to fret over how they would live without a certain broken or un-played-with toy, they now know they did survive after all. So they're more willing to get rid of newly broken and un-played-with toys.
Where would you look for this first? isn't a mind-boggling question like it was the first time I asked it. It still takes some talking through, but it's not a completely new concept.
I really was proud of my kids. My daughter came up with the logic on her very own that she really only needs to keep one (of FIVE!?!) jumpropes. My boys were excited to find a dart board that had been buried under a pile, but then decided that some other kid would be REALLY excited to have it if they donated it.
Once my daughter and I were through with her room, I helped the boys. We made more progress in thirty minutes together than they had in two hours on their own, but whatever.
Floors are clear. Too-small baseball cleats are in the Donate Box.
And the boys decided it was logical to only keep their two favorite light sabers since they could really only play with two at a time.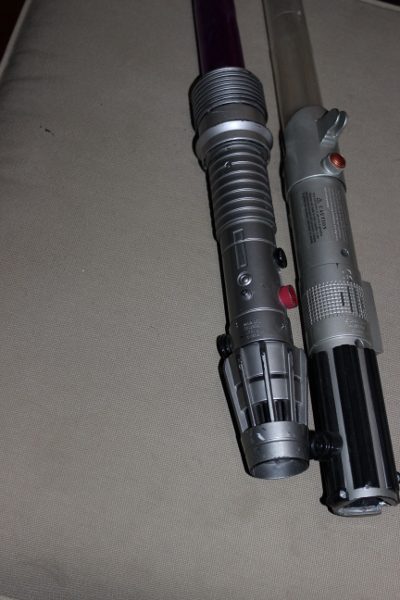 Wow. Makes a Decluttering Mama's heart swell with pride.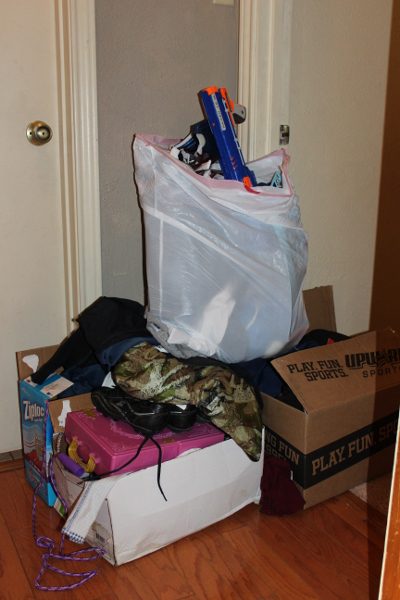 Two bags of trash and a decent-sized Donate Pile later, the rooms are soooo much nicer.
And maybe the "Clean your room before you play with your Kindle" will work.
Maybe.
At least for a while.
(At one point a while back, one of my kids expressed dismay about me showing pictures of his room on my blog. Therefore, I didn't take pictures this time. When I told them that, though, they assured me that they don't care if I show pictures. So while there aren't any boys' room before pictures, there will be some in the future. Unfortunately.)
How was your week? Did you declutter anything?
I'd love to hear about your own decluttering adventures in the comments or you can link below to a post on your blog.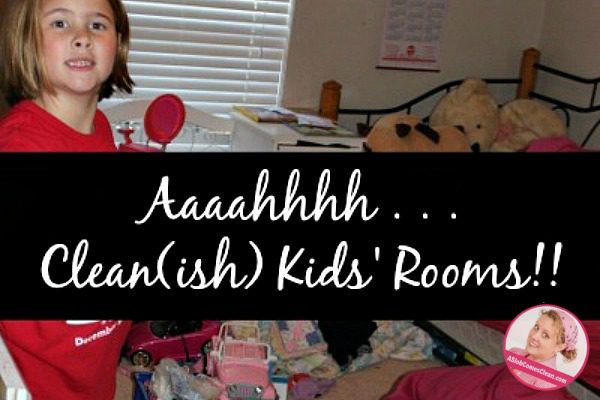 --Nony