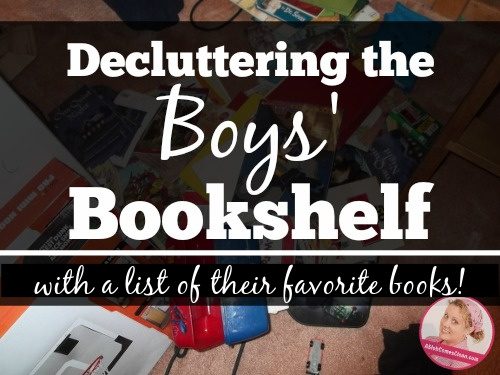 The kids were out of school on Friday.  Fun Mom took them to the park to enjoy a warm and sunny January day.  (Seriously.  We're in Texas.)  But before she took over, Good Mom made them declutter their bookshelf.
Their insanely messy bookshelf.
We asked three questions:
#1:  Did you love this book?
#2: Did you love it enough to read it again?
#3: Would you recommend it to your brother or sister?
It was a wild and wacky morning. 
We decided to pitch things they didn't even know they had (one of my decluttering questions!), they took random non-book things to their homes immediately (another one of my strategies), and in the end we got rid of a wholelotta books.
Now that the books we kept are visible and accessible, the faves are already being read again.
In case you're a mom who is always looking for books for your boys, here are some of their favorites:
They both love the books in this series by Dan Gutman.  A boy goes back in history and meets baseball players.  They devoured every one they could find last summer.

They also love the Hardy Boys books, this one especially.

And . . . this is the one mentioned frequently in the webisode.  They love it.

And my 11yo LOVES this one:
Oh. And this one.
Which . . . I just now realized is written by the same author as the baseball card series . . .
I could keep going.  I'm thankful they both love to read.
Do you find it difficult to declutter books?
Oh, and all the books on Amazon? They're my affiliate links.