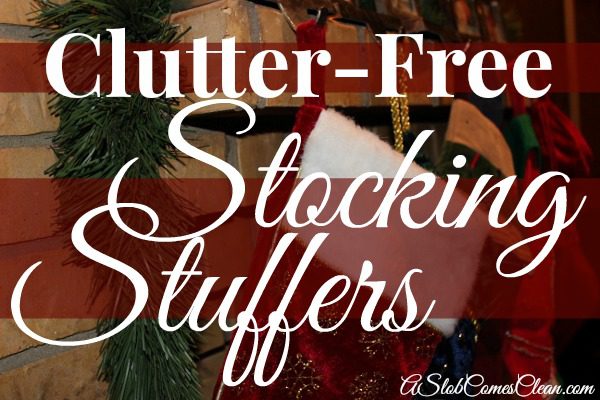 A few years ago, I wrote a post about how much I hated buying Christmas stocking stuffers. I didn't want to fill the stockings with junk.
I asked this question at the end of the post: Do you have any great non-clutter stocking stuffer ideas?
And boy oh boy did y'all deliver!
So this year, I'm putting those fantabulous ideas into a post so you can have them in one easy-to-read place. (And so you can share this post on Pinterest and all that good stuff . . . )
Obviously, consider your child's age and needs.
(Oh. And I am linking to a the items using my Amazon affiliate links. Please note that this is for your convenience and my desire to make money to pay for this site. You may prefer to pin this post and pull it up on your phone while at the store. Also note that prices change all the time over on Amazon, so if you land on a package of underwear for $700 you can rest assured that when I originally linked to them, they were the best price I saw at the time, and were most definitely not $700. Also, they will take you over there on my link, but you should look for the best fit for your family and your budget once you're there. And, some of the items are PrimePantry or add on items that have to be shipped with other things because they're small items. If you don't have prime, here's how we use it all year long to save my sanity. And this is a great month to try a Amazon Prime 30-Day Free Trial
.)
My Picks for the MOST Ingenious, Space-Taking, Non-Clutter Stocking Stuffers:
Pringles (This one rocked my world! We EACH got our own can of Pringles and everyone was THRILLED. They still talk about it.)
Batteries
(Genius!!)
Fruit
More Non-Clutter Stocking Stuffer Ideas
Hair brush – We HIGHLY recommend this specific hair brush for tender (and overdramatic) heads.
Shampoo, toothpaste, bodywash, deodorant and other toiletries
Art Supplies (crayons, markers, Paint Set)
Post-it notes
USB
Word search or activity book (I linked to a large print one, since that's what my MIL wants for Christmas!)
Magazine (I linked to magazine subscriptions, but a single magazine is great, or you might want to buy a current magazine as the starter for a subscription that will be coming to them soon)
DVD
Sippy Cup or water bottle
Magic Towel
(They expand into a washcloth from a little pellet in hot water. Can be found at the dollar store.)
Chore passes or "around the house" coupons
Little Debbie Christmas Tree Cakes (LOVE these!)
Breakfast stuff to keep the kids happy so you can stay in bed! (Small boxes of cereal, apple-juice boxes, breakfast bars)
Animal Crackers
(The good kind in the space-taking box!)
Goldfish crackers in the small boxes
Add to the list in the comments!
Save
--Nony