Yes. I do have an organizing bone in my body, thankyouverymuch.
It's just that my organizing bone has big dreams. It gets tickled by doing big projects with snazzy end results. It likes to make an impact. A lasting impact.
I'm constantly having to remind/convince my brain that boring, monotonous things like doing dishes or clearing the dining room table when I can still see a little surface here and there does have an impact.
Just not one that lasts past the next meal.
Last week, I made four meals of roast beef.  It required work, organization, planning and execution. And I loved it.
Freezer cooking is my kind of organizing.
I had been craving roast for a while. I'm still loving my (affiliate link alert!) eMeals plan, but as I shared in my post about it, I still have room for a few other meals each week. So when I saw chuck roast on sale at the grocery store for 2.99 a pound (more than I ever used to pay), I decided to go for it. I just don't have time right now to watch every sale and then actually catch it.
I got one package. Then I grabbed another.
I rolled my cart away, stopped, turned around and went back.
If I'm going to go to the trouble of cooking a roast the only way I know how (the only way that has ever worked for me), you'd better believe I'm going to get more than one meal out all that work.
More than two.
Freezer cooking lets me see the point in putting big effort into meal prep. Yes. The way I make a roast (my MIL's brisket method) requires two days and dirty hands. But making four times as much barely takes any more time than making one meal's worth. And I hear a little "Ta-daa!!" every time I open the freezer and see those ready-to-go, not-the-same-old-same-old meals looking at me.
My kind of freezer cooking (pre-cooking ingredients rather than entire meals) also fits beautifully into using a meal-planning service. Any time a recipe calls for browning ground beef or cooking chicken to be cubed or shredded, I can skip that time-consuming/mess-making step.
Oh, and I must share this tip that has rocked my world. I happened to click over on a link at Couponing to Disney when she said, "Did you know you can shred meat with your stand mixer?" Umm, no. Never thought of that.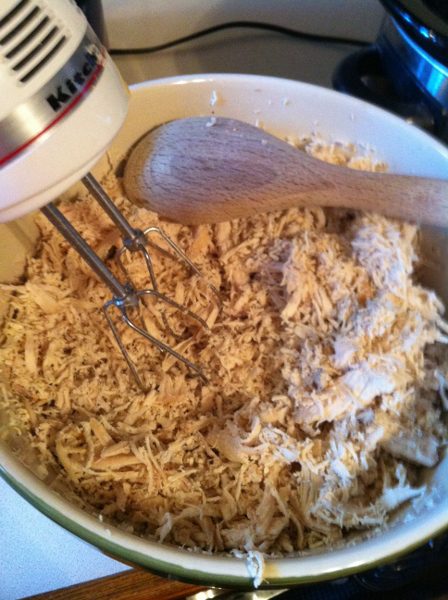 When I cooked seven pounds of my Zaycon chicken in the crock pot a couple of weeks ago, I removed the chicken from the crock pot (ask me how I know you shouldn't do it while it's still in there with all the hot liquid), put it in a large mixing bowl, and used my hand mixer to shred it.
Seven pounds of chicken, shredded beautifully, in LESS THAN A MINUTE with zero carpal tunnel pain.
That's crazy talk.
Cooking seven pounds of chicken took some planning and (a tiny bit of) extra work, but now I have bags of frozen shredded chicken ready to put in casseroles and soups and such.
Yes. That's my kind of organizing. The kind that has a big impact, and then makes future life easier.
Which is, I guess, what Normal People would say about any organizing.
I am so sorry to say that it seems Zaycon has gone out of business. I say "seems" because the information I've seen says they've "suspended" operations and I don't fully understand what is happening. I'm so so sad about this since this will change how our family keeps our freezer stocked with meat. We've been ordering almost all of our chicken, bacon, and shrimp for them for more than five years. If you had ordered recently, I recommend that you call your credit card company or bank (for debit cards) to see what can be done. I've heard many people have had success doing this.
This post contains affiliate links for eMeals. This means that if you purchase an eMeals plan after clicking on my link, I earn a commission even though your price does not change at all.
--Nony