I shared last month that I've been selected as an ambassador for Chicago Cutlery knives.
Truly, these knives have been SO MUCH FUN to use over the past month.  The cutting and chopping and slicing and dicing around here rose to a fevered pitch as we did our all-veggies-for-two-looonnnng-weeks diet, and these knives were a huge help.
The handle design and ultra-sharp Japanese steel blades mean that I can  slice more quickly and precisely than I could with the knives I've always used before.
We've always loved this classic and simple oven fries recipe, but I've often just made the potatoes chunky.  With these knives, it was easy to be precise and cut thin and uniform slices.  This helped them brown more easily (and prettily) and Hubby commented (without ANY compliment-fishing from me) about how much more he liked the oven fries this way.
Oven Fries Recipe:
Ingredients
Potatoes (You can use any kind, but I like to use red potatoes, generally using one potato per person with a couple of extra to ensure there will be leftovers!)
Olive oil
Seasoning of choice (This can be fresh garlic, seasoning salt, salt and pepper, parmesan cheese, whatever sounds good to you!)
Instructions
Preheat the oven to 425 degrees.
Slice the potatoes thinly, turning the last section on its flat side to continue slicing.
Spread evenly on a baking sheet with a lip and drizzle with olive oil.
Sprinkle on seasoning.
Toss the potatoes right on the baking sheet to spread the oil and  seasoning evenly.
Bake in the pre-heated oven for 10-15 minutes or until golden brown and easily pierced with a fork.  (Or until they taste just right, which may mean you have to test them yourself several times.  Yum!)
Serve as a side dish with grilled chicken or steak.
There are really so many variations you can do with this.
And now for the giveaway!
~~~This giveaway has ended~~~
I'm so excited that one of you who comments will get to win your own Chicago Cutlery DesignPro Chef Knife with a retail value of $34!
All you need to do to enter the giveaway is leave a comment on this post!  One comment per person, and you can read my full giveaway policies here.  This giveaway will close on Monday, Sept. 24, 2012 at 9 p.m. Central time.  The winner will be chosen randomly via my "And the winner is . . . " wordpress plugin.  The winner will have 48 hours to respond to the winning notification email or the prize will be forfeited and another winner will be chosen. (Giveaway is over, Winner was announced)
Sorry to my international friends, but this giveaway is only open to those in the continental U.S.
I wrote this review while participating in a Brand Ambassador Campaign by Mom Central Consulting on behalf of Chicago Cutlery and received products to facilitate my post and a promotional item to thank me for taking the time to participate.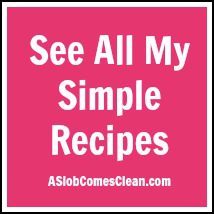 Save