You know I love taco salad as a picnic option, right?
Well . . . soon after I posted that idea, I needed to feed a crowd, and I needed to keep things simple.
Both of my boys were baptized on Mother's Day (BEST Mother's Day gift EVER), and both sides of the family were coming.  I wanted to serve lunch in our home, but it was going to be a busy day.  I would be leaving the house at 7:15 a.m. and wouldn't be back again until after the service . . . when sixteen hungry people would be arriving at the same time. 
I decided taco salad would be a good option as an easy meal.  By browning the meat the night before, I could let it warm in the Crock-Pot while were gone from home, and then I'd only have to put out the chips and salad  toppings!
Hot Ingredients:
Taco Meat
That's it!  I did add beans to feed more people.  I cooked, drained and seasoned the meat the night before and then put it in the fridge.  Before I left for church the next morning, I simply dumped the already-cooked meat and a few cans of beans into the crockpot and put it on low.
Cold Ingredients:
Chips
Lettuce
Sour Cream
Shredded Cheese
Salsa
Tomatoes
Whatever else you like on taco salad!
When church was over, all I had to do was put out the cold ingredients and lunch was ready!
What are your favorite recipes for feeding a crowd without spending a lot of time in the kitchen?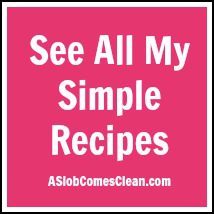 FYI, this recipe is included in the two week plan that I teach you in Make Dinner Happen, the least fancy, most practical cooking course ever. You can learn more and see what recipes are included here.
Save