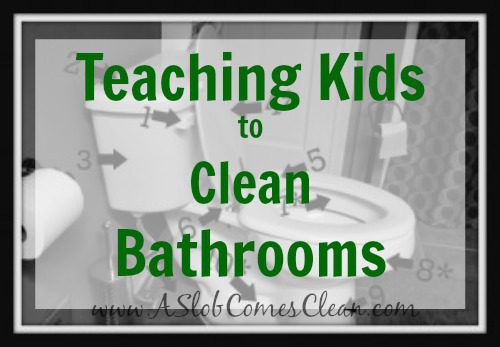 Bathrooms are my personal least favorite space to clean.
They are, however, one of the most important to keep clean.
The good thing about bathrooms is that cleaning is fairly straightforward.  There aren't as many decisions to be made or judgment calls as with laundry.
The bad thing about bathrooms is that . . . they're disgusting.  Or they can be, if not cleaned often or properly.
In our home, we have two-and-a-half bathrooms.  For the past two summers, I switched the two boys between the (large) master bath and the full bath that's between the kids' rooms.  My daughter cleaned the half-bath.  This year, she is six, and old enough to handle one of the larger bathrooms.
If you have more or fewer children (and more or fewer bathrooms), you might consider pairing kids up and/or working with one of your children to get through the steps.  With our set-up, I run between bathrooms directing and supervising.
Make Wise Decisions about Cleaning Products!
Many bathroom cleaners are not only toxic but truly deadly.  Just ask the people who bought our last house . . . only to realize a certain rug was there to cover the spot in the carpet where I'd spilled toilet-bowl cleaner.
Toilet bowl cleaner that (within seconds) literally ate a hole in the carpet.
That's scary.
Kids don't need to handle most cleaning products.  For this reason, I make spray bottles with homemade cleaners labeled "Mirror Cleaner" and "Shower Cleaner" for their baskets.
Check out my homemade cleaning products pinboard on Pinterest with links to LOTS of different homemade cleaners.
Prepare Your Classroom (the bathroom!)
Honestly, homemade cleaners (that don't eat through carpet) work best on mostly-clean surfaces.  The key to non-toxic cleaners being effective is to clean consistently.
If your bathroom has a ring-around-the-bathtub that's an inch thick and you haven't seen through your glass shower door in months (or years), you may need to use some more powerful cleaners to clean the bathrooms yourself before you begin teaching your kids to clean.
Your goal is to set your kids up for success.
As with each cleaning task/lesson, be sure you have plenty of supplies available.  Check the supply baskets before you shut off the Wii and announce that cleaning time has started.
De-clutter the bathrooms.  I know.  That can be overwhelming in itself.  And it's very likely their dirty undies on the floor that are the problem.  But as I've learned in my personal deslobification process, I often think cleaning is overwhelming, when it's really decluttering AND cleaning together that sends me into despair.  Preventing the clutter from accumulating makes it ever-so-much more possible to stay on top of cleaning.
But waiting until you've finally figured out how to keep clutter from accumulating in your bathroom means that you might never get around to teaching your kids to clean.
It's okay.  Just clear the floors and clear the countertops.
Yes, I did say the countertops.  Moving and/or cleaning around hair products and moisturizers is frustrating for any bathroom cleaner, and for kids it can be downright discouraging.  Set them up for success and move the stuff out of their way.  I do leave the hand-soap bottle on the counter because it usually needs to be wiped off, but the toothbrushes get moved because I can't handle the thought of a toilet-ey hand accidentally touching them.
If your house as a whole completely overwhelms you . . . check out my books: How to Manage Your Home Without Losing Your Mind and Decluttering at the Speed of Life.
It's basic.  As basic as it gets.  And, I might add . . . has been called brilliant for its simplicity.
And not just by my mother.
Know How to Use the Bathroom Cleaning Checklists
I'm including two types of checklists here.  One is long (crazy long) and one is photo-based for non-readers or kids who are visual learners.
We use the long one.  Long, as in . . . 25 steps long.
I know that this is quite detailed, and 25 steps may seem a little too long.
I learned to clean a bathroom when I worked at a (very clean) summer camp.  One of the most essential lessons I learned was that the order of cleaning tasks was key. You start with the least gross things first, and then work your way to the most gross. Meaning, you don't clean the toilet and then clean the faucet at the sink where you wash your hands.
The ultimate goal here is independence. And success in that independence.  Breaking down the sometimes-overwhelmingly-huge (and rather ambiguous) task of "cleaning the bathroom" into small bite-sized steps means that a child can have confidence he/she is doing what he/she is supposed to be doing, and that there are only seven more steps until this gargantuan task is officially complete.
Understand Your Role for Bathroom Cleaning Day
Supervise and TEACH.  Even though this list is broken down into tiny tasks, you will have to initially teach them how to do these tasks.
Demonstrate how to wipe off the counter.  Show how to start on one side of the counter and work across so they'll know they got it all.  Point out the importance of scrubbing a little extra in the spots where dirt collects.
Use your unique Mama Knowledge of each child to determine how much independence you can give him or her.
Tips:
Put counter-top items such as hairspray, skincare products, etc. in a shallow plastic tub that can easily be moved out of the bathroom for Bathroom Cleaning Day.  If this isn't aesthetically pleasing enough for you, consider trying it only for the Summer of Clean. For this time period, you're viewing your bathroom as a classroom.  This will allow you to clear the counter in one quick movement.
Overhead/erasable markers allow your kids to cross off a laminated checklist as they complete each task.  This will keep them on track and let you see at a glance where they are in the process.
One of my kids' favorite things about cleaning bathrooms is standing on the counters to clean the mirrors.  I'm okay with this, but I watch them with eagle-eyes for safety and give many-a-lecture on how the counter can't be the least bit wet because they could slip, and how they need to clean the counter AFTER they've stood on it.
Y'know, because feet are gross.
If your child is going to stand on the counter to clean the mirror, of if a young child is "cleaning" the cabinet doors by spraying them with vinegar water, place a thick towel under them so that any dripping water is absorbed by the towel.
I highly recommend having either a bathroom cleaning basket per child or per bathroom.  Per child is good because they personally have a pair of gloves and their own scrubby sponge.
I also recommend clearly labeling all cleaning tools as "Bathroom Only" with a permanent marker.  We don't want any overzealous cleaners cross-contaminating the kitchen with bathroom cleaning tools.
Ick!
Go here to print the detailed written checklist for readers.  Go here to get the printable photo-based checklist seen above, or here to find out more about getting all this and lots more in one e-book, Teaching Kids to Clean. The e-book also includes a photo-based bathroom counter cleaning checklist as well!
My newest book, Decluttering at the Speed of Life is now available wherever books are sold!
Does even the thought of decluttering overwhelm you? Sign up for my newsletter and get my reality-tested decluttering solutions delivered to your inbox for free.
Save
Save
--Nony