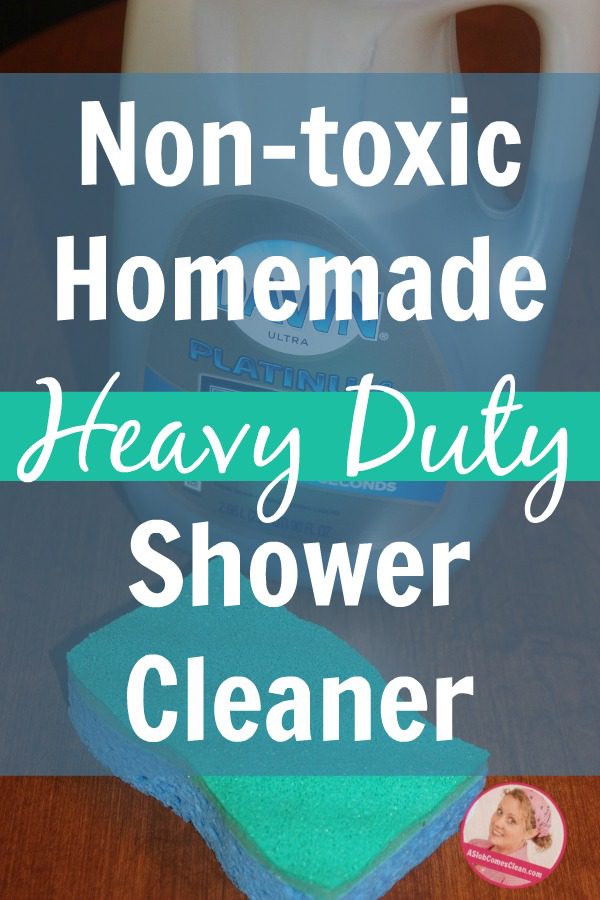 OK.  I rarely claim that my lightbulb moments are life-changing, but I believe this one is.  I have discovered a non-toxic, homemade HEAVY DUTY shower cleaner.
Seriously.
Are you ready?  It has only two ingredients and one cleaning tool.
The tool?
A heavy-duty scrubbing sponge.
The "ingredients"?
Dish soap.
Elbow grease.
For real.
And I am beyond excited.  Here's the thing.  My various cleaning "issues" pile on top of one another until they become completely overwhelming.
And paralyzing.
Issue #1 – Slob Vision.  Or Time Passage Awareness Disorder.  Or Whatever You Want to Call It.
When life gets crazy (and when is it not?), I get tunnel-vision-ated and dirty showers become invisible to me.  Then life speeds by and if I'm not following my Weekly Cleaning Schedule, I truly have no idea how long it has been since I last cleaned the shower.
Until the shower door looks like this.  And kind of smells funny.  (Not ha-ha funny.)
This issue results in large amounts of overwhelmed-ness.
Issue #2 – Overactive Imagination Regarding Length of Required Cleaning Time.
For real.  I can imagine that a task is huMONgous and that I can't possibly take the time out of my schedule to deal with this gargantuan mess.
This issue results in me procrastinating.  For even longer.
Issue #3 – Cleaning Aisle Aversion
I don't window shop in the cleaning aisle of the grocery store.  Unless the exact product that I just realized I needed THAT morning (but still didn't write on my list) is in my face at the checkout aisle, there's a 94% chance I will never remember to pick it up at the store.
This issue results in a fabulous excuse to not clean even when issues 1 and 2 could possibly be overcome.
Issue #4 – (Distantly related to #2) Overactive Imagination Regarding Toxicity of Cleaning Products
It's true.  I feel the need to wear a haz-mat suit when using really chemical-ey products.
And then I get paranoid about rinsing away those products.
My overactive imagination shows me all the life-long repercussions of showering (or bathing!) in those chemicals.
Add together issues 1-4 and you have a problem. I let the shower get to the point where it needs heavy duty cleaning, and yet the typical heavy-duty cleaners scare me, so I put off the cleaning even longer.  And the need for heavy-duty cleaning increases.
By a lot.
It's a never-ending cycle.
Sooooo, I'm pretty excited about this.  Mike of Discount Cleaning Products tweeted a random tip a few weeks ago about using dishwashing liquid to clean the ring-around-the-bathtub.
I thought "hmmmm."
And then forgot about it.
Then, when I was working with my daughter last week in my own icky bathroom, I remembered that I've heard over and over lately that Dawn dish soap and vinegar, together in a spray bottle, make an effective shower cleaner.
Great idea!
Except I was out of vinegar.
And I didn't have a spare spray bottle.
So I thought I'd give Mike's tip a try on the shower in general.
I used Dawn from the kitchen sink on the just-out-of-the-package sponge, but once it was contaminated with bathroom germs, I couldn't bear to take it back into the kitchen.  After that, I opted for the Ivory that I use in my homemade cleaning spray.
It . . . works.  Seriously.  I simply wet the sponge, squirted the dish-soap onto the green scrubby side, and started scrubbing.  It removed soap-scum, ring-around-the-bathtub, water-spots, etc.  It CLEANED the bathtub/shower.
Elbow grease was required, but significantly less than I expected, as I just used liberal amounts of the dish soap on the tougher spots.
And the fact that my Grandma used to use Ivory dish-soap to make my bubble baths means that I have NO paranoia whatsoever about bathing after I'm done.
Or about my daughter scrubbing the bathtub!
And here's that previously-hideous shower door!
Note: Elbow grease is muscle power. I do feel the need to clarify that since I've heard a Grandma or two laugh about some youngster asking where to buy it.
Note #2: Read the comments!  Evidently, these types of scrubby sponges shouldn't be used on all types of tub surfaces, because they can scratch some.  Updated in 2015, I now use these sponges which are AWESOME and don't scratch!
I'll link this up to Works for Me Wednesday, Homemaking Link-up, Living Well Wednesdays.
--Nony