How incredibly cute are these baskets? Too bad they didn't have any pink ones left, but at least my daughter got a pink sponge and a pink topped spray bottle.
Today has been crazy with end-of-school-goings-on, but I was determined to get something done, since every day this week will be equally crazy.
I took a trip to the Dollar Tree, and bought spray bottles, tubs, scratchy sponges, and latex-free gloves. As we head into the schedule-free-zone of summer, I'm doing my best to be as prepared as possible to prevent the excuses that I know will seem totally logical and justifiable to my slob-brain. If each child has his/her own adorable little bathroom-cleaning-basket ready to go, the chances are greatly increased that we'll actually follow the plan of having them clean the bathrooms on Tuesdays, using the handy-dandy bathroom cleaning checklist I worked so hard to create last week.
I was oh-so-tempted to just label the bottles with my sharpie marker and take the picture and write the post, saving the final step for "later" (as usual). But thanks to fabulous reader Shell at Tangled Zen, I had a link straight to all of the cleaning product recipes I wanted. I decided to go for it, and they were incredibly easy. The ones I used only called for vinegar, water, and dish soap, and I was able to make them in minutes. The most time consuming parts of the process were multiple searches for the vinegar, the bottles, or whatever else I randomly put down while walking through the house.  (Edited to add: Here's another link to some homemade cleaners, since Shell isn't blogging anymore!)
I loved the spray bottles I bought at the Dollar Tree because they have little marks to show you where to fill to if you are doing a ratio recipe, like 2 to 1. Very cool.
I'll be honest, I was skeptical about the shower cleaner. I used Shell's general cleaning solution recipe, and doubted its effectiveness since it didn't smell the least bit toxic, like I'm used to. I mean, can you actually clean with something that can't kill you?
I took it to my shower and sprayed down the door, which hadn't been cleaned since last Tuesday. It did a great job when I used my ultra scrubby sponge on it. I sprayed it on the floor of the shower which had a few shadowy-gray spots on it, and they wiped right off. I then got crazy and sprayed it on the metal part of the shower door which still suffers from months (okay, years) of neglect. It took a bit more elbow grease, but I was able to get the quite thick mineral-deposits/soap-scum/whatever-that-stuff-is off. I was totally impressed. Knowing that it does work is such a relief to me, as I'm definitely not willing to let my kids use the toxic stuff.
I'm curious to see how it does as our only cleaner during the 2 and a half months of summer. I'll keep you posted.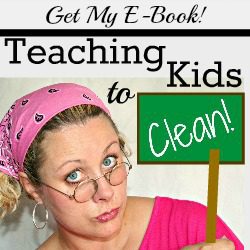 --Nony