Here it is.
My big decluttering/organizing/cleaning project of the week:
I cleaned off the dining room table.
Perhaps you are thinking, "Ummmm, haven't you done that before?  Like . . . a hundred times?  And written a hundred posts about it?"
Yes.  Yes, I have.
Yet it continually returns to slob-blogger-post-worthy status.
While I'd love to dig into a nook or cranny and do some down and dirty decluttering this week, I can't justify that because of the overall state of the house.
It's a wreck.
I have a friend coming over tomorrow and home groups on Sunday night so I know I'll be motivated to pick up and de-disasterize the kitchen and living room.
But if I don't turn the dining room table into its own "project" it will end up being scooped into one big box of clutter and moved to the Master Bedroom.
So, I decluttered/cleaned the table.
It wasn't the least bit difficult, and didn't take much time at all.  
Mostly, there was Easter stuff.  Baskets and eggs and candy and such.  Plastic eggs were emptied and put back in storage for next year, and candy was moved to one big treat basket.
I rejoiced to find a piece of my beloved banana Laffy Taffy:
And thought unkind thoughts about the parents of my son's classmates who felt it necessary to tape eggs shut.  
I pitched the long-dead roses from my daughter's birthday party
that we had on April 2nd.
I put trash in the trashcan and took other absent-mindedly-placed items back to their proper homes.  
And now it looks like this:
FINE!
Here's the real after picture:
That's a sheet I borrowed from my best friend when we went Christmas shopping and I needed to cover up a gift in the back of my Suburban.  If I don't put it there, I'll never remember to give it to her tomorrow.
Actually, I'll still probably forget, but maybe she'll read this post tonight.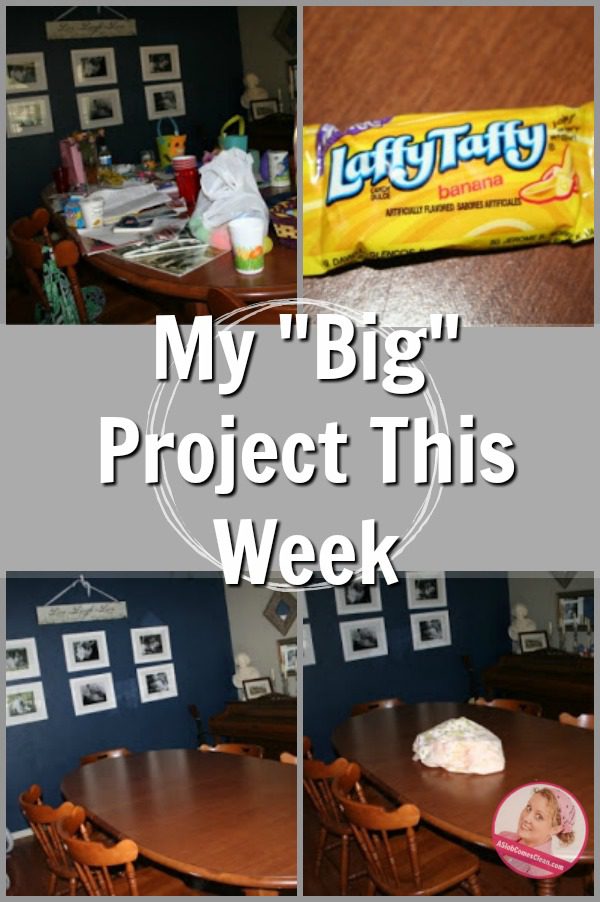 Save
Save