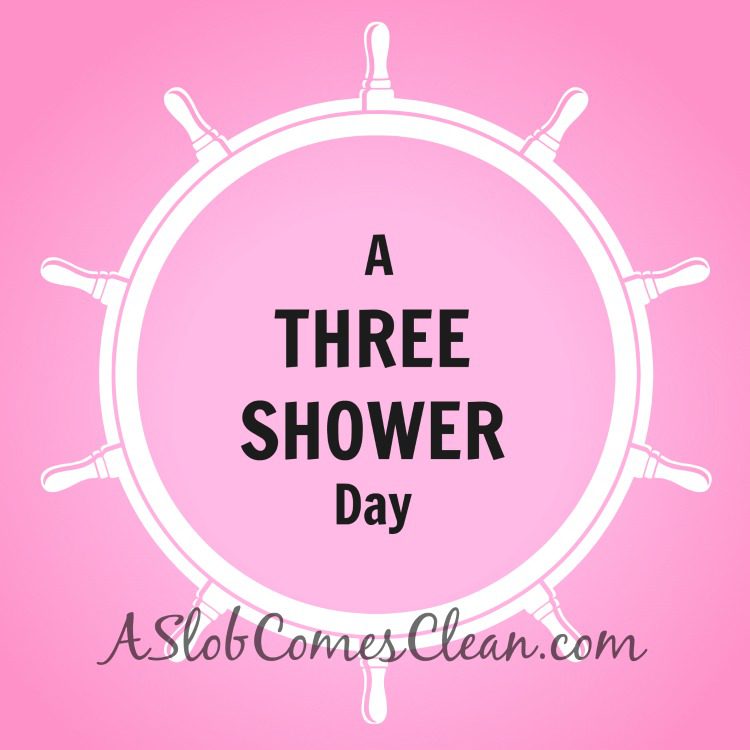 Not three showers because I sweated so much cleaning and decluttering.
Three showers because I'm a germaphobe.
I generally consider myself a functioning germaphobe.  I get through life using my elbows to open doors and artfully dodging handshakes.
But somehow today was too much.
I blame it on being tired and on the oh-my-word-I-can't-believe-the-school-year-is-over-and-my-baby-is-going-to-kindergarten-in-the-fall funk I've been in lately.
And in case you're wondering . . . no, this post has absolutely nothing to do with my deslobification process.  It's just one of those times when it's nice having a blog so I can rant and tell stories and pretend that the whole world cares.
I began the day in training to be a children's leader next year in the Bible Study I attend.  I work with pre-schoolers on Sundays, and I guess I'm used to those kids and that environment, because I do fine there.  But somehow today the nose-picking and animal-cracker-sharing and such just about did me in.  THEN I came in contact with full-fledged pink-eye and couldn't function until I made it home and took a hot shower.
That was the second shower of the day.  I was so freaked out, I even had to re-wash my hair.
And because I live a life of irony, the day didn't end there.
Already at my wits' end because I had completely forgotten (or I really think I never even knew) that dance pictures were today at 4:30 . . . 30 minutes away, I perhaps wasn't in my sanest mood of the year.
And then, while there, between the tap and ballet pictures, a group of teenage dancers had their picture made, complete with trophies and such.
I heard a bit of commotion, and we were informed that this was going to take longer than expected. One poor girl had THROWN UP right as they were about to snap the picture.  As in, all over the girls in front of her and all over the proudly displayed trophies.
Lest you think I'm exaggerating (which wouldn't always be outside the realm of possibility) I saw with my very own eyes one of the victims as she walked through our room, her hair and back and legs covered in . . . . well, you know.
Hence, shower number three.  Not that any of it got on me, or that I went anywhere near it.
Here's hoping for a single shower tomorrow, and that I have something cleaning-related to share.
Because this house is a wreck.