I get it.
Decluttering a slightly messy closet is a nice thought.
Decluttering an entire house with cabinets that won't close, entire rooms that can't be used, a walk-in closet that hasn't been walkinable in months/years . . . is completely overwhelming.
Really, I get it. Decluttering is overwhelming.
The best advice I can give (based on way too much personal experience) is to grab a trash bag (or a shopping bag or a box you were planning to throw away) and start removing trash. Trash is easy.
If you have a recycling bin, grab it too.
Start with the most obvious trash in your home. Food wrappers. Dirty tissue. Empty packaging. Broken toys placed "briefly" on the kitchen counter (last month) so you could decide if you had the time/energy/desire to fix them.
Here's the thing. "Clutter" is an ambiguous word. Clutter can be a pile of papers, a pile of shoes, or a closet full of who-knows-what.
Over the past more-than-six years of my own deslobification process, I've learned this:
Clutter = The Unknown
Who knows what kinds of glorious treasures I'll find in that pile? Who knows what kinds of can't-possibly-get-rid-of-it stuff I'll uncover?
I don't. And even worse, I don't know what I'll do with it if/when I run across this unknown treasure/necessity.
All that not-knowing is a great reason to wait.
And not do anything.
So to make myself do something, I start with the easiest of the easy stuff: trash.
Make the pile a little smaller or the room a little less stuffed-to-bursting by pulling out ads for used car lots or the empty boxes I thought I'd already taken out to the garage.
There are two possible results to this strategy:
I see a visible difference because the trash is gone, get inspired to keep going and completely finish decluttering what was once an overwhelming space.
I see a visible difference.
Either way, I've made progress. I like progress.
If you're continually overwhelmed by the clutter in your home, keep reading.
I've had to find ways to work through my own decluttering frustrations. When you sign up for the free newsletter, you'll get my solution to THE #1 decluttering frustration people everywhere experience delivered right to your inbox immediately. And for the next several days, you'll get more solutions to common decluttering frustrations delivered by email.
My newest book, Decluttering at the Speed of Life is now available wherever books are sold!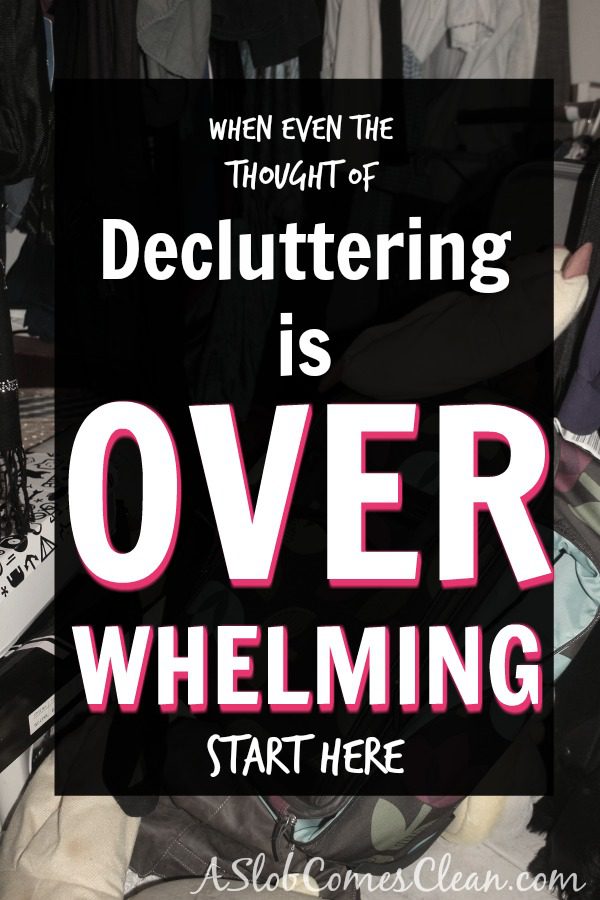 Save
Save
Save
--Nony