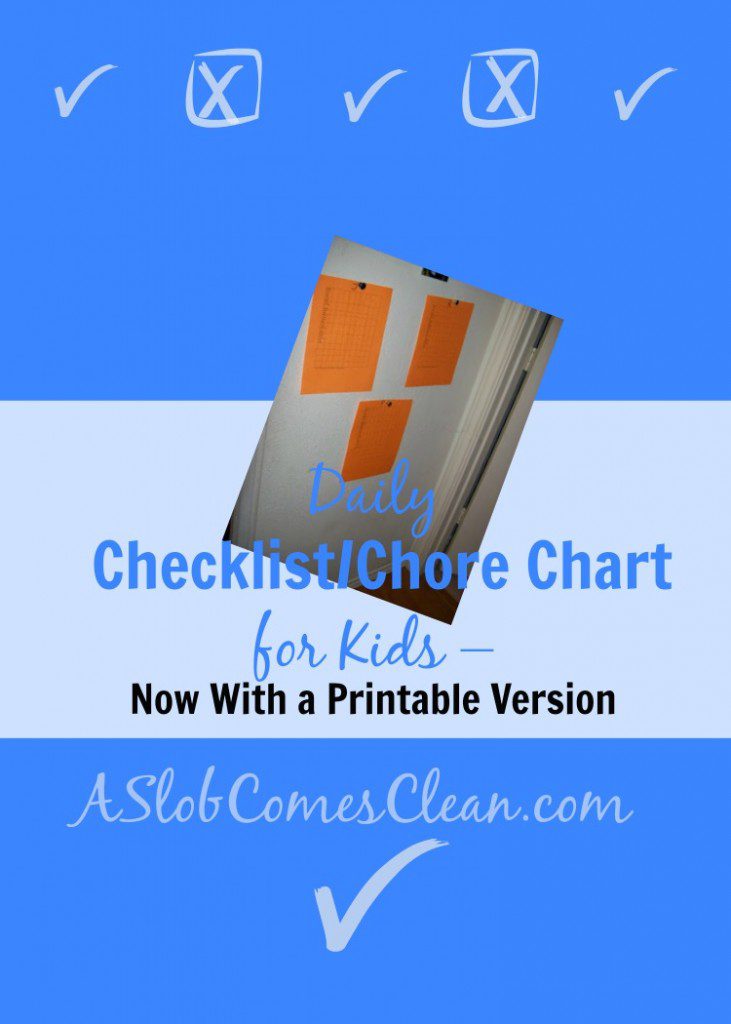 It's officially Back to School time. Moms everywhere are taking a deep breath and resolving to be more organized and teach their kids to be responsible.
How do I know this?
The number of people finding me by searching for "Kids Chore Charts" or "Daily Checklist for Kids" has at least quadrupled.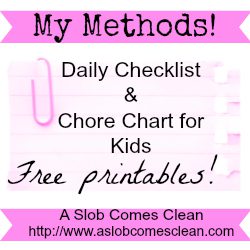 So, since I'm working on my "My Methods" tab anyway, I thought I'd make a printable version of the chore chart we use.
Like I said in last week's post about the printable version of my own Daily Checklist, I'm not one to give advice. This is just what has worked for us. As a scatter-brained mama who only remembers to remind the kids to pick up toys and feed the dog . . . after they're already asleep . . . I needed something that would motivate them to remember on their own.
My totally un-fancy chart includes 6 chores/tasks/whatever-you-want-to-call-them. I chose these 6 because they are the basic things I want my kids to do, but that they weren't doing consistently pre-chart. Like myself, they need to develop habits. These things aren't big jobs, just things that need to be done daily . . . that weren't being done daily.
Your chore chart may look completely different. If your kids already automatically take their dishes to the sink after meals . . . there's no reason to start paying them to do that. I'm embarrassed to say that we've added teeth-brushing to our chart. Although I personally am a fanatical multiple-times-a-day brusher, I sometimes forget to remind my kids to brush theirs before bed. I choose not to view this chart as a list of my parental-failings, but as a way to compensate for my slob-brain.
I explained our allowance/commission/reward/payment/whatever-term-is-least-offensive-to-you system when I originally posted about the chart, but I'll briefly re-tell how we do it. The kids earn 10 cents per chore, but I have no interest in rewarding them with random dimes whenever they feel like brushing their teeth. My goal is consistency. So, they have to reach 1.00 to hit payout. At the end of the week, I count the number of boxes that are initialed, and for every 10, they get 1.00. If they have 27, they get 2.00, and I cross off 20 of the boxes. The other 7 go onto the next week's total.
Make sense?
And just a note about readiness/age-appropriateness. When I first made the charts last spring, I only made them for my 6 & 8 year old boys. My just-turned-four daughter wasn't ready. She did some of the things the boys did, but the money didn't motivate her at all.
Yesterday, that all changed. She saw a Barbie Holiday Doll
at Walmart, and was devastated that she couldn't have it. (How in the world has she not accepted after 4 years that her mother does not buy random twenty-dollar toys?) After I explained (calmly and with no irritation whatsoever in my voice) that I was not going to buy it, she asked very specifically if SHE could have a chore chart so she could save enough money for that Barbie. She even came up with the idea that one of her jobs should be to change our dog's water during the day, since the boys take care of her at night.
Out of nowhere, she was ready. And today, she has done all of her tasks with great energy. I'm sure the excitement will fizzle, but now that I know she is ready, it'll be my job to work on the consistency part.
They truly do grow up in an instant.
Click here to see the printable version of my kids' Daily Checklist.