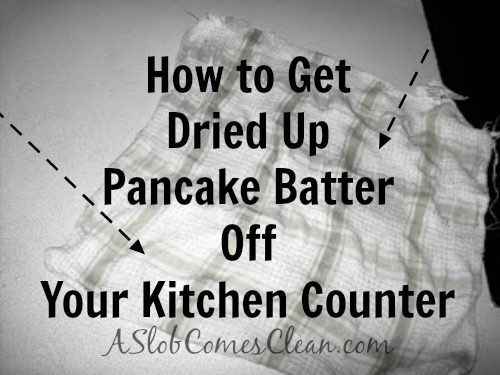 Yesterday, as I was doing the massive clean-up from our Kid-Friendly Freezer Cooking Session, I decided that I should share a little tip.
I don't like smelly, chemical-ly cleaners, but often end up having to use them, due to . . . ummm . . . lack of using the less-lethal-stuff when I should.
Meaning, if I had wiped up the spilled pancake batter when it happened, I wouldn't have to work so hard to get it to come off the next day.
So, here's what I do to keep from digging under the sink for cleaners that I don't want to use in my food-prep-areas.
Dip my washrag in warm, soapy dishwater. Only squeeze out enough water to keep it from dripping. Lay it over the concrete-impersonating-pancake-batter-spill. Do something else in the kitchen for a few minutes (since there's ALWAYS something else to do). Come back and wipe it off easily.
If it doesn't wipe off completely the first time, repeat the process until it does. (Or get out a butterknife and start scraping.)
There's my tip.
If you happen to be normal, and you've never let pancake batter petrify, and you feel like you just wasted three minutes of your life reading this post . . . . don't blame me. You were warned in the title.