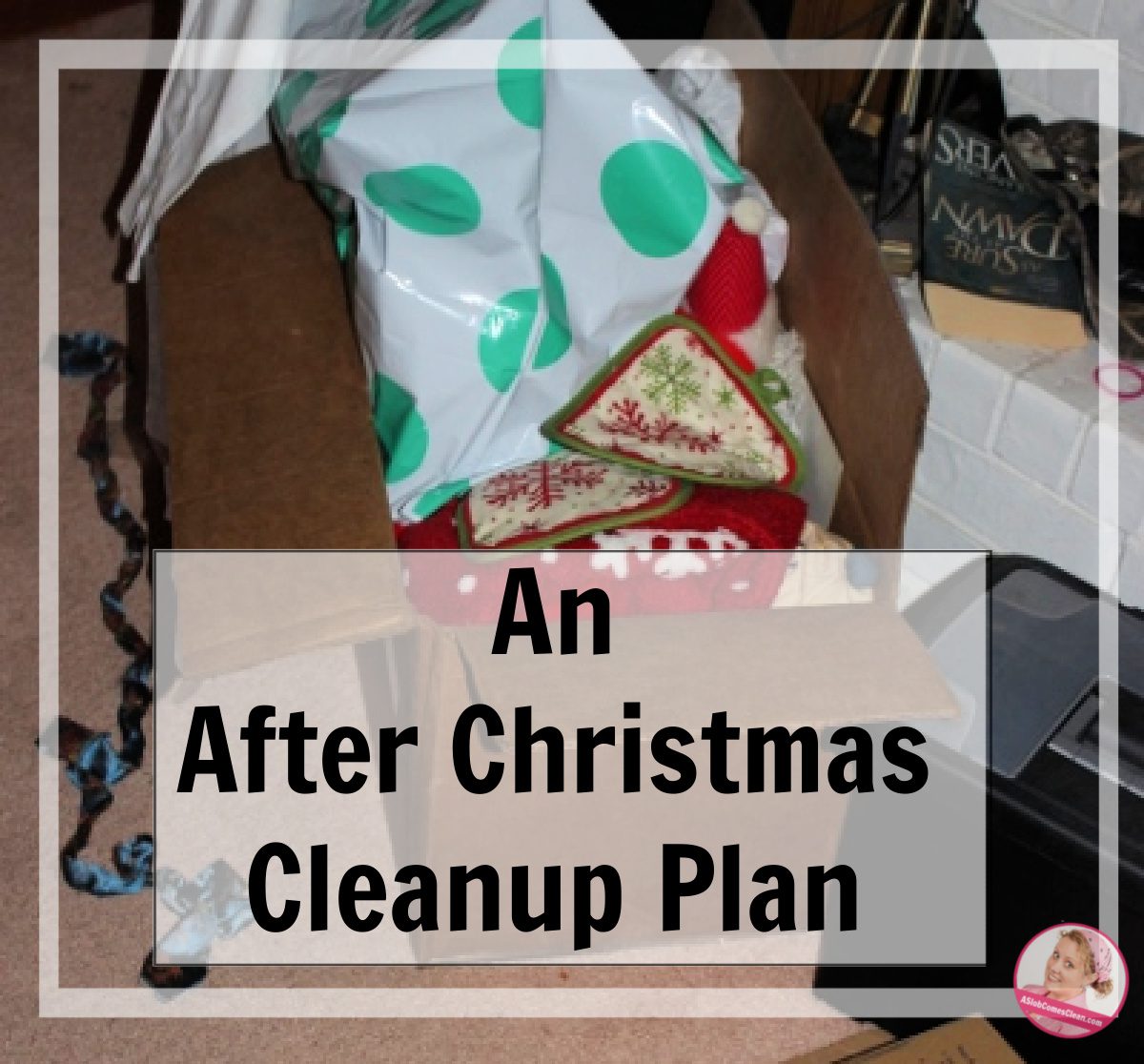 I hope you had a wonderful holiday and you were able to relax and enjoy your time.
I'm good at enjoying and relaxing and not worrying about the mess that seems to explode on Christmas Day. I can smile and sip my cider and read a book and be purposeful about living in the moment and acknowledging that this is a unique day when mess should be expected.
I'm totally fine. Until I'm not.
And that moment when I'm not fine anymore gives me a panicky feeling.
So what do I do? I follow the steps of my decluttering plan. Even though, technically, it's not a decluttering project. It's just cleaning up after the holiday celebration.
But these steps are how I work through the feeling of being overwhelmed. The steps help me stay on track when being overwhelmed derails my focus.
Step One: Trash
If you didn't have a gift-opening participant who stuck wrapping paper and packaging in the trash or recycling in the moment (oh, how I love these people), do it now. Don't lament that you're not that person. I'm not that person either. Just throw it away now.
I know this seems too easy and obvious to put on a list, and yet it has to be on the list for me. Feeling overwhelmed by the mess can paralyze me. I look at the overall volume of craziness and can't figure out where to begin. I repeat to myself and my family: Just throw away trash.
Just throwing away trash makes the space look so much better. The space looking so much better lessens that feeling of being overwhelmed. Throwing away trash also helps me see what I'm actually dealing with because I'm walking around and looking at individual items instead of the overall mess. Knowing what I'm dealing with prepares my brain to keep moving through the steps.
Step Two: Easy Stuff
New stuff coming in means decisions will have to be made. Deal with the easy stuff before you get to the decision-required stuff. Easy Stuff already has an established home somewhere else in your house. You don't have to decide anything about it. Get the Easy Stuff out of the way.
If you feel stressed over where in the world you'll store your new air fryer, you associate that bewildered feeling with the whole mess. By removing the non-bewildering Easy Stuff, you reduce the mess and the overwhelmed feeling.
Note: Easy Stuff includes putting the dirty cider mug in the dishwasher.
Step Three: Duh Clutter
Mark one of your new boxes as a Donate Box. Stick any Duh (obvious) Donations in there. Did some of your Christmas decorations get on your nerves this year? Did the dog chew the wise man's robe? Did the nifty Christmas card holder you bought in 1997 keep falling over? Did you even fill it with cards this year? If you're not planning to fix those things (which is a valid use of your time if you want to fix them now), stick them in the Donate Box. Better to do that today instead of hoping they'll transform into something you like better while they sit in your attic for the next year.
Step Four: Ask the First Decluttering Question
There are two decluttering questions, but we're going to stick with the first one since we're dealing with the new stuff now. This is a cleanup instead of a clear-out-years'-worth-of-clutter project.
"If I needed this item, where would I look for it first?" is the first question. I know it feels hard to say where  you'd look first for something new, but try to go with your instinct. Put it in the first place that pops in your mind when you ask yourself where you'd look for it first. That way, there's a pretty good chance it will be in the first place you look for it when you need it!
And, having an instinct-based way of determining an item's home is much better than standing in the middle of the room, staring into space. Trust me.
Step Five: Make it Fit
This is the part that gets mamas in a panic starting in mid-November. How in the world will all this new stuff fit? The panic is especially bad when you're already struggling with clutter.
Please note that I'm not talking about solve-all-your-problems deep decluttering. I'm talking about dealing with new stuff that has entered your home over the last week. It isn't easy, but it is simple.
When you take something to the first place where you'd look for it (based on instinct, not on confidence), and there isn't room in that space, make room. Make room by removing something easy.
The easiest of the easy stuff is trash. See if there's trash. Is there an empty or almost-empty package that can leave to open up the space you need? Is there a Duh Donation (a super-obvious donation) that you can pull out to make room for the new thing?
If you got a new can opener in your stocking, replace your old can opener. I know replacing feels hard to People Like Us, but that's the way a lifestyle of decluttering goes. If you got new black boots, replace an older pair of black wintery shoes.
Or grab anything. Anything that makes the space you need.
And your black trash bag and Donatable Donate Box are back at the space you're working to clear, which helps you stay on track.
A Word of Warning
I know you're in the mood to declutter. Seeing the house in disarray will do that. Lots of new stuff causes the decluttering itch to spread all over your body.
Deal with your visible areas, the ones covered in Christmas Celebration Debris, first. Following this plan will get you through that unfun task, and it probably won't take as long as your brain is telling you it will take. Even if it does, you'll feel so much better about your house because you started with the visible areas first.
If you spend your day decluttering the linen closet and then can't find a place to sit down in your living room, your decluttering energy will drain right out of your big toe. If you start in the visible area first, you'll inspire yourself to tackle those other "real" decluttering projects, too.
Want a printable flow chart of my decluttering process?
As you declutter your house this week, you can carry a printable flow chart of my decluttering process with you! (Or look at it on your device if you don't have a printer.)
I am SO excited to offer this printable decluttering flow chart as a digital bonus when you pre-order my new book which releases in January!
Order Organizing for the Rest of Us: 100 Realistic Strategies that Will Keep Any House Under Control anywhere books are sold. Once you pre-order, go to ASlobComesClean.com/preorder to claim your bonuses. You only get the bonuses if you fill out the form! The flow chart will go to your email immediately, and then you can download and print it to stay on track as you work!
Here's a post I wrote to help you decide if you need this book, and you can find a list of places to pre-order here. (Or just search for the book wherever you like to order books.)
--Nony