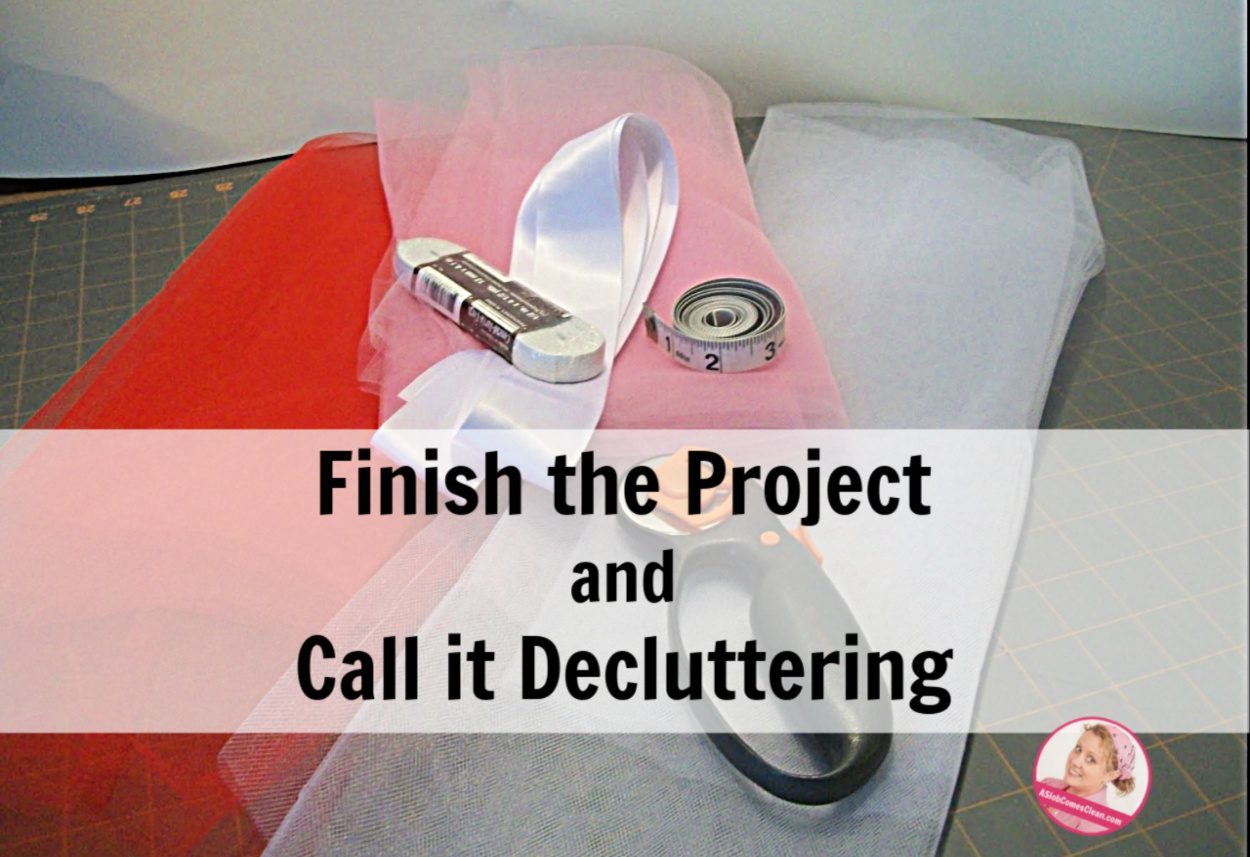 Projects are fun.
The idea/planning/collecting-of-stuff stage of a project is fun. The finishing stage is fun.
But today I'm talking about the middle stage. It's fun, too, but it can make decluttering difficult.
It's the stage when you've gathered the stuff and started, but you're not done.
And then life happens.
And the unfinished project needs a place to be until it's done.
Those of us who struggle with clutter love projects. We have great ideas and amazing intentions. We make big plans to do cool things, but then when those plans get interrupted, we sometimes get paralyzed by the stuff that's now clutter because it doesn't technically have a home.
But isn't really clutter because it does technically have purpose.
Like, it won't be clutter anymore once I finish the project.
When I get the urge to declutter, these undone projects are paralysis points. Where do I put them? How can I possibly make the house look any better at all when the dining room table is covered in supplies for making a wreath or painting a frame?
Here's how:
Give myself permission to finish the project and call it decluttering. 
The mental hangup happens when I think of the project as fun and decluttering as not fun.
It feels like I can't finish the project because I don't deserve to have fun inside the house I should be decluttering.
And the paralysis happens when I deny myself the fun of finishing the project and ALSO don't declutter because decluttering won't make that much of a difference because the unfinished projects make the house look cluttered.
Finish the project.
Get over the hangups. Enjoy finishing the project. And then, when the space is clear of pieces and parts and half-done stuff, it will be . . . decluttered.
It might not be totally decluttered, but it will be better than it was before.
And once the big, paralyzing, I-really-shouldn't-waste-time-doing-projects project and all its accompanying projectphenalia are gone, I feel less overwhelmed and can work through the other (actual) clutter that appeared while the project pieces were sitting there.
I talked about this in a recent podcast about what "counts" as decluttering, and how worrying about what "counts" as decluttering is a bad path for people like us to walk.
Here's a lovely note from a listener who shared how much progress she's been able to make since she decided to let finishing projects count as decluttering.
Dear Dana,

I stumbled upon your podcasts by googling "cleaning podcast" last summer. I was hoping to find some magical tip that would make cleaning cleverly easy. Of course, as you know, I did not, but what I did find was some entertaining inspiration to keep going and lots of helpful tips and advice.

I wanted to share the latest "aha" moment that has breathed new energy into my decluttering.

I recently listened to your "What Counts as Decluttering?" podcast and was so encouraged to think about the idea that finishing unfinished projects counts as decluttering. As you mentioned in the podcast, these projects don't feel like they "count" because they are fun (or were fun when I started them.) They are crafty and I like crafty, but it feels oh-so-irresponsible of me to be doing crafty things when I have piles of paper on my desk and plenty of other more "responsible" projects to work on.

I had recently been thinking about how I needed to finish some things I've started and had already cleared a few things out of my guest bedroom that way, but it was cool to put words to what I was feeling about spending precious time on these things.

So far I have knocked out a few small things like going ahead and putting up the big "kitchen" sign I bought for above the kitchen cabinets and replacing the broken decorative lights with the new ones I bought rather than letting them sit in our bedroom indefinitely.

On a larger scale, I am plodding through a big painting project I bought the supplies for probably two years ago, and my husband just finished mounting all of his old license plates on distressed boards to put up in the garage like he always wanted to, rather than keeping them in the box where they have been for years.

These things are "fun" (though I'm so ready for the painting project to be done), but they are also decluttering because all the supplies are put away when they are finished, the trash is gone, and there's more space in the places where they were being stored.

Plus, our home looks so much nicer with these decorative things in their "homes" and it's even prompting my husband to declutter more in his garage space so the clutter doesn't detract from his wall art.

I have listened to all your podcasts from start til almost finished (I'm somewhere in early 2020) and have both of your books plus the e-book on 14 Days to Opening the Front Door to Guests. I particularly find helpful the tips for decluttering without making a bigger mess and words like "slob vision" and "TPAD" which help me be more patient with myself and my family. The visibility rule has also been very helpful.

I tell my friends about you whenever I get a chance. I think at least one of my friends is watching your YouTube videos now!All that to say, once again, thanks for putting your practical ideas out there in a humorous way to keep us inspired and keeping on.

Trina