It's Friday, so I decided to take 5 whole minutes to tackle something.
I tackled my own dresser.
I set the timer on my phone. I started grabbing things and taking them to their homes (where I would look for them first, as in my first decluttering question) immediately. Five minutes was ALL the time I gave myself, so I wasn't about to create more work for myself to have to be done after that five minutes was over.
I wasn't sure if I would actually finish in the five minutes, but I figured five minutes was better than nothing.
I did "finish."
I even had time to head to the laundry room, grab the Swiffer duster, and dust.
I DUSTED, y'all.
And I even pushed the drawers all the way in, which makes a bigger visual difference than I though it would.
Except for that one on the top left, which has something wrong with it (or something stuck somewhere) and won't close all the way. 
If you'd like to join in, share your progress here or post with the hashtag #5MinuteFriday on Instagram or Twitter or wherever. If you want to tag me (@aslobcomesclean), I'd love to see!
Note: This is a whim I had today. I'm calling it Five Minute Friday instead of Five Minute Fridays because even though I think this would be an awesome thing to do together every Friday, I have no idea if I'll even think about it next Friday. That's seven whole days away, y'all.
For now, I'll just smile a little every time I see my dresser.
Another note: If you're trying to see the things on the sides of the dresser and wondering if they are neat and tidy or cluttered and hideous . . . they're cluttered. And a little hideous.
Maybe I'll tackle them with another five minutes.
Maybe.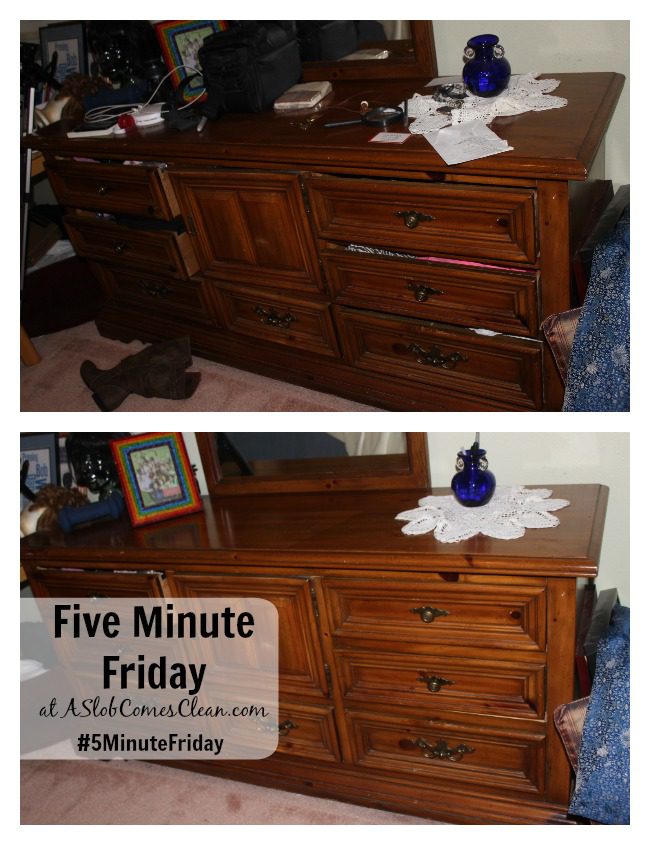 --Nony