There's an affiliate link in this post. 
Two weeks in a row is a start, right?
I cleared a section of my master bedroom. In FIVE minutes.
Five.
FYI, even though my master bedroom is waaaayyyyy better than it has been in the past, five minutes didn't seem to be enough time to bother working on it.
But I was determined to tackle some space for five minutes.
So here's the before:
I just started putting things away. Y'know, the easy stuff. 
The vacuum cleaner went to its "home" in my tiny coat closet about six feet away from my bedroom door.
The pile of random sheets/tablecloths/bedskirt-removed-when-we-got-a-new-mattress went straight to the washing machine. The washing machine was free because Laundry Day was yesterday.
Not sure why I didn't see that ridiculously huge pile of things to be washed yesterday, but whatever. They're being washed now.
Toothbrush and toothpaste (on top of the speaker by the door) that have been there since who-knows-when went to the trash. I'm hope-hope-hoping that whoever they belonged to has since replaced them. (Note to self: check that each kid has been brushing teeth.)
Boots (all three of them) went to my closet, and I even had the time to grab the second brown boot from across the room.
I'm a random-book-taker-offer, clearly.
Yoga ball went where yoga balls go. Under the table by my bed and hopefully out of accident-causing paths.
The tripod was folded up and taken across the room where I'd look for my tripod.
My book and audio book (props for FB live videos) went to the stack of books across the room.
The mannequin was disrobed and the ties were placed upon my husband's tie-hanger (which is really a scarf-hanger) and the shirt was put in the bag where my husband keeps his cleaning that's ready to be taken to the cleaners.
Much better after only five minutes, don't you think?
I'd love to hear about your own five minute task in the comments, or tag me on social media and use the hashtag #5MinuteFriday so I can see your progress!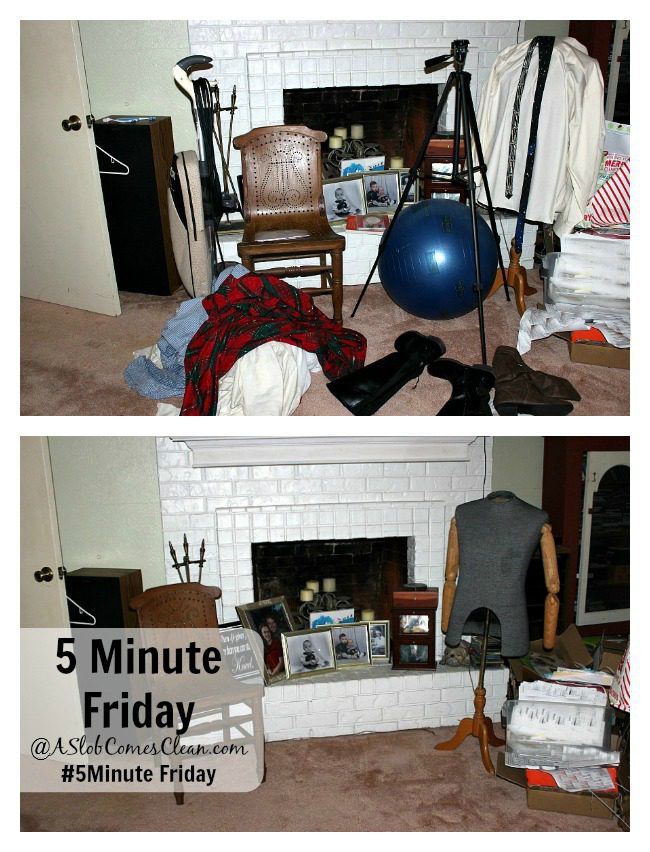 --Nony