This post is sponsored by thredUP. Which is awesome because thredUP is a company I've been using for several years and totally love. The opinions and experiences and clutter-prone closets and modeling/fashion-ability-or-lack-thereof are all mine. The photography skills (or lack thereof) are my kids'.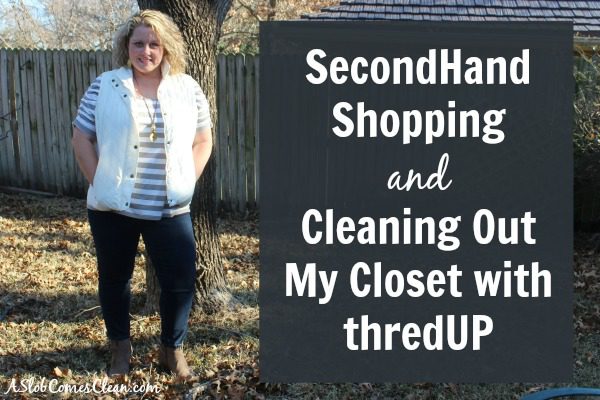 I love a bargain. Sometimes too much. Part of my deslobification process has been cutting way back on willy-nilly, out-in-the-wild bargain hunting trips.
But I still have a condition that prevents me from paying full price.
Enter thredUP. thredUP is a huge online store that buys and sells high-quality secondhand fashion for women and kids, always up to 90% off retail price.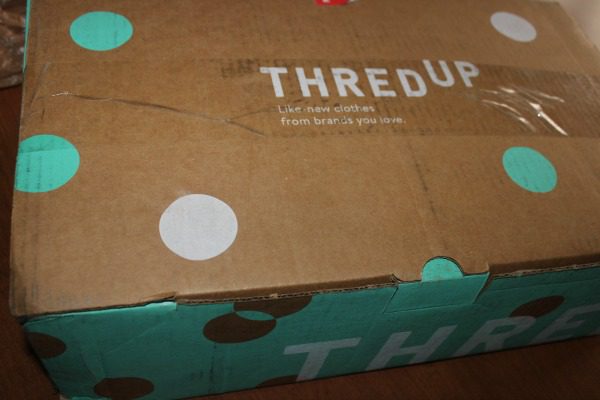 Things you should know about thredUP :
First of all, the stuff is CUTE. And high quality.
Seriously. thredUP is very picky about accepting and selling on-trend items and name brands, so there are no polyester pantsuits to shove out of the way until you find something awesome. It's all awesome.
Secondly, my amazingly distractible mind gets the chance to focus. When I bargain shop, my goal is to find high-quality stuff in great condition. thredUP allows me to find exactly that by typing in the exact brand and size I'm looking for, and even in a specific color or style.
For example, I don't have to browse through all the tops in my size. I can sort by sleeve length and neckline. If you don't like turtlenecks, you don't have to wade through turtlenecks to find what you need.
For example, this: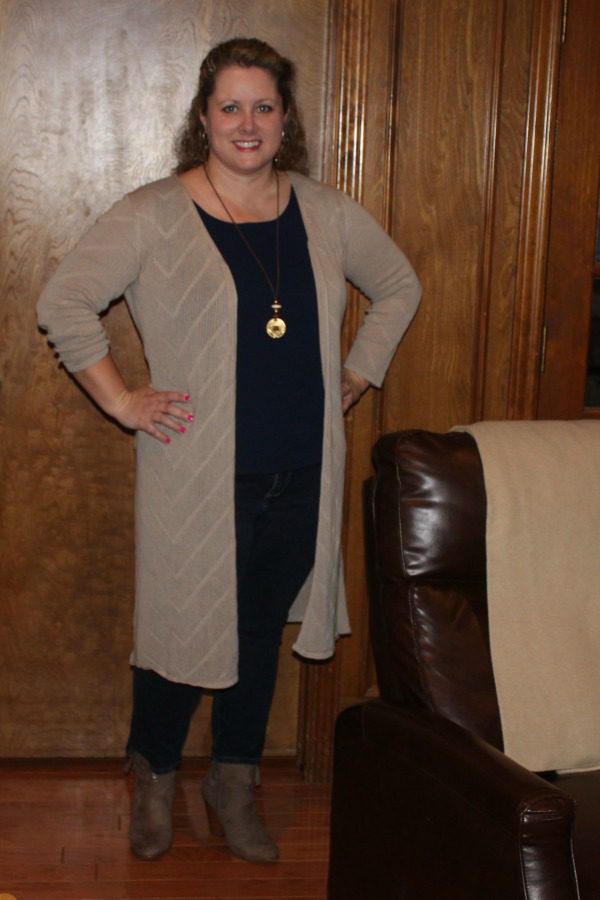 I needed a new navy tank top to go with this cardigan I already had. I found a navy tank top in my size, no digging required. (And doesn't it look good with those new booties and my new jeans!)
And then there's my favorite aspect of secondhand shopping with thredUP: major discounts on expensive brands.
I put the first outfit pictured together for 69.96 (vest-$14.99, top-$9.99, jeans-$28.99, boots-$15.99). The retail value of the outfit was $275 (vest-$60, top-$36, jeans-$119 and boots-$60) . That's a 74% savings.
But let's talk specifically about the jeans, I've developed some major brand loyalty to Not Your Daughter's Jeans. About a year ago, I got some from thredUP. They live up to any and all hype I'd heard about them. They fit well, maintain their shape (unlike most jeans that fit great right after they're washed but then sag like crazy after wearing them for an hour), and they're comfortable.
I'd worn my other pair of NYDJ on a plane. ON A PLANE, y'all. Where anything that binds or itches or pokes gives me crazy eyes. That plane ride turned me into a fan, and I needed another pair of these jeans. (The first pair I have was an animal-print.)
But they're expensive jeans. Over $100 jeans. But on thredUP , I got them for less than $30. Those are the jeans I'm wearing in all of these pics.
So, as I change my clutter-prone mindset toward Quality over Quantity (spend the money to get one thing that performs amazingly instead of six things that are mediocre), thredUP lets me do that.
But there's more. 
The Clean Out bag.
I named the post "Cleaning Out the Closet with thredUP , right? It can't be all about getting new (to me) clothes . . . 
Can you believe how big that bag is? AND, it's pre-labeled and ready to go.
In my own deslobification process I've learned: THE key to preventing a cluttered closet is to accept that the size of the closet determines how many clothes I can have. More clothes than will fit in my closet = an out of control closet. An out of control closet = clothes all over the floor and clothes all over the everywhere.
And the key to getting new stuff (no matter how awesome and no matter how amazingly priced) and not letting an under control closet turn into an out of control closet is to follow the One In One Out Rule.
Meaning, once I have decluttered my clothing down to what I can keep under control easily in the closet I have, I must get rid of something in the closet each time I bring a new thing into my closet.
I started looking at the clothes in my closet with new eyes.
What do I not love as much as my new stuff? 
Once I asked myself that question, it was easy to identify the top that doesn't look as great when I'm wearing it as it does when I think about myself wearing it.
And the top that has been too small for too long.
And the jeans that are nice, but not as nice as the new ones I've worn more than once in the last week while this pair sat ignored.
So I grabbed those things, and kept on grabbing. Surprisingly quickly, I'd found enough to almost fill the bag.
And bonus, I found even more things that I stuck in my Donate Box. Remember how I told you thredUP is picky about what it accepts? As I pulled things out of the closet, I put the usable but not perfect stuff in the Donate Box.
Even more decluttering happened than I intended. Yay for that!
Other things to know about thredUP:
thredUP is very honest about how picky they are about the things they accept to sell. And how they accept things. And what they do with the things that are not accepted. And how you get paid.
If you have a million questions, the thredUP site most likely answers them, along with one hundred you didn't even know you had. I encourage you to check it out, as their process and their mission to make shopping secondhand easier is impressive.
I'm calling this sponsored post a major win. I got great bargains on super cute secondhand clothes without leaving my home. The clothes arrived on my doorstep in a super cute box. I also One-In-TWO-Outed my closet without leaving my house.
The clothes in the bag are already gone. I followed a link on the thredUP site to have my mailman pick up the bag from my house the day after I filled the bag. I just set a reminder on my phone so I wouldn't forget to put it outside my front door! Setting up a pickup with USPS is incredibly easy.
These are all clothes I probably would have eventually donated, so it's exciting to have the motivation to get them out of my house and see what I will get for my nicer stuff! I'm choosing to get credit on thredUP (I'll keep on one-inning-one-outing), but I could choose to get paid or to have any proceeds donated to charity.
And here's the most exciting part! thredUP is offering A Slob Comes Clean readers a special discount! The first 100 people to use my code CLEAN40 will get an extra 40% off their first order! (Applies to new customers only. Discount up to $50). Click HERE to shop now!
--Nony