One of the most common decluttering questions I hear is: How many (fill in the blank with whatever item they're currently stressing over) do I need?
It's a logical question.
I've asked it many times in my own home.
Many, many times. How many hangers should I have? How many t-shirts do I need? How many pairs of shoes should I keep? How many boxes of cereal should I buy when our favorite brand goes on sale?
In the past, I'd go through several phases in my quest to find the answer to this common decluttering struggle.
Phase One: Stare into space. Think really, really hard. Come up with nothing.
Phase Two: Try to do math in my head. Number of days when I wear undies (ummm, all the days) times (or divided by?) how often I do laundry minus something-or-other. Give up. Math and I don't mix.
Phase Three: Get logical and decisive. There's no such thing as too many undies! Really. Undies are totally necessary things. Why am I even asking myself such a dumb question? (Write undies on a shopping list.)
Phase Four: (weeks later, while pushing on the dresser drawer with my full body weight, unable to close it because of the abundance of undies) Ugh. I have way too many! I have got to figure out how many I should actually keep!
Repeat phases one through four. 
That endless cycle didn't work.
So, how do I know how many of something to keep?
Really, there's nothing to analyze or figure out.
I can keep the number of socks/undies/t-shirts that will fit in my sock/undies/t-shirt drawers.
Or the number of cereal boxes I can fit on my cereal box shelf. Or the number of hangers that will fit on the bar in my closet. Or the number of shoes that will fit on my shoe shelf.
It's the Container Concept. No math required.
Here's a non-hypothetical example: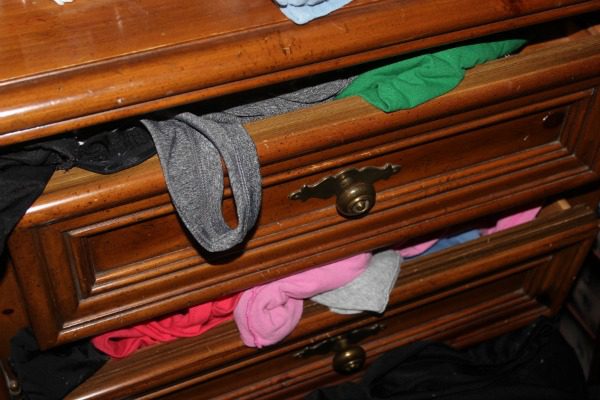 My dresser drawers had (once again) gotten out of control. How did I know they were out of control? I couldn't shut them.
Not being able to shut my drawers was the obvious clue my Slob Brain needed to alert me to the face that I had too many t-shirts/socks/undies/whatever.
I love obvious clues (especially ones that used to not be obvious to me at all).
I needed to declutter however many items needed to be removed for the drawers to be able to close. No math needed.
When I looked at it that way, I didn't have to ask myself how desperate I would need to be to wear that very faded and a-little-stained freebie t-shirt from a fun run I didn't even participate in back in 2009.
I just knew something had to leave the drawer, so it might as well be the thing I didn't even like.
I purged (with very little angst) enough stuff to allow me to close the drawers easily.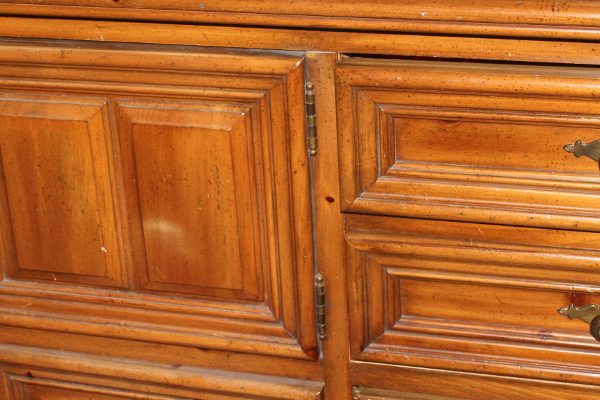 I even had leftover space.
Leftover space meant that on Laundry Day, when more clothes needed to go in those drawers (clothes I had recently chosen to wear), there was room. When there wasn't enough room in a certain drawer, I practiced the one in one out rule to make room.
Because that is the answer to the question, "How Many T-Shirts/Shorts/Pairs-of-Undies Do I Need?
I need as many as can fit in the drawer.
Any more than that and the drawer can't close and my house has no chance of NOT being messy.
Yay for non-math-based answers!!!!
This post is an example of how a mindset change has changed my home. If you are desperate to change your mindset, and you want home management strategies that actually make sense (to us not-naturally-organized types), check out my new book, How to Manage Your Home Without Losing Your Mind.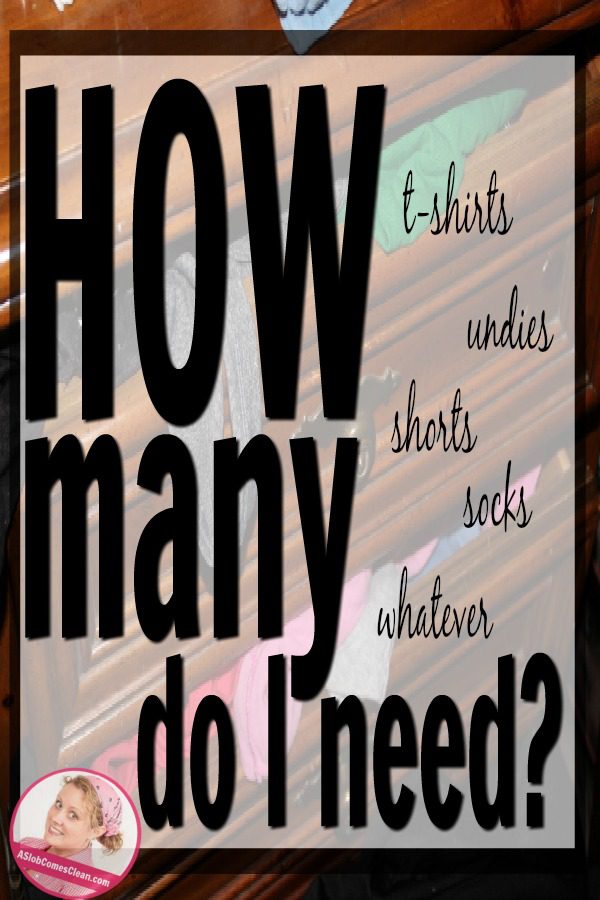 Save
--Nony