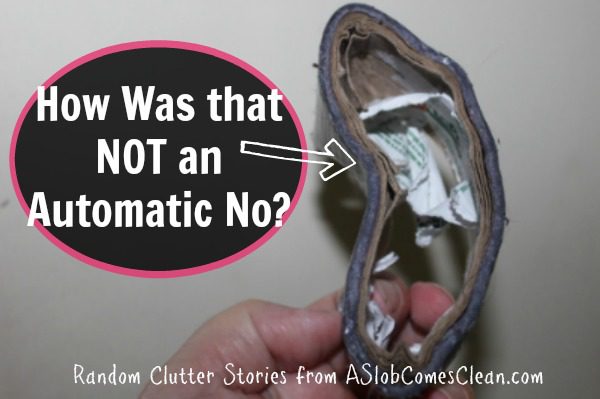 Last Saturday, I spent the day deep cleaning.
Deep cleaning always results in some interesting finds. Who knows what will surface when I move something that's been conveniently hiding a random piece of who-knows-what in a corner.
I ran across some doozies.
Like duct tape that had obviously been sent through the washing machine.
Let's all tilt our heads to the left and think about how uncomfortable it would be to walk around with duct tape in your pocket. Or how much of a hurry someone would need to be in to not notice a big ol' roll of duct tape in his/her pocket as he/she got ready to take a shower.
Or how the people sorting and then doing laundry didn't notice it either.
But most dumbfounding of all is why I took the duct tape out of the washing machine and stuck it in the junk drawer at least 10 feet away in the kitchen.
Because that required actual noticing.
I guess duct tape's legendary usefulness made me do it.
But as I ran across it while in Clean It Out Mode, I saw it for what it was: a kindof nasty-looking roll-but-not-really of duct tape that probably wouldn't stick very well even if I could pull and yank hard enough to get some off.
So I threw it away.
Next, I ran across a doorknob. A doorknob.
Who keeps a doorknob?
Me. I totally do.
I have an antique doorknob that fell off the door of my historical-sounds-too-fancy-run-down-probably-describes-it-better college apartment. I love that doorknob and smile whenever I randomly run across it. I doubt I'll ever pitch it.
But this isn't an antique doorknob. It's OUR doorknob that fell off our front door after months of not being able to open that door from the outside.
I don't love this doorknob. Maybe because this time I am the homeowner and a doorknob falling off isn't quaint as much as it's a big pain in the hiney. A pain that requires buying a new $80 doorknob and the knowledge that even though we changed out the doorknob we still have to repaint the door.
So I pitched it.
What random things have you come across lately that make you question YOUR sanity?
--Nony