About four years ago, I got stainless steel appliances.
I love them, but they are definitely hard to clean. To clarify, though, I'm not one to notice little smudges here and there so all appliances of any finish or color or type are "hard to clean" for me. I generally don't see any issues until I know a guest is on her way.
For the first time.
Second and third time guests get a much more realistic view of our home.
I did the deep clean recently, though. On most deep cleans, I do a general wiping down and shinyfying, but I decided to get a little crazy on this one and try to deal with the small rust spots which didn't go away with normal cleaning.
I scratched at one with my fingernail, and it rubbed off.
Yay! But I wasn't willing to sacrifice my fingernails, so I grabbed my handy dandy go to cleaning scraper, an old credit card that I keep by the kitchen sink.
Seriously, I use this thing all the time, y'all. It's plastic and doesn't scratch, and is perfect for scraping burnt on food off of almost anything.
I tried all sorts of different ways, but here is what I found to work best.
Spray generously with stainless steel cleaner (this is my affiliate link to the kind I use on Amazon) and wipe off according to the cleaner's directions, letting it sit longer according to how dirty your appliance is.
Once it's clean other than the rust spots, spray the stainless steel cleaner generously onto the spot and then, going with the "grain" of the stainless steel, use the side of the plastic scraper or credit card (one you don't need to ever use again) to scrape off the rust.
And that's it.
Here are some before and after shots.
P.S. Do you know how hard it is to take pictures of teeny-tiny rust spots on stainless steel? It's hard. Really hard.
If the thought of dealing with nitpicky stuff like this stresses you completely out because you're overwhelmed with your house as a whole, listen to this podcast from a few weeks ago.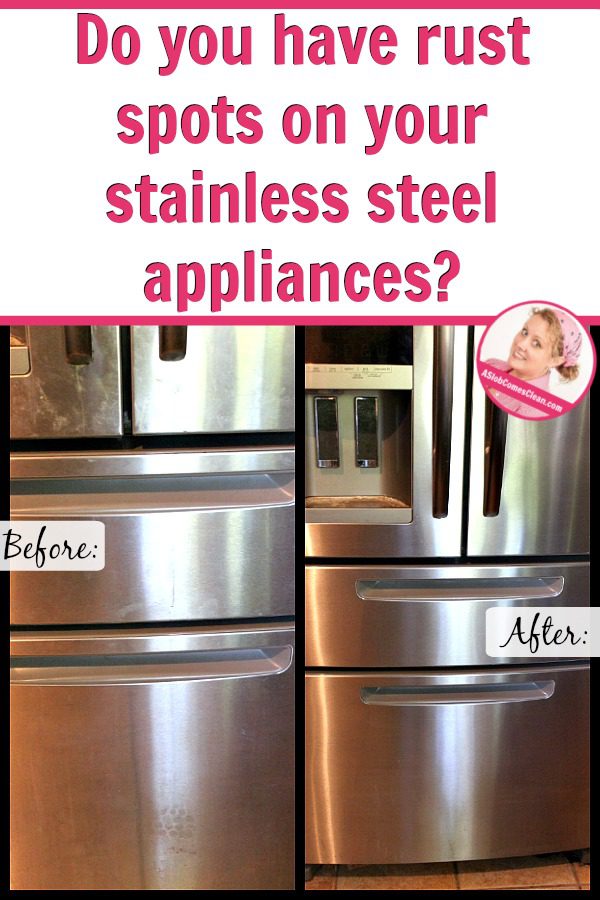 Save
--Nony