I'm so excited to serve as a spokesperson for the new Bounty DuraTowel paper towels!
The basic premise behind these new paper towels is that they're durable enough and strong enough to be used in place of a dishcloth.
Because "even after just one day's use, dishcloths can harbor and redeposit millions of germs."
Nobody had to convince me of that.
Do you remember those science videos you watched in high school?  The ones where someone sneezes and fluorescent green germs come flying out of his or her nose?
Then, those fluorescent green germs land on a counter, attaches to the hand of someone who touches the counter, transfers from that hand to the hand of someone else, goes from the hand to a sandwich to the unsuspecting person's mouth . . . and the unsuspecting person who doesn't know he/she just ate an invisible, fluorescent-green-germ . . . ends up dying.
Actually, I don't know that they actually died in the science video, but in my carry-it-out-all-the-way imagination, they totally died.
Just so you know, I live in one of those videos.  I'm painfully aware of the travel-path of germs.  (Science class ruined me.)
Back to germy dishcloths.
In our house, this is a constant argument discussion.  I will only use a dishcloth one time, and then it goes to the washing machine.  Since I do a once-a-week Laundry Day, by Wednesday we're running a little low on clean one-time-use dishcloths.
So I was happy with the idea of a paper towel that could do the work of a dishcloth.
My first impression was that the Bounty Duratowel is thick.  It also has texture to it, and when it gets wet, it feels quite cloth-like.
I really like the size.  It's 3/4 of the size of a typical paper towel (that's me, a former theatre teacher, guessing on the size), and I felt like it was the perfect size to get a job done but not seems to me to be just the right size.
But can it really work as well as a dishcloth?  I put it to the test.
See that purple stain on my counter?  (Have you ever tried getting a "good" picture of a purple stain? No? Oh.)
I'm not sure exactly how it got there, but I assume it was that same-old-story around here of something being left on the counter too long, perhaps with wetness involved.  These stains are no fun, and I've only ever been able to get them up with heavy-duty abrasive cleansers.
The kind of cleansers I usually wouldn't try with a paper towel.
But I did.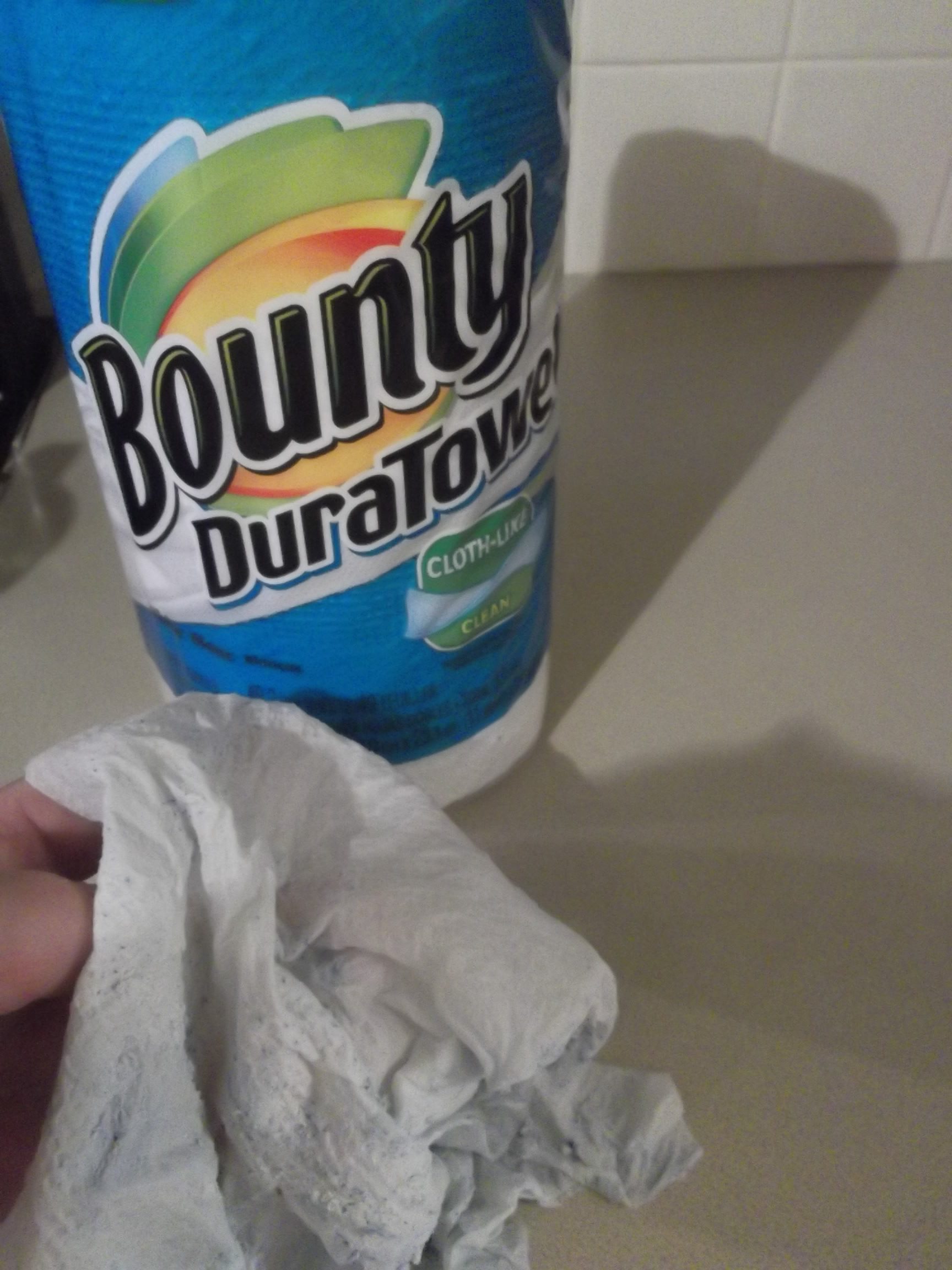 It worked!  The stain was gone, I only used one sheet of paper towel, and the Bounty DuraTowel held up great for this job!  No icky cleanser seeped through to my hands and the towel held together!
Full disclosure here:  I'm a brand ambassador/spokesperson/whatever-you-want-to-call-it for Bounty Duratowel. I was provided with paper towels to try out and am being compensated.  BUT, let me assure you that the neurotic how-can-a-germaphobe-be-a-slob issues, the stained counter top, the opinions and experiences . . . they're all mine.