(This is a sponsored post. Basically, I'm getting paid to clean a spot I avoid cleaning. Yes, I get the irony.)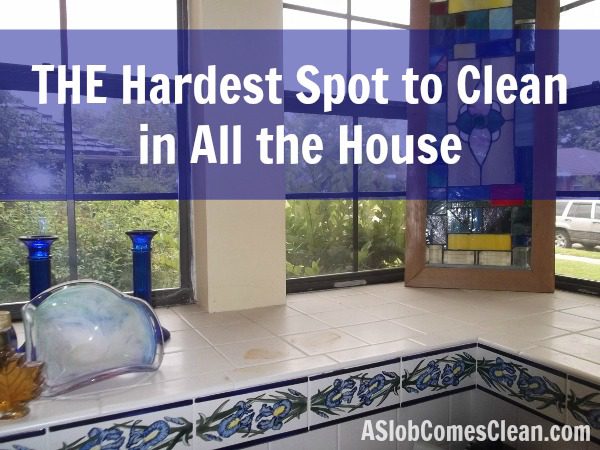 It's spring.
Which means . . . it's time to spring clean.
There were many years when I just didn't spring clean. I was barely surviving under all my clutter, so the big, easy-to-neglect cleaning projects were put off indefinitely.
But this year, to scratch my spring cleaning itch, I decided to tackle the prettiest spot in my house.
Which . . . is also the most annoying to clean.  Yes.  I have a gorgeous kitchen window. (Please ignore the bushy bushes outside it!) But this gorgeous kitchen window is a booger to clean.
Right.
I needed to pull out my charming Texas slang and call this one a booger because to clean it . . . I have to climb it.
Like, haul myself up on the counter, hunch over, and sit. IN the window.
A grown, 39-year-old woman providing conversation topics for the neighbors as she sits in her kitchen window.
And takes pictures of paper towels.
Anyway, because this spot gets avoided more than most, it's ultra-dusty by the time I clean it.
And kitchen dust is like no other dust.
It's glued-on dust.
Glued on by kitchen grease, I guess.
I cleared my path, removed all of the dusty pretties (which went into the dishwasher), and gathered my supplies.  I was determined to not have to climb down until I was done, so I tried to think of everything I might need.
Including my phone. (In case I got stuck and had to call Hubby to come home and help me down.)
I know what fun glued-on dust is, so I thought this would be a great opportunity to really test out the Bounty DuraTowels (for whom I'm a spokesperson).  They're supposed to be durable enough to be used instead of a dishcloth so you can avoid the germiness of a re-used dishcloth?
Well, glued-on dust is a perfect durability test. 
I felt all scientific-ey and even labeled the first paper towel with a permanent marker.
See? Best spokesperson ever.
And then I climbed up, and started on this spot.
See it? Over there on the right? It's the spot that makes me ask three questions:
What made this spot?
Why did someone put whatever-made-this-spot here, in this ever-so-inconvenient-to-randomly-set-anything-down place?
Why, oh why, does that someone obviously hate me so much??
I started scrubbing.  I used soapy dishwater, as that's what I've found cuts through grease-dust well.
Nothing.  Like, nothing was happening at all.  So I thought I'd leave Towel #1 on the spot to let it soak.
I labeled Towel #2.
And then I got to dusting/scrubbing the rest of the seat/ledge/most-annoying-place-ever-to-clean. That dust was on there good. It had become one with the tile. I had to give up on the soapy dishwater and pour it on straight.
Finally, I made progress and scrubbed away.
I was pleased with how the Bounty DuraTowel held up to some excessively friction-ey scrubbing on the entire right side of the window.
I thought I should use something for comparison to show the size of the space I'd cleaned with that single paper towel, but the only thing I had with me to use for reference was my own, well . . . self.  And that might not be the best for several reasons.
(One reason being that it's a commonly known fact that blog photos make all behinds look five inches wider.)
Then I thought of the perfect thing to give perspective.
There you go.  That amount of greasy-dusty, one-swipe-doesn't-do-diddly-squat space scrubbed clean with ONE paper towel.  I'd say that's pretty durable.
I tried the spot soaked by Towel #1, and still it was IMPOSSIBLE to get up.  Impossible.  So I kept working on the left side, using towel #2 for as long as I could.  The two layers separated, but I kept on using it.  I was determined to make it last a LONG time.
By the end, there were multiple holes, but it hadn't fallen apart.
And then, it was time to tackle the STAIN.  You'll be happy to know, after my last Bounty DuraTowel test, that I decided to try your advice and give baking soda a shot on this tough stain.
Honestly, I didn't think it would work.  I planned for it to not work.
But oh my word, it worked.  Seriously.  Baking soda and wet DuraTowel #1 took that impossible-to-get-off stain away immediately. And easily.
And now look:
The prettiest spot in the house is pretty again! I had been great at averting my eyes every time I saw the dirt, the spider-webs and the stain, but now I just gaze and soak in how pretty it looks since it's clean!
As I said, I'm a Bounty DuraTowel spokesperson, and am being compensated for this post.  However, the annoying-to-clean spot, the greasy dust, the mysterious stain, the experiences and the opinions are all mine. 
Save
Save