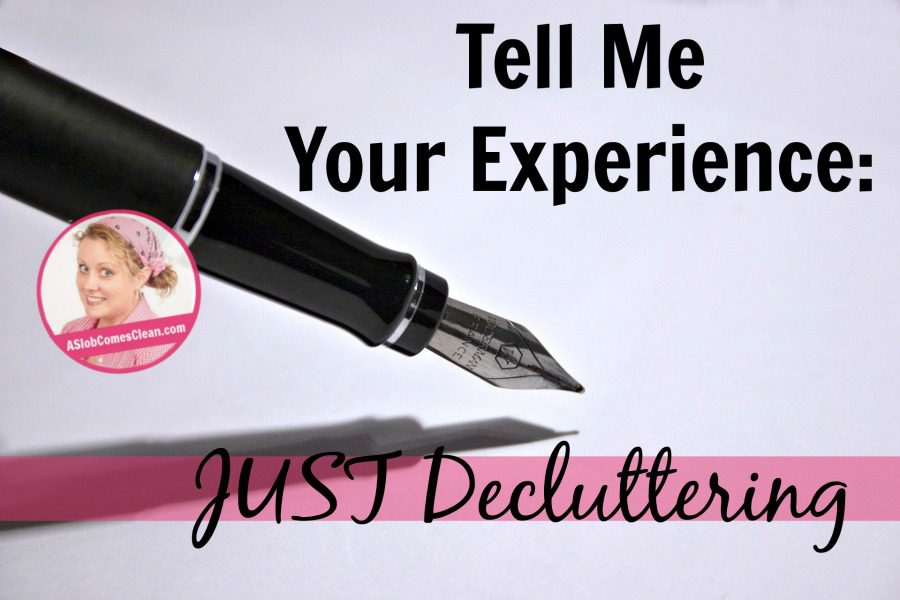 "Just Declutter" Frequent readers here at A Slob Comes Clean have heard these words from Dana on more than one occasion.  Have you put this technique into practice? Do you have experience finding space and order in your home when you JUST declutter? Then we need to hear from you!
Dana is working like a crazy woman getting the last details added to her book and what she needs now is to collect quotes from you, her faithful readers and fellow "Slob Club" members. Are you willing to share a few words about your own experience and allow Dana to add your quote in her book or other projects?
Fill out the form below and let Dana hear about your experience! If you can't see the form below, click here.
Feel free to state your name as anonymous. "Nony" totally understands!
If you're a regular visitor here at A Slob Comes Clean you probably know what I'm talking about when I say "just declutter!" If it's a new concept, don't fill out the form, but you may like to read more about it at the links below.
Just Decluttering a Kitchen Cabinet Step-by-Step Without Making a Bigger Mess
How to Declutter Without Making a Bigger Mess
Creating Space in My Home by Decluttering
Dont Get Organized, Just Declutter Podcast
Do you have other experiences about clutter and habits and finding a system that works for you and would like to share? It's not too late! Go here to see all Dana's "Share Your Experience" forms.